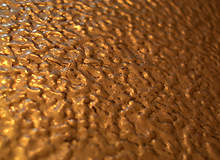 Since Chile turned its copper industry into a state concern more than 30 years ago, the red metal has become the lifeblood of the nation, fuelling economic growth and seeing the South American country emerge as one of the most advanced on the continent. The country's Coldelco, or Corporacion Nacional de Cobre, is now the world's largest copper miner, producing a total of 1.7m tonnes of copper in 2009.
With a new chief executive plucked from the board of Anglo-Australian rival BHP Billiton, a raft of ambitious development plans under its belt and chairman Gerardo Jofre announcing the company's bold aim of becoming the biggest service provider of copper in the world, Codelco looks determined to hang on to its crown as king of the copper producers for years to come. However, to do so, it has to face a volatile copper market, declining ore grades, and financial demands from its masters in government.
Digital digging
Codelco's flagship technology project is Codelco Digital, which has been exploring the integration of robotic technology and remote working in mining since its inception in 2004. Better technology means better results from dropping ore grades, a must for Codelco, which has focused its development plans on improving existing mines instead of embarking upon new projects.
Of its short-term projects, only a handful will come into production in the next two years. Andina Phase I and RT Sulphides are set to come online by the end of this 2010, but Coldeco's largest projects, including a new mine level at El Teniente, Andina Phase II and Chuqui Underground will not come into full production until at least 2016.
"Information technology is fundamental to both our present and future activities."
Diego Hernández, former BHP Billiton base metals president, took over as CEO at Codelco in May, assuming his new role as the head of Chile's biggest company just as billionaire businessman Sebastian Piñera took on the presidency from Michelle Bachlat.
Speaking for the first time as Coldeco chief, Hernandez told delegates at the company's annual technology meeting in Calama in early June that $15bn will be invested into Codelco's aging mines and new technology projects over the next five years, seeing annual production leap to 2m tonnes per year.
"Mining has transformed into a great laboratory. The incorporation of technology also signifies a cultural change in the industry," said Hernandez.
"We have managed to be competitive in deposits that many years ago might have been worn out. That's why information technology is fundamental to both our present and future activities. Our investment projects are long term. All this is going to result in a more competitive Chilean mining industry."
Chasing the dragon
Codelco's ambitious growth programme is set to boost production for what it believes will be a robust copper market in years to come, fuelled in the main by increasing demand from China, the sector's biggest customer.
Following the $1.4tn lending binge, which revived Chinese growth in the aftermath of the global economic crisis in 2009, Chinese officials revealed plans last month to slash new loans by as much as 22% to take the steam out of the country's construction market, meaning demand for copper, used widely in new housing projects, could decrease.
"I suspect that the Chinese property measures are aimed mainly at the top end, and that the Chinese government still wants to see plenty of new low-income housing," says Citygroup analyst David Thurtell. "The re-introduction of China's home appliance and car scrappage schemes…suggests that Beijing is still trying to stimulate domestic consumption and jobs. I think the long-term picture for copper is still very strong.
Copper hit by aftershocks
The strength of global demand for copper was thrown into the spotlight by the devastating earthquake that hit Chile in February, which measured 8.8 on the Richter scale and flattened most of the southern city of Concepcion, killing around 700 people. The news sent London Metal Exchange prices for copper up to a five-week high of $7,600/t despite most of the country's mining industry being far beyond the quake's epicenter. Codelco emerged largely physically unscathed because the bulk of its mining operations lie in arid deserts in the north of the country, and its operations were halted for only a day. London Metal Exchange copper prices quickly fell back to a steady level after spiking at the news.
"There have been calls to privatise Codelco and allow it to compete on a more equal playing field with other world-class mining outfits."
The cost of rebuilding Chile in the aftermath of the disaster is, however, likely to cause far more damage to the Codelco's development plans than the quake itself. Chile Mining Report's Q2 analysis of the country's copper industry said government money, which had been pigeonholed for mining development projects, would now likely be siphoned off to repair the damage caused by the earthquake.
According to the report: "One of the most important effects of the earthquake will be the doubt it casts over the scale of expansion in production capacity.
"Having finally reversed a five-year freeze on output growth in 2009, Codelco may now see its ambitious mining expansion plans clipped. Indeed, Chile will reassess over $10bn of projects to increase output at Codelco as the government seeks to prioritise investment in roads and bridges, many of which were damaged by the disaster."
With the Chilean state as its chief shareholder, Codelco's profits either get invested back into the company or are used to fund government projects. Analysts have estimated the cost of earthquake damage at $30bn; should the government opt not to reinvest profits to finance development projects, Codelco will have to find the money itself.
There have been calls from some quarters of the Chilean government to privatise Codelco and allow it to compete on a more equal playing field with other world-class mining outfits such as Brazil's Vale, a former public company whose profits soared after it was privatised in 1997, enabling it to become one of the biggest players in the global mining arena.
While on the campaign trail, the country's president, Sebastian Pinera,floated the idea of selling up to a 20% stake in Codelco to private pension funds. He later backtracked in the face of vocal union opposition and said any sale would need wide public agreement. The powerful 16,000-strong Federation of Copper Workers has also threatened protests if Pinera seeks to sell a stake in the state giant in a bid to boost efficiency, and halted production at Chuquicamata for two days in January over a pay dispute, sending copper prices rocketing.
Codelco officials, meanwhile, deny that that company has any financing problems and remain positive about its ability to meet its aims, while a healthy long-term outlook for copper prices is shared by many analysts.
"There has not been enough investment in mines and exploration globally, and mine life and ore grades have declined sharply," says Thurtell. "With Chinese demand very strong, prices should remain high for many years."
High copper prices will secure Codelco's profits and Chile's future, but whether Codelco will have the power to put its money into realising its ambitious aims remains to be seen.