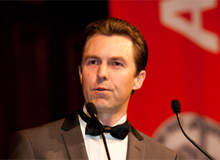 In 2006 BHP Billiton Mitsubishi Alliance (BMA) estimated that fitting Universal Dig and Dump technology increased productivity in open cast coal mines by 13-21%.
This means that adding UDD to six or seven machines delivers the production equivalent of a brand new 50m³ dragline at a significantly lower cost than the $80m purchase price.
UDD innovator
Inventions are often thought of as single acts of genius springing fully formed from nowhere, but there is always prior knowledge and experience. The genius is in spotting where improvements can be made and where alternative methods or new technologies will revitalise a machine or a process. Then you have to prove it works and demonstrate its worth to potential customers: and that is Andrew Jessett's talent.
"Universal Dig and Dump technology increased productivity in open cast coal mines by 13-21%."
Jessett, founder of MineWare, studied at the University of Queensland in Brisbane, Australia, gaining a Masters degree in Engineering Science, and followed that with a post-graduate IT course. After university he joined a three-man team at CRCMining working on UDD development. UDD was originally developed by Australia's Centre for Mining Technology and Equipment (CMTE), which in 2003 became CRCMining.
The innovative UDD rigging and control system technology was a remarkable achievement, representing the first major change in dragline technology for many decades. Jessett played a pivotal role within the team in supporting the product's development and commercialisation.
CRCMining works through spin-off companies that commercialise the research and provide additional services such as electrical, electronic, mechanical, structural and mining engineering necessary to retrofit UDD and training for the personnel who use it. One of those involved in commercialising UDD technology was UDDTek PL.
Pegasys: a superior development
Installing UDD is a major financial investment and clients found it difficult to accurately measure the end-user benefits to quantify a return on investment. Jessett recognised the problem as early as 2003 and began to develop a software system that would help mine sites measure performance gains and quantify the benefits associated with such large-scale investments in technology.
Jessett defined three key objectives for a superior dragline monitoring system he named Pegasys:
Increasing dragline production by measuring and optimising the parameters that affect payload and the number of cycles
Reducing maintenance costs and downtime
Avoiding safety incidents and catastrophic failures
An intense two-year period of development and testing led to the first prototype. In 2005, at the age of 29, Jessett sold the first installation of the resulting Pegasys technology to BHP Billiton. He was not entirely happy with the way UDD had been commercialised and at the point UDDTek was winding down, so with the help of Alf van Dijk, UDDTek's CEO, he set up a subsidiary, MineWare, to commercialise Pegasys.
Most company founders automatically become the company's CEO, but by then Jessett realised he needed to recruit some technical staff and get them up to speed on the current product so they could take it forward, which did not leave much time for building the company so van Dyke was appointed CEO and Jessett, with the title of general manager, concentrated on the technical side – and in his spare time studied for an MBA.
The main features of Pegasys are as follows:
GPS: to provide accurate dragline guidance and bucket dig depth control. This allows for a greater adherence to the mine plan and reduces the need for surveying.
Camera systems: integrated CCTV enhances the operator's vision and storing video footage enables better incident investigation.
Structural monitoring: strain gauges on the dragline structure provide real-time operator feedback and over time enables assessment of the stresses being placed on the dragline.
Reporting and Analytics: Data is no use until you analyse it; Pegasys has its own built-in analysis and reporting systems.
"MineWare can link in existing strain gauges on the machine."
While none of these features are strictly new, the beauty of Pegasys is that it brings a lot of tried and tested technology together in a way that makes it useful to the dragline operator and the mine managers. In some cases MineWare can link in existing strain gauges on the machine; in other cases it may have to fit the necessary transducers to collect the data.
Jessett's CRCMining connections are useful in that they partner with several other expert companies who provide the necessary engineering skills.
Jessett is careful to maintain some distance between MineWare and the dragline manufacturers; some of the Pegasys data can be used by the manufacturers and mining companies to verify contractual obligations concerning machine performance, so it helps that both sides see MineWare as independent.
MineWare's growing success
Jessett works closely with his clients and there was considerable interest in what he was trying to achieve long before he had a marketable product, so much so that several customers placed advanced orders and paid for them, funding the development.
Unlike many start-ups MineWare generates its own investment funds and turned in a profit for three out of its first four years. Sales have supported Jessett's heavy investment in new product development and significant business system upgrades, which have enabled him to stay ahead of the market, with two new products already opening up growth opportunities.
"MineWare turned in a profit for three out of its first four years."
MineWare has grown in five years and now employs 16 people. The company remains close to its clients, developing partner relationships where systems are rolled out, over a period of time, across multiple mines and sites. Jessett has secured the company's first international sale in South Africa, where he intends to build on that success and open a satellite office later this year. He is also in discussion with a number of international mine operators in North America and India.
Clunies Ross Award
The Clunies Ross Foundation, established in honour of Sir Ian Clunies Ross CMG a visionary 20th century Australian scientist, makes annual awards to scientists and technologists who bridge the gap between research and the marketplace. They are awarded to people who have persisted with their ideas to the point that their innovations are making a real difference to the economic, social or environmental benefit of Australia, and that certainly sums up Jessett's achievement.
There were six winners announced at this year's ceremony in May, and the organisers felt it fitting to mention the age of only one winner; and at the age of 33, there is still plenty of time for Jessett and MineWare to do more yet.