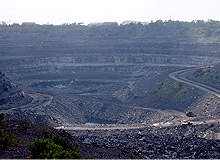 Debates on the future use of coal and its impact on climate change have been mired in controversy. Surface mining is the most common method of coal extraction, and when that means removing the top of a mountain, the scar on the landscape is far from subtle.
This process is widely used in the Appalachian coal fields of West Virginia, Kentucky, Virginia and Tennessee, where the worldwide debate is probably at its hottest right now. The profound changes in topography and disturbance of pre-existing ecosystems have made mountaintop surface mining highly controversial in these regions; so much so that even the president wants in on the act.
The mountaintop mining debate
In September last year, the US Environmental Protection Agency (EPA) announced it would use its veto powers under the Clean Water Act to delay 79 permits for surface coal mining in Appalachians. According to an EPA statement, these applications would be evaluated by the EPA and US Army Corps of Engineers under enhanced coordination procedures to make sure they "meet the requirements of the Clean Water Act and best available science".
The EPA has insisted, however, that its procedures do not put permits on hold; rather, they establish a 60-day time period to check that proposed projects measure up to environmental concerns and fully comply with the law.
"The EPA has insisted that its procedures do not put permits on hold."
Republicans and coal-state Democrats cried foul, saying the move would prevent the production of more than two billion tons of coal and threaten more than 17,000 jobs. Carol Raulston, senior vice-president of communications for the US National Mining Association (NMA), also noted that the fact that all the delayed permits have been in the east – the area where mountaintop mining is most common – seems to be more than a coincidence.
Although this has not stopped mining activity in the region, Raulston says she is concerned it could have an affect on power supplies for the future. To date, the NMA has been able to use existing permits to meet its needs because the economic recession has cut electricity demand in the US by about 9%.
The mining mire gets murkier
In April 2010 the Obama administration set even tighter water quality standards for surface coal mining permits across the Appalachia; a move that could, it's believed, curtail mountaintop removal.
The regulations specifically require surface mining operators to treat water conductivity – an indicator of salinity – in nearby streams to 500 microSiemens a cm³ or less. The EPA says this guideline has been drawn up with mountaintop removal in mind, and would protect 95% of aquatic life in central Appalachia. The idea is to put an end to put an end to coal mining pollution – not coal mining itself.
"The industry says the government could be setting standards that are impossible to meet."
"The comprehensive guidance sets clear benchmarks for preventing significant and irreversible damage to Appalachian watersheds at risk from mining activity," said an EPA spokesperson. "We are not changing the process, but just raising the scrutiny."
The industry, on the other hand, says the government could be setting standards that are impossible to meet. One group of coal industry executives insist that "very few" valley fills can actually meet these standards, and suggest that this could result in a gradual elimination of surface mining in the US.
Monitoring madness
President Obama has proposed that the Office of Surface Mining and Reclamation and Enforcement (OSM) has a 2011 budget of $146.1m – a reduction of $11m in state and tribal regulatory grants. The budget reduces spending in regulatory programmes and concentrates mandatory funding on priority abandoned coal mines. States are being encouraged to maintain funding levels for these programmes by increasing user fees.
"The true impact of these regulations is yet to be seen."
Raulston says policing this will be difficult as all US government agencies are under pressure to reduce costs and budget requests. She believes OSM will find it difficult to oversee the industry in regards to such regulatory matters, which were once overseen by individual states.
The true impact of these regulations is yet to be seen, with thousands of jobs, the future productivity of surface mining and the region's resources all at stake. The NMA estimates that industry directly contributes $5bn to the economy and provides 14,000 jobs; indirectly, it contributes another $7.5bn to the economy and keeps another 60,000 employed. The average salary is $66,000 within the industry, around 57% higher than the average. With this is mind, it is easy to see why the debate has been so strong.
The economic impact on surface mining
Last year the coal industry faced a slump in demand due to the global economic crisis and additional environmental pressure. More than 90% of US coal production is used to generate domestic electricity. According to figures from the US Energy Information Administration (EIA), coal production fell 8.5% last year to 1.07 billion tons. These figures indicate the biggest tonnage drop-off since 1949, and the largest percentage decline since 1958.
Due to a weaker industrial demand for electricity, coal's share of electricity production fell to about 46% last year, the lowest recorded since the 1970s. Low prices for natural gas have also had a role to play, with more utilities and power generators turning to gas in to produce power. The US coal industry has also been hurt by declining demand for exports by weak economies in Europe, where coal plays a key role in the manufacture of steel, cement and paper.
Safety issues have also come into play. Even though mine deaths in the US fell to an all-time low in 2009 – there were 18 – the explosion that that killed 29 miners in West Virginia earlier this year has done little to reinforce the industry's sluggish safety record or its reputation.
But it's not all downhill. The EIA indicates that coal prices have remained strong despite lower demand. Utilities paid 7% more for coal, and much of that based on long-term contracts that were fixed at 2008 prices. Demand for coal is expected to improve as the economies of other countries begin to recover. China and the developing countries are expected to use more US coal in steel production in particular.
Going green with clean technology
"The Obama camp is arguing that a move towards renewable energy will create jobs – but it's an argument that many refuse
to buy."
Coal is expected to remain a major source of fuel for electricity generation through to 2035, even as renewable energy gains ground. The Obama camp is trying to cast the climate debate in economic terms, arguing that a move towards renewable energy will create jobs – but it's an argument that many refuse to buy. Many, however, do accept that a step towards cleaner coal technology is inevitable. In the US alone, demand for electricity is expected to increase by 49% by the year 2030.
The FutureGen Alliance, an international group of coal companies and power generators, is trying to tackle the problem by developing first near-zero emissions coal-fuelled power plant. On the paper, the plant will produce 275MW of electricity and hydrogen for other industries, but capture and store the carbon dioxide produced in the process underground.
The alliance says its unique approach is centred on the integration of several technologies, including coal gasification, electricity generation, carbon dioxide capture and storage, emissions control and hydrogen production, which all exist independently. The challenge is bring them together to produce economical, coal-fuelled electricity with carbon capture on a commercially useful scale.
FutureGen estimates that this pilot plant will be able to power 15,000 average US homes. But it could also lay the foundation for a major new carbon capture and sequestration industry that could "create tens of thousands of jobs".
Check back tomorrow for Part 2 of this feature, where Keith asks the Environmental Protection Agency and National Mining Association how they are responding to the industry's fears.