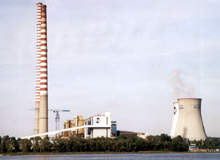 It is the largest unexplored coalfield in the EU but a recent find at a Polish site, near the city of Legnica in the country's south-west, is much more than that, it is a huge technological challenge that could create massive economical opportunities for the nation.
Holding about 40 billion tons of untapped coal deposits, 15 billion tons of which are suitable for mining at a depth of 200m, the deposit could hold 8% of the world's resources. And for Poland, where the 60 million tons of brown coal extracted a year cover 34% of national energy requirements, it could not only satisfy the country's power needs but also provide a boost for its mining industry.
Poland's Deputy Minister of Economy Joanna Strzelec-Lobodzinska says the next step will be to mine the find as a resource of strategic importance.
In the first half of 2010, the Polish Parliament is expected to pass a law that would establish a development plan for exploitation.
"We are the EU's most energy-secure country, owing mostly to vast reserves of black and brown coal," Strzelec-Lobodzinska says. "Initiating an optimal exploitation of these resources is crucial for Poland's economy and energy security."
It could take up to four years to reach the first layer of crude and 12 years to get the project completely underway. This has not meant activity surrounding the resources has quietened down; the project is going through one of its busiest phases as the government, and a range of private companies, put their heads together to determine the best ways of managing and extracting the resource using available technologies.
The business of Polish coal
The state-owned Polish Energy Group (PGE), in charge of future exploration at the field, says it plans to set up an open-cast mine at the site. A 4,250MW low-emission energy plant, consisting of five energy blocks of 850MW each, will also be placed in close proximity. This will be equipped with CO2 capture and storage technologies, making it 46% energy efficient.
"Holding about 40 billion tons of untapped coal deposits, 15 billion tons of which are suitable for mining at a depth of 200m, the deposit could hold 8% of the world's resources."
PGE originally planned to make the investment in partnership with Poland's mining and metallurgy giant KGHM, but the latter withdrew from a joint venture set up to exploit the resource in early 2010.
"Given the challenging character, momentum and the tight timing that we will face in this venture, we are seriously considering inviting a new business partner," PGE CEO Tomasz Zadroga told the Polish news agency PAP.
As the company lacks the financial resources to undertake the costly venture, PGE may be forced to set up a consortium with a foreign power company. It is rumoured that the Swedish Vattenfall Group, Germany's RWE and the Tauron Polish energy group are potentially interested in taking on the project.
Without a doubt, the budding investment is anything but meagre. Back in 2008 the Polish POLTEGOR open-cast mining institute estimated the mine's construction costs would be about zl7.5bn ($2.65bn).
The costs of setting up an energy plant were projected to be zl10.4bn ($3.67bn) and mining analysts recently estimated that the investment's combined cost would most certainly exceed zl20bn ($7bn).
Souring cost estimates aside, the priority that the project has been given by the government has already attracted technology players from abroad, and with them comes new technologies that could offer the project some interesting twists and turns.
Searching the world for Polish coal
In early March a delegation of Australian mining technology manufacturers visited Poland's south-western Silesia region, where the country's coal industry is concentrated. The companies included Mine Site Technologies, David Brown, SupaVac and Linc Energy.
Linc Energy had an interesting solution for the coal field operators, which had considered turning the underground brown coal at the Legnica fields into a high-quality synthesis gas. It was found that Linc Energy's Underground Coal Gasification technology, currently in development, could allow for the exploration of the Legnica seam, 200m deep underground.
"Our company wants to extract high-quality gas from coal," Linc Energy commercial manager David Smith said. "We came to Poland because the country has major coal resources, a well-developed mining industry and a skilled managerial cadre."
Australian companies' interests in Polish mining seem to be mutual. In late 2009 Poland's Kopex Group – the world's third-largest mining technology manufacturer – bought a 100% stake in Australia's Waratah Engineering, a supplier of underground coal mining and tunneling machines. Last year, Kopex's sales revenues reached zl2.3bn ($810m), an increase of almost 17%, while net profit rose to zl154m ($54m), up 9.3%.
Mining analysts say Waratah's acquisition, yet another in a series of the Polish group's recent overseas purchases, not only widens the range of the Kopex's mining products but could also spur the company to venture into actual mining. Its experience in the Polish mining industry, as well as its wide range of products, makes Kopex a very desirable partner for the Legnica coalfields' future explorer.
"It could take up to four years to reach the first layer of crude and 12 years to get the project completely underway."
The company is already engaged in the decision-making process. In 2008, the technology director of Kopex-FAMAGO, a subsidiary of Kopex and Poland's prime brown coal technology manufacturer, was appointed to a committee responsible for the preparation of the coalfields' exploration plan.
Finally, the government is also considering the brown coal field's bio-gasification with the use of micro-organisms but while mining experts say Legnica coal may be unfeasible for open-cast mining due to its depth, they also point out that the seam might be equally too shallow to be bio-gasified.
One thing the government will have to take into account will be the reaction from local communities towards more coal. The planned exploration may have been earmarked by the government's energy policy but its realisation could be hampered by local community dissent.
Critics say the designed exploration in open-cast could necessitate a displacement of several thousand inhabitants of the region. However, eventual investments would bring major profits to local communities – mining boroughs are traditionally among Poland's most well-off areas. And there little doubt Poland will try whatever way it can to win people around to the project.
In this time of high energy demand, Poland will try and win from this find, and the technology players that jump on board are likely to do the same.