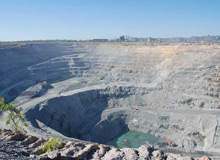 The uranium industry is facing an acute skills shortage with demand for the volatile commodity predicted to rise sharply as countries seek to secure long-term supplies for their nuclear reactors.
There are currently 436 nuclear reactors operating throughout the world, consuming 65,000t of refined uranium annually. In the next few years, 45 new reactors are due to be switched on in China, Japan, the United Arab Emirates, Russia, Europe and elsewhere, with more than 100 further reactors due to be added within the next ten to 15 years.
With the resources boom now back on track following the 2009 metals crash, uranium miners are looking to significantly ramp up production. Hampering miner's plans, however, are projected shortfalls in specialist workers while demand for general mining skills is increasing across the board as the resources sector resumes where it left off before the global financial crisis.
Australian uranium developments
Australian Uranium Association director Mike Angwin says there are concerns over the available workforce across the country. "I think there are some serious issues with skills in the uranium mining industry," he says.
"The uranium industry is facing an acute skills shortage."
Australia's uranium companies are among the worst placed as the country's resources sector moves back into full gear, led by the still-booming state of Western Australia (WA). Only 14 months ago, WA saw a nearly decade-long ban on uranium mining overturned, with several projects now storming into the production phase.
Australia has the world's largest recoverable reserves of uranium, yet is only the third-largest producer behind Canada and Kazakhstan. That is expected to change very soon given that production from WA has the potential to increase the country's output by 50%.
BHP Billiton's massive Yeelirrie deposit in central WA is tipped to pass Ranger in the Northern Territory as the country's largest uranium mine. Several hundred million dollars is earmarked for the project, which is expected to need thousands of workers.
Several other new projects are being ramped up in the region including the promising Kintyre uranium deposit, purchased from Rio Tinto by a joint venture between Canada's Cameco and Japan's Mitsubishi. A number of foreign entities, especially from Japan and China, are looking to invest in and fast-track development of key Australian uranium interests.
Uranium miner Energy and Minerals Australia (EMA) owns the Mulga Rock deposit, around the fifth largest in the state. EMA managing director Chris Davis says that after the uranium industry began to decline in 2007 a lot of workers just moved over to iron ore, making it very difficult to fill positions. "There are a lot of wannabes in the uranium industry; in 2007, after the decline, they just went to iron ore," he says. "Back then even if you offered a 'Rolls-Royce the colour of your choice' we still couldn't get them [staff]."
EMA took the unusual step of seeking recruits from the UK, eventually hiring four people from London, Leeds and Cork. Davis notes that none of the four even had driving licences, which EMA helped them to get along with training in first aid and bush craft.
To ensure that it retains the young people it has invested in, especially as the skills shortage grips, EMA has written into contracts that every 18 months it will help them to identify and then pay for a three-month course anywhere in the world that would help them do their jobs better. "You can't expect everyone to get all their training walking around the bush," Davis says.
"There are currently 436 nuclear reactors operating, consuming 65,000t of refined uranium annually."
For younger and older
The AUA's Angwin says he worries the projected increase in demand for Australian resources is going to reignite the skills crisis that was so troublesome prior to the banking crisis and this will have implications for the global uranium industry.
The expansion of BHP Billiton's Olympic Dam mine in South Australia alone is expected to need several thousand additional workers. "If demand for Australian resources continues to rise then the availability of skills across the board is going to be an issue, he says.
The north-eastern Australian state of Queensland is known to have vast uranium reserves, however mining there remains prohibited. But the current centre right government is thought to be reconsidering its position in line with the Labour party's softened stance towards uranium and nuclear power, also in light of potentially huge export earnings. A recent report by the AUA suggested that a lifting of the uranium mining ban in Queensland would immediately create 2,600 jobs.
EMA's Davis says that older workers have to be accepted as part of the solution, with many possessing unique knowledge and experience of value not only on a strategic level, but also in terms of training younger workers up to eventually fill management positions. "Just because you can't carry a 30kg suitcase up a bunch of stairs doesn't mean you won't have a job," he says.
Fierce competition from South American and Africa
But international competition for talented and highly experienced uranium professionals is about to get even fiercer as exploration and mining activity ramps up in the uranium-rich continents of South America and Africa.
The world's fourth-biggest uranium producer Namibia says that it wants to more than quadruple its output over the next five years. Namibia is already home to the massive Rossing Mine, owned by Rio Tinto, which, together with Australian company Paladin Energy's Langer Heinrich operation, accounts for a sizeable proportion of the world's supply. Coming onstream next year is the new Trekkopje open-pit mine being developed by Areva. West Australian Metals is developing another deposit nearby called Marenica.
Aside from the challenges of meeting the labour needs of the many new uranium projects being developed around the world, the AUA's Angwin says an even greater immediate concern is the lack of skilled workers in the actual nuclear industry. Demand is already increasing sharply for nuclear reactors but there are fears that labour shortages will slow the pace of development. Radiation officers he says are in especially short supply at the moment.
"Australia has the world's largest recoverable reserves of uranium, yet is only the world's third-largest producer."
"Countries themselves might have to take particular initiatives to ensure they have skills to construct and run nuclear power stations," he says. Some observers note that a key reason for the shortage is that for too many years the nuclear energy departments of key universities have fallen into decline.
January 2010 saw the opening of the European Nuclear Energy Leadership Academy at the Technical University Munich, from where it is hoped a new generation of qualified nuclear professionals will emerge. The academy is the result of an agreement between six nuclear companies: Areva, Axpo, EnBW, EOn Kernkraft, Urenco and Vattenfall. Its aim is to attract more university graduates to the nuclear energy sector and to train future leaders in this field.
In a joint statement, the founding partners said: "In the wake of Europe's nuclear energy renaissance, the purpose of the academy is to train young graduates and high-potential employees with different backgrounds to become leaders or to prepare them to take on broader responsibilities in European nuclear energy corporations and institutions."
The academy's programme begins in 2011 and will offer a thorough nuclear energy management programme, as well as a leadership cycle with a theoretical and practical approach to European requirements spanning economics, politics technology, legislation, safety standards and certification. The academy will also function as a think tank for the international nuclear community.