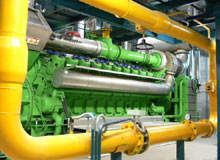 The writing was placed firmly on the wall back in 2002, when the Johannesburg World Summit on Sustainable Development (WSSD) set out a novel vision of production and consumption in the form of the Johannesburg Plan of Implementation.
With the 2010-11 cycle of the UN Commission for Sustainable Development (CSD) shortly about to address the specific WSSD thematic cluster, which includes mining, many observers expect new guidelines to emerge that will clarify the concept of sustainability for the industry. If so, the future direction of the sector could be as much defined in terms of its ability to meet its social and environmental responsibilities as by its commercial performance.
That is certainly the view held by independent mining consultant Mads Nilsen, who is keeping a close eye on the growing relevance of these developments to the mining and minerals industry.
"Environmental impact used to be seen like health and safety – a bit of an inconvenient necessity. These days, all the big players are taking it very seriously and they're seeing that it's got bottom-line benefits as well. Cutting carbon can mean measurable operational improvements too, and I'm hoping that's a message that comes out of the next CSD review loud and clear," says Nilsen.
Even before the Commission next meets, however, for a number of mine operations, emission reduction initiatives have already begun to prove their worth.
Increasing energy efficiency
One of the most straightforward ways to cut carbon is to improve energy efficiency. The idea may be blindingly obvious – the lower your consumption, the smaller your emissions – but as one Inner Mongolian coal mining operation recently demonstrated, it is also highly effective.
"Emission reduction initiatives are already proving their worth in the mining industry."
With plans to build a large-scale pithead power plant – the biggest of its kind in the world – beside its opencast mine in Xilinhot City, China, Shenhua Beidian Shengli Energy was facing some 526,000 vehicle movements to transport the ten million tons needed to supply it.
Although the company was using 20t trucks, its actual load when mined and loaded by conventional excavators was only around 19t – amounting to 26,000 more trips than strictly necessary on a weight basis alone.
By replacing the existing extraction method with Wirtgen Surface Miner 2200SM/3800 equipment, the coal now requires only a minimal final sizing effort to achieve the desired particle size. While this has a direct impact on energy use and operating costs, the real benefit comes from the fact that with a smaller and more consistent product, a larger quantity can be loaded into the same amount of space.
The upshot of this is lower fuel usage and significantly reduced greenhouse gas emissions, along with smaller maintenance and repair costs and less spillage on the haul roads – precisely the kind of "bottom-line benefits" that Nilsen describes.
Green options
Ever since the diesel engine rose to prominence in the mining industry, emissions have been the focus of some concern, though initially most of these were more about particulates and their effect on industrial health than the environment.
More recently, contemporary concerns on issues of pollution and fossil carbon release have encouraged many mining companies to examine diesel usage and explore the potential of a range of alternative fuels. For coal mines at least, however, it is the growing trend towards gas-fired cogeneration that perhaps holds the most immediate potential.
Not only can cogeneration provide on-site heat and power but it also helps minimise the obvious explosion danger and the more insidious environmental threat posed by releasing methane to the atmosphere – a gas with more than 20 times the greenhouse potential of CO2.
It is, of course, a major selling point. The recent GE/Jenbacher installation at Anglo Coal's Moranbah North mine in Queensland, Australia, is, for instance, said to be capable of making an annual saving of around 1.5 million tons of carbon dioxide equivalents. In an increasingly pro-active industry, such factors clearly count.
"Many mining companies are starting to examine diesel fuel usage and explore the potential of a range of alternative fuels."
Unsurprisingly, the weight of the relative contributions made by individual mining activities to any given operation's total emissions varies by industry sector.
September's CSIRO report into embodied energy and greenhouse gas emissions found, for example, that for iron ore and bauxite, loading and hauling were the largest contributors, while crushing and grinding were the most significant phases of copper concentrate production.
Such results highlight the importance of a full lifecycle assessment to identify such specific hot spots, if any emission reduction is going to stand a chance of being meaningful.
With much of mining and mineral processing predicted to face the spectre of future increases in greenhouse gas emissions as ore grades fall, knowing where to channel your efforts – and where emerging technologies can help – will inevitably become increasingly vital.
Carbon innovation
The mining industry is no stranger to technological innovation. Developments in catalysts and other advanced diesel engine technologies will, for instance, undoubtedly offer carbon-savings for loading and hauling applications, while the new generation of high-pressure rolls and stirred mills will do the same for grinding operations.
A whole innovative wave of upgrades, improvements and energy efficiencies await their role in the future of carbon-compliant mining but on the global stage it is perhaps with carbon capture and storage that the industry may be best placed to take a major lead.
Described by the Australian Coal Association as "one of the most promising long-term solutions for reducing global greenhouse gas emissions," the underlying idea behind carbon capture and storage could hardly be simpler: capture the CO2 from coal-fired power plants and other large, fixed sources, transport it somewhere safe and then store it deep underground – permanently.
"Australia's Coal21 fund has invested A$1bn over ten years to mitigate climate change."
Coal mining has already signalled a willingness to play its part. Australia's Coal21 fund – established in 2006 – was the world's first voluntary levy, contributing A$1bn over ten years to develop technologies to mitigate climate change.
Nevertheless, CSS is not without its problems. Last June, StatoilHydro executive vice-president Jon Arnt Jacobsen – a key player in one of the world's most active firms in the field – warned that, "governments have to take the lead to get this going and get a framework to make CCS realistic over time."
Nilsen agrees with his fellow Norwegian, though he remains optimistic. "No one really got what they were hoping for out of Copenhagen," he says, "but carbon capture is such a visionary thing – it's going to have to work one day. Carbon reduction is here to stay and in the long run, mining's future is bound up with it. That's what all the talk of sustainability is really about."