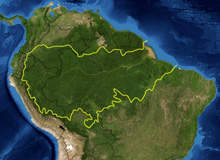 Brazil's national government is making big plans to reform the country's mining code. In the process it is likely to raise the royalties paid to the government by mining companies. In the view of the government's current leadership, the reforms are designed to help ensure Brazil can be competitive with other countries for new mining sector investments.
Brazil's minister of mines and energy Edison Lobao declared there is a real need for a new approach to mining in the country. The government, in his view, needs to make regulatory bodies more agile and it must better protect the interests of the home market.
"The regulatory framework being drafted is intended to replace an obsolete model," he explained.
Mining in Brazil
Despite the fact that mineral extraction and metallurgy constitute only 5% of Brazil's GDP, it is still one of the Brazilian economy's most important industries. Brazil's ranking in worldwide reserves makes it the most important mineral producer in Latin America.
The country is now the world's largest exporter of iron ore and niobium alloys – and it enjoys the benefits of a broadly diversified mineral production that spreads into many parts of Brazil's vast geography.
Scope for growth
Brazil's Mining Institute (which is known as Ibram) has lately boosted its forecast for mining investments, mainly because of sustained output and sales growth. Ibram president Paulo Camillo Penna said both Brazilian and global investors are likely to spend more than the $47bn, which is now budgeted for mining through to 2013. The primary cause of their expanded forecast is the country's rapid recovery from the global economic crisis.
"Brazilian and global investors are likely to spend more than the $47bn, which is now budgeted for mining through to 2013."
While macroeconomic stability has laid the foundations for sustained economic expansion, Brazil's average growth has remained below global and Latin American averages – this was true even before the global financial crisis hit the country's economy.
Nevertheless, Penna said investors had reduced spending early in 2009, backing away from some of their previous investment commitments. This occurred as demand shrank due to the economic slowdown. Budgets were cut, primarily in iron ore projects, which usually account for two thirds of the total.
Penna said that production recovery has been fastest in phosphates, which are used in fertilisers, and in industrial minerals, which are used in construction.
Strength and expansion
Despite the huge environmental damage wrought by poorly supervised mining operators – which Brazil's government has done little to prevent or ameliorate – the government is making moves to strengthen its leading position since it is also one of the major producers of niobium, iron, kaolin, tantalite, bauxite, graphite, asbestos, cassiterite, magnesite, vermiculite, ornamental rocks, talc, phosphate rock and gold.
The mineral exploration spending and objectives outlined by the Brazilian Ministry of Mines and Energy are to:
triple mineral production value, to $50bn by 2020
increase by six times the mining royalty revenue collecting though the widening of the fiscal basis and more efficiency in royalty payment control, increasing the total annual value from $809m to $4.8bn by 2020
generate 460,000 new direct jobs in the mining sector and about 4.3m additional jobs in the mining, to increase total mining labour force to 7.3m employees by 2020
invest $57bn 2020 – 80% in iron, nickel and bauxite and alumina.
Consequences
Consider for a moment the situation in the gold sector: the Amazon region has been responsible for a major share of Brazilian gold production in recent years. The region has witnessed a sizable gold rush, comparable only to the California gold rush last century.
"Development of new mines and exploration is expected to increase significantly in the next few years."
Brazil's gold rush has spawned a powerful informal mining sector and has attracted many people, some who have come to the region in search of wealth and some who were already there, but were displaced from other, unsuccessful economic activities. What these people encounter at the mining sites are dreadful living and working conditions.
Gold mining causes substantial environmental problems, which may persist whether gold deposits exist or not. There have been severe environmental effects of gold mining in the region, one of which is mercury pollution.
Mercury, an important input in gold extraction, is being discharged into the atmosphere and rivers at alarming rates, and the environmental costs of the present extraction technology will be faced primarily by future generations because of natural chemical processes.
Change must come
There are near-term changes coming to the mining sector, in part because Brazil is now keenly interested in diversifying the sources from which it procures both equipment and services. Driving this need for new equipment, development of new mines and exploration is expected to increase significantly in the next few years. With increased mining activity there is a tendency to outsource services and equipment.
Most machinery and equipment used by the mining industry is produced domestically, either by branches of international capital goods companies or by Brazilian firms using imported technology. There are as many manufacturers of mass-produced equipment as there are tailor-made.
Where will Brazilian mining companies be investing?
Equipment – sample analysis mining laboratory equipment, trucks, shovels, drilling equipment, front loaders, wheel dozers and environmental control equipment.
Services – drilling, exploration, airborne geophysics, contract mining and engineering services, materials handling and environmental management.
Software – mining, exploration and geophysics.