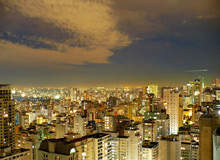 Brazil is the thirteenth biggest producer of gold with production of approximately 55t in 2008. South Africa is the largest producer with 280t (10.8% of world production), followed by Australia with 10% and the US with 9.6%.
The principal gold producing companies in Brazil are: AngloGold Ashan, with 19% of the total; Mineração Serra Grande (Anglo and Kinross) with 13%; Rio Paracatu Mineração (Kinross) with 17%; Yamana Gold 27%; and others 24% (including production in mine settlements, also known as garimpos).
The world's biggest gold reserves are located in South Africa (totaling 6,000t), which corresponds to 14% of the world's total known reserves. The measured and indicated gold reserves in Brazil are 1,950t, or 4.5% of the world's reserve. These deposits are located in the Brazilian states of Minas Gerais (48%), Pará (36.9%), Goiás (6%), Mato Grosso (3.6%), Bahia (3%) and others (2.5%).
Brazil's financial sector is the biggest consumer of gold and gold ore (79%), followed by the metallurgical industry (9.5%), the jewellery industry (7.1%) and others (4.4%).
The quantities of gold exported by Brazil in 2004, 2005 and 2006 totalled 32t, 31t and 33.8t, respectively. In 2007, exports rose by 19.3%, as measured in revenues, and rose by 6.5% in exported quantity (36t).
In 2008, exported volumes reached 37t and created revenues of $1bn FOB. The countries that imported the most from Brazil were the US (92%), the UK (6%), Canada and the United Arab Emirates (2%).
Investment outlook
Of the $ 57bn in new investments, a total of $ 1.5bn will be allocated to gold mining. Here are snapshots of the investment plans currently being implemented by some of the biggest investors:
Rio Paracatu Mineração, which is owned by the Canadian-based Kinross Corporation, intends to triple its production inside Brazil and is investing $540m in an expansion project.
AngloGold Ashanti submitted an investment plan for $350m, the focus of which is to expand production capacity at its mines in Cuiabá and Lamego, both located in the Brazilian state of Minas Gerais. As a result of investments made during the next three years, total annual production is expected to jump from the current 5.2t to 8.5t.
The Canadian-based Yamana Gold, which controls two mining companies in Bahia, says it will invest more than $407m over the next two years. Its focus will be on the expansion and maintenance of its businesses in the state, including the implementation of a new unit in the municipality of Santaluz.
A subsidiary of Jacobina Mineração e Comércio, in the same municipality, will use new investments to more than triple its production, from 60,000oz to 200,000oz of gold per year.
New investments in Mineração Fazenda Brasileiro, Teofilândia, will grow the mine's annual production volumes from 80,000oz to 100,000oz.