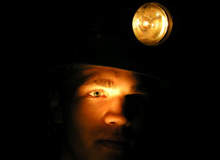 Recent reports from South Africa estimate that 104 mines are operating illegally in the country because of a lack of correct water licenses, highlighting a broader illegal mining issue that has snowballed throughout 2009.
The current confusion over the licensing law stems in part from a lack of coordination between South Africa's Mining Ministry and Water and Environmental Affairs Ministry. Minister of Water and Environmental Affairs, Buyelwa Sonjica, was quick to emphasise that her department is developing best practise guidelines for the mining sector, but debate reigns as to whether operations should be suspended at mines which have not applied for a water licence or provided incomplete information.
With the government struggling to contain illegal mining, such confusion over legislation is ill-timed considering a much darker breed of illicit mining exists across the country. Illegal miners and gold smugglers have long exploited abandoned gold mines – often entering for months and remaining unnoticed in extremely dangerous conditions. Near record gold prices combined with escalating unemployment, however, are widely perceived as spurring illegal mining.
South Africa remains the second largest diamond and gold producer in the world and is home to a rich variety of minerals such as chrome, manganese, platinum, vanadium and vermiculite. Yet with the global downturn weakening demand for minerals, companies have been forced to make widespread layoffs in mining and related sectors. South Africa's unemployment rate hit 23.5% in May 2009 after increasing from approximately 3.8 million in March to roughly 4.1 million.
Furthermore, authorities believe that as many as 1,000 people have died underground in illegal mines during the last year as a result of toxic fumes, fires and other causes.
Targeting syndicates
One incident that put South Africa's illegal mining issue back into the global limelight this year was a fatal accident in June involving the deaths of over 90 people working in an abandoned mineshaft. The accident occurred in part of a mine shut down by the world's fifth largest gold mining company Harmony in SA's central Free State region. A fire occurred in the Eland Shaft, which had not been operated in more than five years, and bodies were brought to the surface by fellow illegal miners.
"Reports from Barberton suggest illegal diggers are openly carrying weapons such as AK-47s and 9mm pistols."
As with many of these cases the illegal workers were thought to belong to a larger highly organised crime syndicate. In response, an Inter-Ministerial Security Cluster was assembled in September by the Minister of Mineral Resources Susan Shabangu to support the newly formed Hawks – a special investigations unit focused exclusively on combating illicit mining.
The move signifies the African Government's intention to cut-down on the multi-billion rand criminal industry, which is believed to involve domestic and international syndicates. Gold-smuggling syndicates in particular are identified as highly organised, dangerous and well-resourced.
Locations such as Barberton in the eastern province of Mpumalanga and Welkom have been identified by the government as particular problematic. Reports from Barberton suggest illegal diggers are openly carrying weapons such as AK-47s and 9mm pistols and beginning to take over legitimate equipment and workplaces. It is thought inter-gang fights and shootouts are becoming almost a daily occurrence in the area while legal mineworkers have been abducted and used as human shields during confrontations with the police.
Meanwhile, in Welkom, police and security personnel have reportedly faced booby traps set by syndicates involving explosive devices. They have also gathered evidence that suggests illicit mining is leading to other illegal activities such as child labour and child prostitution.
A delegation from SA's Justice, Crime Prevention and Security Cluster is expected to visit these affected areas and assess further action.
Building a platform for change
In 2008, 168 miners were believed to have died in South Africa, marking a 24% improvement on the 220 killed during 2007. These figures, however, fail to include illegal miners and incidents this year could further undermine the government's efforts to reform the nation's mining sector.
A clear and coherent set of guidelines and policies needs to be developed by both the Mining Ministry and Water and Environmental Affairs Ministry for South Africa's mining sector. With this in place, there will be an added platform for countering illicit mining operations, which so often takes place within the closed operations of a legitimate company's mine.