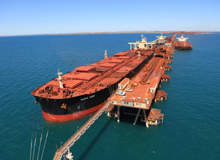 Increasing output by overhauling operations is the name of the game for many mining companies. According to a report published in May 2009 by the Minerals Council of Australia, a new industrial revolution is sweeping the world. Although still in its infancy, this revolution will result in a need for significant increases in supply over the coming years to sate demand.
The report said that by 2030 global coal production needs to grow 45% higher than in 2006, iron ore 54% and aluminium 58%. In addition, 2008's shock-drop in metal prices brought home to companies the need for better economies of scale to buffer against future volatility. Combined, these factors are expected to accelerate the development of so-called 'super mines' around the world.
Evolution Securities mining analyst Charles Kernot says that companies with larger operations will be able to extract larger economies of scale and in many cases larger mines have the advantage of longevity.
"What's important is an ability to have expansion potential and essentially a long life, therefore an ability to exist over the course of a number of different cycles," Kernot says.
China announced it will boost development of super pit mines as part of a strategy to accelerate coal production in line with growing energy requirements. Since 2005, China has shut close to 2,000 small mines. As part of the streamlining process the country plans to build ten large strip-mines with a production capacity of ten million tonnes each and another ten pits with a yield of ten million tonnes.
Automation aids
Australia is another country where there is a definite move towards larger mines, with industry giants BHP Billiton and Rio Tinto leading the push. BHP's Olympic Dam mine in South Australia is currently undergoing an expansion that will see it become one of the world's largest mines.
"BHP's Olympic Dam mine in South Australia is currently undergoing an expansion that will see it become one of the world's largest mines."
Meanwhile, in Western Australia, Rio Tinto chief Tom Albanese announced that the company was 'changing the face of mining' with a bold plan for mass automation of its iron ore operations in the Pilbara.
Rio Tinto spokesman Gervase Greene says that some 150 of an expected 300 roles created with the development are currently being filled in an electronic operations centre some 1,300km away from the site in Perth. The company is also well into trials of a fleet of driverless trucks supplied by Komatsu.
Greene says that consolidating multiple jobs at the one location is likely to yield considerable benefits.
"There are benefits of having a multi-disciplinary ability in the one spot [such as] being able to look at the whole supply of products and manage them all the way through ship-loading and beyond," Greene says.
Remote automation in hard to get-to and inhospitable locations such as Pilbara also allows for better staff management, both in terms of retaining as well as rotating personnel who would otherwise need to be housed or flown in and out.
In addition, larger, more centralised operations allow miners to focus their resources towards developing a deeper understanding of the site environment. Functions such as marketing are also able to be consolidated, often leading to better results with lower costs.
"Combing management in one area under one roof enables you to look at the whole of the production cycle," Greene says.
Growing pains
As miners are forced to scout for deeper and deeper ore bodies, bigger underground mines are expected to emerge with pit operations becoming less common.
The Australian Minerals Council predicts that by 2030 it will not be unfeasible for Australia to have a high capacity underground coalmine delivering as much as 15 million tonnes per annum.
But such large-scale operations are unchartered territory presenting unique challenges and it would appear there remains a number of teething problems. For instance, deep underground mines will need to have improved systems for ventilation as well as systems in place to mitigate against explosions.
At the same time, open pit operations are expected to grow in size. The world's deepest open pit mines extend to around 800m but there are efforts afoot to go much further. Techniques needed to explore and make safe the operations, such as buffering the walls, of these new super pits are, however, still in their early stages.
The automation of large machinery has its challenges also, as was illustrated in early 2008 when Codelco's Gaby mine in Chile was forced to stop trucking operations after an accident involving Komatsu driverless trucks.
Rio Tinto is using automated trucks from Komatsu in Western Australia and says that there have been no difficulties to report.
Impact
At first glance, larger mines would appear to be a greater threat to the environment. But Evolution Securities' Kernot expects that larger, concentrated mine operations will be shown to be less of a strain than multiple operations delivering the same output.
"If you can concentrate everything in a single area then you probably could say there's less environmental impact compared to having a number of different mines," Kernot says.
"The world's deepest open pit mines extend to around 800m but there are efforts afoot to go much further."
Carbon taxes and other factors are placing further pressure on miners to develop cleaner operations. So much so that the super mines of the future are expected to display the best environmental practices, driven by both community and economic factors.
The move towards super mines has implications for mining equipment suppliers, which are likely to realise the increased demand for bigger and more power-hungry equipment.
Bigger and more powerful drills and diggers will be needed in addition to bigger and faster road, rail and sea transport. In the shipping sector, Panamax-size ships are soon to be outnumbered by the much larger Capesize vessels.
Coal mining power equipment supplier Victor's marketing manager Fraser Small says the company is already seeing demand for higher voltage electrical plugs and sockets.
"As machines are getting bigger they're calling for more and more power," Small says.
At present, Victor supplies products with capacity up to 11kV but anticipates having to soon move up to 14 or 15kV.
"But it's not just the voltage, it's the current as well – we're up to 500 at the moment but we anticipate that rising to 600."
With larger mines and the move to automation comes the need for intelligent computing systems to run them. Along with this line, it is expected that IT systems and hardware companies will play a much bigger role in the mines of the future.