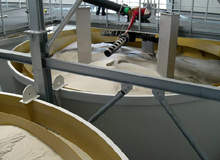 The mining industry is facing a tough year. The Fraser Institute's 2008-2009 annual mining survey paints a picture of an industry facing markedly lower investment with a significant number of companies expecting to scale back activities – if they avoid going out of business altogether.
Exploration and development in particular are almost certain to be dramatically reduced over the coming years and according to the institute's survey coordinators, Fred McMahon and Miguel Cervantes, this could lead to a major shortfall in resources just as any recovery begins to gather pace. This, they suggest, has led most miners to expect commodity prices to resume their upward movement.
This could be bad news for the larger mining companies, although it could prove advantageous for suppliers, especially those in the tank industry. On current predictions, tanks and storage will continue to have an important role to play as the industry precariously bridges the recessionary gap, and should the more outlandish scenarios envisaged by some commentators ultimately pan out, the sky could, quite literally, be the limit.
Innovation priorities
The mine environment inevitably imposes particular restrictions and demands on tanks and these have formed some of the important drivers on innovation. Transport and ease of set up are cases in point, with a range of manufacturers, such as Rocovent, Wet Earth and Pioneer Tanks among others, working to develop lighter, modular and readily installed vessels for the industry. As a result, compact, low-weight, self-supporting portable fluid tanks are widely available, simplifying transportation to even the remotest mine location.
Tank integrity is another obvious concern, and unsurprisingly has formed the focus of ongoing development work to ensure that storage containers can stand up to the rigours of normal mining activities – including routine heavy vehicle movement and blasting operations – without compromise or structural failure.
Oil filtration
Mine storage issues are not, of course, solely about the construction details of tanks and in today's increasingly competitive and environmentally-driven business climate, the question of fuel storage – and cleanliness – has risen fast up the economic agenda. The upshot has seen tank farms install various filtration solutions.
How well do you
really

know your competitors?

Access the most comprehensive Company Profiles on the market, powered by GlobalData. Save hours of research. Gain competitive edge.
Company Profile – free sample
Thank you!
Your download email will arrive shortly
Not ready to buy yet? Download a free sample
We are confident about the unique quality of our Company Profiles. However, we want you to make the most beneficial decision for your business, so we offer a free sample that you can download by submitting the below form
By GlobalData
Towards the end of 2008, for instance, Techenomics International Indonesia implemented a complete contamination control system at Phu Bia's Laos mine, including dual filtration to ensure clean oil delivery. Specially designed stainless steel filter tanks, mounted on an above-ground space-saving platform, treated the incoming oil, with a final filtration unit being subsequently used prior to offtake. The results have regularly met the ISO 4406 standard of 16 / 13 cleanliness.
"By 2025, a permanent Moonbase could be home to a new generation of cosmonauts and miners in a bid to exploit rich mineral reserves beneath the lunar surface."
More recently, Racor hydrocarbon filters from Parker Hannifin have been installed in Columbia, at one of Latin America's largest opencast coal mines, where they filter more than 45 million litres of diesel oil a month. With such a high consumption of fuel and a major problem of contamination by solids, sediment and water, improving storage conditions enabled the mine to reduce maintenance costs and increase the service life of trucks, tractors, excavators and generators. Slashing original contamination figures of 30mg/l for sediment and 400ppm for water to a fifth of their previous value, the effect on efficiency, productivity and profitability is obvious.
It is something that has not gone unnoticed in the industry as other mining companies begin to look to their own tank farms and diesel storage, with an eye to the benefits available.
A question of scale
Of all a mine's storage needs, water tanks – whether potable reservoirs, process water tanks, demineralised, deionised or condensate stores or simply reserves for fire-fighting or dust control – are always destined to be some of the most prominent. However, when the plan is to build the largest copper mine in Zambia – and by all accounts, the biggest in Africa – then storage issues come on a pretty impressive scale. The challenge facing Equinox Minerals at Lumwana called for some major-league construction, a comprehensive environmental impact study, governmental approval and the development of a wide-ranging water management and resource protection strategy.
Meeting the demands of safeguarding supply, minimising pollution and reducing the negative environmental effects of mining on this scale meant constructing two purpose-built, complementary facilities. Designed to provide the mine's self-contained township with drinking water, the water storage facility (WSF) will also bolster the volume supplied for operational purposes – processing, construction and dust control – by the tailings storage facility (TSF). The project also necessitated building catchment diversion channels – designed to accommodate once-in-100-year flood event predictions – and the construction of a low-lying sacrificial area within the mine floor contained behind a cofferdam.
In the final analysis, the numbers speak for themselves. The dam holds 568 trillion litres; the WSF has a year-one capacity of 12GL, rising to 569GL by year-six and beyond; the TSF is capable of contributing over 70% of the required process water throughout the mine's anticipated 37-year lifetime; and the price tag stands at more than $60m.
Asking for the Moon
Designing tanks and storage solutions for some of the most difficult environments on earth is hard enough, but if Russian ambitions ultimately come to fruition, there could be some seriously bold leaps of technology required. While the Obama administration's Augustine review into the future of Nasa's manned space programme continues, and with it hopes of returning to the Moon, it seems its old Cold War rival is once again eyeing the possibility of a lunar adventure – with mining in mind.
According to the president of Russia's Energia Rocket and Space Corporation Nikolai Sevastyanov, by 2025, a permanent lunar base could be home to a new generation of cosmonauts and miners in a bid to exploit rich mineral reserves beneath the lunar surface.
Russian interest in mining the Moon seems to have been principally driven by the prospect of the abundant helium-3 deposits embedded in the upper layer of lunar dust and rock particles by the solar wind over billions of years. Proposed as a valuable second-generation nuclear fusion fuel, the interest in helium-3 is understandable; there could be as much as a million tonnes on the moon – and predictions suggest that the entire annual US energy demand could be met by just 25t of this rare element. Even before the Russian Government has officially signed up to Sevastyanov's vision, there are those in Russia already beginning to look at the tank and storage technologies that will be necessary to make such a bold venture possible.
As innovation drivers go, it may be a little unusual, but mining has a long history of posing difficult questions for the sector; putting tanks on the Moon – or Mars, for that matter – simply represents the latest. Wherever the future of mining ultimately leads, the storage industry, as always, will be ready for the challenge.