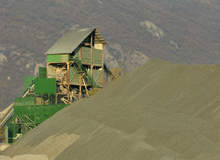 Environmental and social assessments used to be highly resented in the mining industry. They were viewed as necessary hurdles that needed to be overcome to appease the local community but ultimately risked bringing down the profitability of the mine.
However, incidents such as the landslide in the Welsh village of Aberfan in 1966, where a slag heap collapsed, causing a landslide that crushed the village's primary school and killed 114 people, up to the 80 deaths resulting from mining activity in Africa this year highlight the damage that can be done when risks are not properly calculated.
Loss of human life is one outcome of inadequate environmental assessments. Disruption of the local water table along with degradation of vegetation and a reduction of air quality are less dramatic but also potentially fatal problems that can last far longer than the life of a mine.
Hand-in-hand with these safety and environmental risks are social problems that may be more difficult to calculate. Battling a long-held bad reputation, the mining industry is doing what it can to work with local populations and give back to the community in which they work.
Environmental Resources Management (ERM) partner Sue Posnik believes that although there are still hangovers from the past, the industry is getting better.
"It is the old mines that were developed when proper control was not put in place that is the problem. Because the industry has had a bad press it has to work on improving its image and I think that's what it has done over the last 20 years," Posnik says.
"There is no doubt that the historical impact is still with us – there are areas that have not been cleaned up and in some cases, we do nothave the means to clean them up totally," she adds.
"Mining firms are, however, making huge strides to work with local communities where possible and by helping to alleviate poverty and bring economic benefits to the area, they are showing that a lot of things can improve because of their presence."
Sustainable standards
In 2002, the Johannesburg World Summit on Sustainable Development offered a new approach to mining that changed the viewpoint of many in the industry. International Organisation for Standardization guidelines due next year are eagerly awaited by environmental consultants the world over because they are expected to further define the idea of sustainable mining.
In line with these new rules are the World Bank Group International Finance Corporation's Environmental Health and Safety Guidelines, which have moved on from assessing whether mines have an environmental impact to dealing with the impact itself.
But while the environmental assessment of a mine can be carried out in an exact way with tangible points of reference, social scientists in the industry are still battling with how to best assess the more ingrained social impacts.
"Environmental issues can be clearly measured but the social impacts are so hard to measure that the only way we can do this is through a strong systems approach," Posnik says.
"It is the old mines that were developed when proper control was not put in place that is the problem."
Social issues are not restricted to those that result from mining activity; they may already be prevalent in the area. Some of these problems are so ingrained that mining companies cannot solve the problem alone and where their scope of responsibility ends is still a grey area.
In addition, in cases where most of the local population works for the mining company, the relationship between complaints about conditions and a worker's career progression needs to be managed carefully.
If cases of HIV are common among a mine's workers, for example, the question is raised about whether it is the mining firm's responsibility to tackle the problem. When it impacts the workforce, one of the majors may decide to take action. Over the past few years, it seems partnering with local healthcare providers has been a popular option in helping to alleviate such issues.
To promote in-house schemes such as this, Anglo American has set up a business excellence award and recently commended Anglo Coal South Africa for its workplace programme that aims to tackle HIV, tuberculosis and malaria. As part of the scheme, it conducts annual tests for all employees and has established a free HIV management programme offering care, support and treatment for employees who test positive.
But for smaller firms plowing resources into social, health and environmental improvement schemes, this is not always possible. For them, relying on outside advisors and contractors becomes vital and managing these relationships – ensuring high standards of work and contractual obligations are met – is just as important as if the work was being carried out in-house.
Life lessons
Throughout the lifecycle of a mine and beyond, environmental and social issues will arise and Posnik says firms are doing a much better job of thinking about the risks before the exploration even starts.
"If the mining site is viable but there is opposition it is not always certain that the mine will go ahead. I think that was not often fully realised in the past but is greatly appreciated now," Posnik says.
"Social issues are not restricted to those that result from mining activity; they may already be prevalent in the area."
During the construction phase there is an enormous amount of activity and open pit, open cast and underground mines each present environmental issues. The amount of electricity that can be used when taken from the same supply that power's local towns, the storing of waste tailings and the risk of subsidence all need to be carefully managed.
The impact on the local area will live long after the mine has closed and it is increasingly becoming the responsibility of the mining firm to ensure stability of the local environment long after its drilling equipment has moved on. When an underground mine is in operation the water table may be altered dramatically, for example, and putting in place adequate pumping to minimise the risk of flooding is just one of the measures mining firms need to take into account.
The stability of tailing stamps, the re-vegetation of the area and the economic future of local workers must also be considered. Environmental consultancies such as ERM have a wealth of expertise – and a host of stories of what can happen if environmental and social responsibilities are not taken seriously – to help mining firms tackle these issues. With a host of guidelines and every source of back-up imaginable, there is no excuse not to get these responsibilities right.