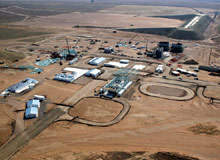 One of the key services offered by corporate social responsibility (CSR) initiatives is health programmes, which are becoming more commonplace across Africa. In particular, large mining companies are offering programmes to help those suffering from HIV/AIDS, Malaria and TB; diseases which pose the biggest threat to mine workers and their families.
As the global spread of swine flu demonstrates, ensuring disease control methods are in place is crucial for maintaining healthy communities. Mining companies have long since recognised that protecting the health of their workers not only increases productivity but also ensures the longevity of mining projects, particularly at operations with long lifecycles, such as diamond mines. Diamond specialist De Beers is a case in point. In recent years, the company has invested in an HIV and AIDS management programme to raise awareness and provide treatment for its workers. It has also pioneered free antiretroviral treatments.
By the end of 2008, around 70% – 2% more than the previous year – of De Beers employees had participated in HIV testing at the company's South African operations, while around 80% of permanent employees at the Voorspoed mine had participated in screening within the first six months of the mine opening, according to statistics published in its 2008 Report to Society.
De Beers is not alone in this approach. In 2006 gold miner AngloGold Ashanti launched the largest TB research programme undertaken in South Africa's mining industry. Targeting employees at AngloGold's TauTona, Great Noligwa, Moab Khotsong and Tau Lekoa mines, the programme was the result of a collaboration between the South African Medical Research Council and the Aurum Institute for Health Research and was backed by the South African Government.
"As the global spread of swine flu demonstrates, ensuring disease control methods are in place is crucial for maintaining healthy communities."
While ensuring that medical supervisions are in place for sick workers is not a new idea, the AngloGold programme offers preventative TB therapy in addition to standard TB control. The risk of miners developing TB in underground gold mines is high and the disease is often a complicating factor in HIV/AIDS and silicosis.
The bigger picture
But healthcare is not an isolated concern for mining companies devising social responsibility programmes. Creating social policies that help structure such programmes involves taking into account the entire environment at a mine site.
According to James Suzman, director of corporate citizenship at De Beers, corporate responsibility is part of the company's core business and lies at the heart of its business strategy.
"If you're operating in an underdeveloped area, it's clearly in your interests to contribute meaningfully to the development of local communities. This not only helps ensure the viability and stability of your operation, it is also the right thing to do," he says.
The first stage of developing CSR programmes involves understanding the community and natural environment at a potential mine site. The process of research and negotiation can sometimes take years to complete.
"It's about finding a shared space, a common ideal based on mutual benefit," Suzman says.
There are many examples where this communication has broken down. Energy giant Shell made headlines in April when it came to light that the company is to stand trial for allegedly conspiring in the murders of Nigerian human rights activists who were demanding an end to gas flaring operations in the country. The allegations have put environmental and human rights groups offside for years and some groups are calling for Shell's so-called corporate social irresponsibility to be revealed.
Major oil and mining companies are not dissimilar in the way they must conduct operations and both share the same ability to cause large-scale and permanent destruction to communities and ecosystems. While miners must maintain a successful long-term operation, they also need to avoid negative publicity at a time of economic strain.
Suzman believes that negotiating ways to work with locals at mine sites should take as long as it needs to ensure both parties are happy with the plans.
"If we can't find a way to make mining work in a long-term way in that community, then it's unlikely we will get a social licence to operate there," he says.
Benefits of beneficiation
CSR schemes can also work to benefit the economy of a country. De Beers, which works closely with Botswana's Government through a joint venture agreement, says the mining industry accounts for 50% of government revenues. The process of beneficiation in Botswana, which forms part of the social responsibility ideology, is primarily focused on building and developing the downstream diamond industry.
"Creating social policies that help structure such programmes involves taking into account the entire environment at a mine site."
Building up this part of the industry forms structures for helping create employment and raise Botswana's manufacturing capacity, says Suzman.
In recent years, De Beers set up the Botswana Diamond Trading Company, which has seen a mass migration of skills from Europe to Africa. Although Suzman admits there is a marked skills gap in Africa, the company is working to bridge this by training locals to run local mining businesses.
But while this system may work for De Beers and the people and Government of Botswana, other countries may not be so easy to crack. Suzman admits Botswana is an exceptional case, mainly because of the company's special relationship with the government.
The company, which is moving into other countries, including Angola, will inevitably face challenges from local communities that have their own individual issues and concerns based on their unique environments. But Suzman is confident that De Beer's, which operates a CSR system similar to that of its big shareholders AngloAmerican, can please the communities who help run and operate its mines.
CSR in action
While CSR looks good on paper, how does a company ensure it is enforced on a daily basis at the mine? In 2008, the social practice at Cerrejón, one of the world's largest open-pit coal mines, was scrutinised by a large-scale independent review. The Cerrejón Coal Company was recommended to improve its flagging CSR principles by strengthening the presence and capacities of civil society groups in the area, improving revenue transparency and helping to create harmony between disparate groups in a village occupied by one of its mines in South America.
When it comes to De Beers-operated mines, Suzman is confident that through a system of best practice and checking community relations standards, the diamond giant ensures its policies are rigorously enforced on site. Suzman reinforces the point that miners clearly cannot begin and continue to operate 'an effective mine if communities don't welcome us there'.