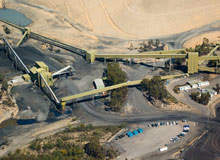 Securing a reliable energy supply is a paramount concern for nations the world over. But for international mining companies, looking beyond the territorial boundaries of their headquarters and assessing energy security in lands far afield is critical if the business is to stay afloat.
For Anglo American, the time has come to take matters into its own hands. With more operations in South Africa than anywhere else in the world, it has already suffered at the hands of enforced power black-outs during 2008 and the company is now determined to take a more active approach in controlling its power sources.
Head of energy strategy Samantha Hoe-Richardson says securing energy is not only important for Anglo American but for society as a whole.
"Energy has to be reliable, uninterrupted, affordable and sustainable," Hoe-Richardson said when speaking at a Women in Mining event in London in March 2009.
"Power cuts caused faults in our distribution system in South Africa last year. We lost work and money because of our power-generating capacity. That is very worrying."
Hoe-Richardson's focus is on securing the firm's access to electricity wherever its projects are located. Electricity accounts for three-quarters of power consumption but because it is not easy to store and its movement is often restricted to national grid systems. When shortages do occur they can often be hard to fix.
"Anglo American suffered at the hands of enforced power black-outs during 2008."
In addition, electricity is often used as a social development tool by governments and control often lies in their hands. The International Energy Agency estimates that global energy demand will almost double by 2030 and for this demand to be met $13.6tn will need to be spent on improving the infrastructure of electricity around the world. Anglo American is now concentrating on estimating its needs and finding innovative ways to approach the escalating problem.
Taking power
The global credit crunch may have mitigated supply issues to some extent as industrial output has largely declined but it also means the project financing needed to bring more reserves on stream lies in doubt.
"[Anglo American] is looking to reduce energy and electricity consumption. We have an energy security programme and by 2014 we want to have 15% less energy intensity," Hoe-Richardson says.
As mineral and metal reserves get deeper, however, a lot of Anglo American's operations are getting more energy intensive. By striping out the unchangeable factors at every mining operation and then looking at how it is possible to reduce energy consumption, Hoe-Richardson has been able to produce a global analysis of just how much electricity use can be reduced – and how much will still be needed – across all of its project sites.
Anglo American needs the power to underpin its future growth but its footprint is often in emerging economies where supply infrastructure can be the tightest. Developed nations have ageing coal and nuclear power stations that are being retired but developing economies such Brazil and Chile, where the company has a big presence, are still laying the foundations to their infrastructure and are still vulnerable to peaks in demand.
"Securing a reliable energy supply is a paramount concern for nations the world over."
More than 70% of Brazil's electricity is supplied by hydropower. An ever-growing demand, combined with the symptoms of climate change is putting an added pressure on its electricity supply.
"If the rains don't come it poses serious problems, this happens once every ten years or so. Climate change is the main cause for concern going forward," Hoe-Richardson says.
Anglo American is looking to increase its nickel operations in the country and is, therefore, watching the situation closely.
Most controversial is the proposed Belo Monte hydropower plant on the Xingu River. If it goes ahead it will be the world's third-largest plant but it poses a huge impact on the indigenous people living in and around the planned site.
South African shortages
When the power cuts struck in South Africa in 2008 Anglo American had just a matter of hours to get the workers out of mines – a job that was dependent on electricity-fuelled safety equipment. At the best of times, the South African electrical reserve margin stands at about 8%, much lower than the recommended 15%-20%. With Eskom as the only electricity supplier when troubles do occur, the population – and the international businesses working in the country – have nowhere else to turn.
The single utility began load-shedding when economic growth demanded more electricity than was available. As just one of Anglo American's sites requires 900MW, cutting off supply to the firm's activities was a simple and easy way for Eskom to recoup some much-needed power.
In response, Anglo American has formed an intensive energy users group with other major miners to lobby the government to establish a more competitive market with a choice of supplies. It has also signed a memorandum of understanding with Eskom. "At mine sites, we are boosting generating capacity and forming contingency plans. It has been very important to develop relations with Eskom and we are now looking at having joint projects," Hoe-Richardson says.
Anglo invests in alternative power
Anglo American is also looking at building wind farms in countries such as Namibia and Chile where it has a growing presence or forming joint ventures which may take the form of buying the land and then contracting out the power-generation work to a local firm.
"Anglo American is determined to take a more active approach in controlling its power sources."
"We need to make our projects more sustainable and so Anglo is investing in carbon capture and storage projects," she says.
On this front Hoe-Richardson is hopeful that the new economic stimulus package in the US, which has money dedicated to clean energy projects, will go some way to furthering the FutureGen Alliance, a membership of some of the world's largest coal and energy utilities.
In addition, Anglo is looking at methods to capture methane emissions, which are 21 times more potent than carbon dioxide emissions, and is looking at how these can be re-inputted into its Australian mines to help them become more carbon neutral. Its platinum group is also working with fuel cell manufacturers to see what long-term opportunities lie in this sector.
Platinum is a vital component in converting the hydrogen in the fuel cells to electricity and so by producing the metal and then ensuring its use in clean electricity generation, Anglo can help reduce its footprint. It is working with fuel cell producer Johnson Matthey and hoping to trial the technology in South African homes.
Hoe-Richardson says that despite the credit pinch these projects need to get off the ground so Anglo can hit the ground running when the economy turns.
"Although the economic crisis has mitigated energy issues, the demand is likely to pick up quickly and we can assume prices will go up in the future. It is very important to conduct the studies now so when growth returns we have energy security in our business."