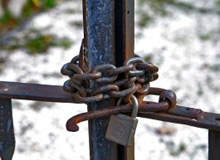 The newly elected liberal government of Western Australia last November overturned a ban on uranium mining in the mineral-rich state in a decision that could deliver a huge boost to the world's current U308 reserves over coming years.
Australia is the world's second largest producer of uranium behind Canada, supplying around a quarter of global demand. It's a position the country has maintained with only three mines: Ranger in the Northern territory; and the Olympic Dam and Beverly mines in South Australia.
"Western Australia is believed to contain the biggest uranium reserves of any Australian state."
Western Australia is believed to contain the biggest uranium reserves of any Australian state, with current resource estimates of around 170,000t of U308. So far at least eight significant uranium deposits have been identified in West Australia and the government's decision is likely to see Australia soon become the world's top producer.
Several companies including global giant BHP Billiton have uranium interests in WA. Stock values soared once the new government was elected, with Perth-based Paladin Energy, a miner with a $3.2bn market value and uranium resources at its Manyingee and Oobagooma projects in Western Australia, a particular favourite of investors.
Enthusiasm has been tempered, however, with the current global financial crisis leading to a shrinking of much needed investment capital according to publicly listed miner Energy Metals' executive director Lindsay Dudfield.
"If we were still sitting in the financial environment we were in 2007, with the change in legislation there would have been a far more dramatic immediate effect," Dudfield says.
The Perth-based company has a number of small uranium projects in WA which Dudfield says are progressing well. He adds that the reversal of the ban has encouraged the company to begin discussions with a number of traditional Aboriginal landowners.
Uranium – a resource not quite untouched
The largest unmined uranium deposit in Australia is Jabiluka in the Northern Territory, owned by a subsidiary of Rio Tinto. However, the next three largest deposits, including BHP Billiton's Yeelirrie project, Energy and Minerals Australia's (EMA) Mulga Rock project and Cameco and Mitsubishi's Kintyre project – are all in West Australia.
Uranium deposits have been identified from the Kimberley region of the far north of Western Australia to the Goldfields east of Kalgoorlie in the heart of the state. The biggest, Yeelirrie, is now owned by BHP Billiton after its purchase of WMC in 2005, which also owned the enormous Olympic Dam mine in South Australia.
BHP Billiton has welcomed the lifting of the WA uranium mining ban and says that plans are fully underway to begin first production.
"In terms of uranium in WA, BHP Billiton has formally advised the Western Australian Government of our decision to reactivate the Yeelirrie uranium project," says a spokesman for the company.
"We will first undertake a drilling programme to confirm the resource and we are [already] assembling a project team to be based in Perth to evaluate mining and processing options and to prepare an environmental impact statement."
Nevertheless, the company admits that it's very early days.
One of the biggest hurdles facing the WA industry is the fact that the state's opposition Labour party remains opposed to uranium mining. A return to power for them at the next state elections in 2011 would, therefore, see the ban simply reinstated – a disastrous and yet distinctly real scenario.
This is despite the fact that the Federal Labor government officially overturned its three-mines policy heading into the 2007 election. The policy states that only three uranium mines can operate in Australia at any one time – it is a policy that opponents such Simon Clarke, of the Australian uranium Industry, will be glad to see go.
"There's a somewhat schizophrenic policy with regard to uranium mining within the ALP (Australian Labor Party)," says Clarke.
However you look at it, uranium mining is a highly political issue in Australia and both major political parties have publicly rejected nuclear power. There is also much public scrutiny of who Australia allows to buy its uranium. India has been told that it won't get Australian uranium until it signs the nuclear non-proliferation treaty.
Almost no uranium exploration has taken place in the Labor-controlled states of Victoria and New South Wales, where nuclear energy and uranium are strictly political no-go zones. Queensland, also held by Labor, has flagged a review of its ban although nothing is expected to change anytime soon. Little is, and may never be, known about Tasmania's uranium potential.
Until now, in fact, uranium mining has only been allowed in South Australia and the Northern Territory.
"The Kintyre project may host potential mineral deposits ranging from 62 to 80 million pounds U3O8 in total."
A promise by The Northern Territory Labor Government to ban any new uranium mines was nullified following a court challenge by the Howard Federal government in 2005.
The second largest uranium deposit in WA after Yeelirrie is the Kintyre project. In July 2008 a joint venture comprised of Cameco (70%) and Mitsubishi Development (30%) purchased the Kintyre project from Rio Tinto for US$495m through a bidding process. Cameco will operate the project and is funding its share of the purchase price through existing credit facilities.
Kintyre is an advanced exploration project located in Western Australia about 1,250km northeast of Perth. Based upon Cameco's due diligence, it is estimated that the Kintyre project may host potential mineral deposits ranging from 62 to 80 million pounds U3O8 in total, with an average grade between 0.3% and 0.4% U3O8. The project sits on traditional aboriginal lands belonging to the Martu tribe.
The Martu and other Aboriginal tribes had been among those pressuring former premier Alan Carpenter to allow uranium mining in the state. The Martu are believed to hold the rights to earn a 20% stake in the Kintyre deposit which Rio Tinto recently sold to Cameco and Mitsubishi for $495m. But before anything happens on the ground in WA, there's the thorny issue of radioactive waste and how it is to be handled. Revelations that radioactive material had been sitting in open-air stockpiles at the Yeelirrie deposit for more than a decade sparked outrage from community and environmental groups, leading to an embarrassing public admission from WMC in 1997.
Belatedly, a cleanup of the contaminated site was undertaken, which involved fencing the areas of worst radiation and posting danger signs on the fences. Essentially, the 'cleanup' consisted of pushing the ore into piles for later recovery. For six years, the radioactive rock was blowing in the breeze, washing into the water supply and gradually cycling into the local environment. Beta and Gamma radiation emissions from these piles were as high as 56 times the normal background.
The memory of this incident remains clear and the new WA government is under immense pressure to ensure no such events are ever repeated.
According to the AUA's Clarke, the biggest challenge facing the WA government on the issue of uranium will be the development of an effective regulatory framework.
"WA has a reputation for being the resource-driven state but the processes for revising and assessing projects has been widely criticised for being too slow and too complex," Clarke says.
Energy Metal's Dudfield says that the WA government is hoping that the experiences of the Northern Territory will offer some clues.
"We understand that the WA government is trying to fast-track by taking advice from the NT example," Dudfield says.
New decade, new attitude for uranium?
Recent shifts in attitude towards the environment and towards nuclear could make a difference to the Uranium industry in Australia, according to Deloitte Western Australia resources expert Keith Jones. He says that while there are still a number of obstacles to uranium mining in the state, the sentiment towards uranium and nuclear in general will shift in coming years.
"I really think that most of the commentators in the world now would see nuclear power as part of the solution to the greenhouse gas problem," Jones says, adding that while Australia will continue to face the 'not-in-our backyard issue' the economic judgement and the impact on the environment will prevail.
"With the potential contribution to solving worldwide problems on greenhouse gas emissions, being anti-uranium could be argued as not being serious about solving this problem."
The emergence of highly efficient 'next generation' nuclear reactors is likely to soften community reactions towards nuclear, given the potential in future for nuclear energy to be generated with minimum or zero waste.
"In due course nuclear reactors won't have radioactive waste product – they will be more efficient," Jones predicts.
"Radioactive waste products will simply be reprocessed."
Demand for uranium is expected to rise exponentially over coming years as countries look for more practical, efficient and environmentally friendly energy sources. There were 376 new nuclear reactors planned or proposed globally as of Dec 2008, up from 318 in Aug 2008 (+58 units, +18%). The main increases are UAE (11), Italy (10), UK (6), Vietnam (6) and Poland (5).
"Beta and Gamma radiation emissions from these piles were as high as 56 times the normal background."
Interestingly, a significant number of new, planned and proposed reactors announced since August 2008 are in advanced, non-Asian economies such as Europe.
While yet to appear as an obvious trend, it suggests the potential for advanced market economies to be a significant driver of nuclear reactor growth going forward, driven by energy security concerns and climate change commitments. Currently there are 439 nuclear power reactors in operation and 39 under construction. A total of 61 new reactors are expected to be commissioned by 2014.
China and Japan remain countries to watch, with companies from each known to be in the market for uranium assets in Australia.
"There has been considerable interest shown from Asia," notes Deloitte's Jones.
"China and Japan have both been actively looking at opportunities."
Mitsubishi Development's partnership with Cameco at Kintyre of course marks a major foot in the door. Beijing announced last November that it may increase its nuclear generating capacity to 70GW by 2020, up from 9GW (11 reactors) representing only 1.3% of total Chinese installed electricity generating capacity currently.
But despite all of this industry optimism, excitement about WA's ability to sate growing demand for uranium should be tempered somewhat given the likely lead times to bring even the most advanced projects up to production phase.
"It's not going to happen overnight," says Energy Metal's Dudfield.
"It will be at least two years before the first uranium mine is developed in West Australia and probably closer to four years."