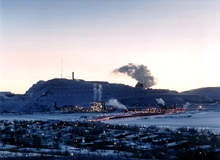 Sweden's natural resources have long formed the basis of the country's economy and the mining of metal ores is a well established traditional industry. Despite occupying an area of a little under one thousandth of the globe, Sweden accounts for around 2% of the world's iron ore production and is responsible for some 90% of the EU15 output. With a mining history dating back several hundred years, it is by far the largest producer in Europe. The situation in iron ore is also reflected across other metals, with the country also ranking high for gold, silver, copper and lead output.
Traditional industries
Three regions have been key in Swedish mining over the years and those are the mineral-rich districts of Bergslagen, Malmfälten and Skellefteå.
Bergslagen, an area in central Sweden, located to the north of Lake Mälaren, has ties to iron extraction which go back as far as 400BC, though true industrial mining did not appear here until the 17th century. Although most of the mines in this once-dominant region now lie quiet, many did remain in operation into the 1970s and the last iron ore mine – Dannemora – closed in 1992.
To the far north of the country, and centred around the towns of Kiruna and Malmberget, Malmfälten, literally meaning 'the Ore Fields', has enjoyed pre-eminent importance in Swedish mining throughout the 20th and into the 21st centuries. Malmfälten contains some of the most important iron ore deposits, with proved reserves of 3,000Mt. The district is also home to Sweden's biggest copper mine, Aitik, while Laisvall, Europe's biggest single source of lead ore, lies in the third district – Skellefteå.
Deep underground
Most of the exploited ores are found in early Precambrian formations with the ore bodies themselves inclining steeply and travelling deep. Kiruna, for example, dips at 50-60 degrees and, once known for its vast opencast workings, has had to extend operations underground. Its annual 20Mt capacity now makes it the largest subterranean iron ore mine in the world.
In Malmfälten, major iron ore deposits are hosted in volcanic rocks which have subsequently metamorphosed to gneisses and are often covered with further volcanic material and sedimentary layers. They are then often folded extensively, leading to the appearance of several ore sheets. Although haematite is present in sizeable amounts in some areas, typically the predominant iron ore is a very pure magnetite-apatite mix containing more than 60% iron.
Financially favourable
A number of factors make Sweden a favourable environment for mining operations, not least the country's modern infrastructure and good transport systems. In addition, geographical proximity obviously means reduced costs, making Swedish iron ore significantly cheaper for the industry's European consumer base than imports from the southern hemisphere.
"The long-standing importance afforded to metal extraction has also established a naturally supportive population and a capable workforce."
The ready accessibility of power in the remoter areas of the north where many of the major deposits lie is also an important consideration for processing and in Sweden, this is further aided by some of Europe's lowest power costs. The country's strong mining tradition and the long-standing importance afforded to metal extraction has also established a naturally supportive population and a capable workforce.
This national mining culture has additionally given rise to a number of home-domiciled companies with a wide range of relevant expertise and cutting-edge technology. The names read like a roll-call of some of the industry's key international players – Alimak, Atlas Copco, Kiruna Truck, Morgårdshammar, Nitro Nobel, Sala International, Sandvik, Secoroc, Skega and Trelleborg, to name just a few.
The existence of large, unexplored prospective areas and Sweden's inherent political stability feature heavily in making the country mining friendly too, particularly when for so many regions of the world, prospective opportunities and settled sovereignty seem inversely proportional. The entire mineral-rich area of northern Sweden, along with neighbouring parts of Finnish Lapland, Norway and Russia, remains largely under-exploited, while the safe political situation allows companies to feel comfortable making the investment necessary for exploration.
Encouraging internationals
Sweden's business climate has not always been so welcoming. Until less than 20 years ago, the state played an active part in the industry itself through state-run exploration and the exercise of a legal right to acquire major holdings in any new mining operation.
But in 1991, a change of government and the country's application to join the EU resulted in a number of far-reaching policy changes to encourage foreign investment. The new benefits included tax reductions, privatisation and the cessation of further state participation. Today, Sweden boasts low corporate tax and licence costs, no mineral tax, modest royalties, low production costs and incentives for project development.
The 1990s measures have paid dividends and now considerable exploration activity has been undertaken by a number of Swedish and foreign firms. In 2003, Svartliden became the first fully foreign-owned mine – by Australia's Dragon Mining – since the changes took place.
Latest extraction
Although the global economic downturn has put a damper on iron ore's short-term prospects, Swedish mining appears to be looking at the long-term picture. Part of this involves a reappraisal of the commercial potential of some of the closed mines, especially in the historically important Bergslagen district.
In the summer of 2008, the owners of the Dannemora mine began removing water from the workings, ahead of its scheduled reopening in late 2009, while a €16m equity issue in June improved financing for the venture and allowed Dannemora Minerals to secure vital investments. Although there has been no exploration work since the mid-1980s, the company is confident that it will find more than the 28.5Mt said to be present. It expects to extract 2Mt of ore annually within two-and-a-half years of commencing production.
Meanwhile, the Grängesberg mine is also being considered for reopening and pre-feasibility studies are expected to be completed by early 2009. A number of companies have other developments on track, most notably the Stora Sahaavara and Ruoutevare projects, both in northern Sweden. However, it is not only iron ore that is attracting interest as multiple projects are also underway for nickel, uranium (forecasted for significant growth) and gold.
Although Sweden's gold mining industry is relatively small in global terms, discoveries in 2008 have rekindled something of the interest, as well as the international capital, which surrounded the country's first gold-rush in the 1920s. Lyckelse-based Lappland Goldminers, for example, is developing plans to open Fäboliden, the second new mine in the Gold Line while other Swedish companies are also involved in gold prospecting in Finland and Norway.
"The current focus is on high levels of automation coupled with a reduced environmental impact."
On the technological front too, Sweden has a long history of continuous development and this is something which has been successfully exported. The current focus is on high levels of automation coupled with a reduced environmental impact, with Euro Mine Expo – a new biennial event – at Skellefteå at the end of October 2008 providing a showcase for the best the country has to offer.
With so much going on, it is small wonder that Magnus Ericsson, senior partner of Europe's leading independent analysts, the Raw Materials Group, recently described Scandinavia as a whole as having 'cemented its position as the EU's most important mining region' and competitive with the rest of the world.