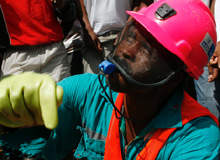 Rockfalls, explosions or earth tremors claimed five lives last week, bringing the total this year to 130, compared to 221 mine deaths last year, and 200 in 2006.
Unions have accused producers of chasing profits at the expense of lives. They want companies to spend even more on safety, but companies fear this may lead to spiralling costs.
For their part, mining firms in the world's top source of platinum, and a major producer of gold, say safety is at the top of their agenda like never before.
Led by Gold Fields, which has the worst fatality record this year, and Anglo Platinum with the most deaths in the platinum sector, mining firms in South Africa have repeatedly vowed they won't tolerate fatalities in their mines.
To this end, Gold Fields shut parts of key mines for safety repairs for months, while Angloplat's second-biggest mine has been shut for a week for similar safety improvements.
Mining houses say fatalities are on the decline, pointing to the fall in deaths compared to the same period last year. They have set a target of cutting the deaths by 20% each year.
Shoddy maintenance and poor technology to detect tremors are partly to blame, but human error – by executives, supervisors or miners themselves – was a main cause of the fatalities.
"Human error causes about 80% of the country's mining accidents," said Clint Smit, head of safety at Angloplat.
Production hit
Officials say preliminary findings from a nationwide mine audit show a "really worrying" level of safety compliance.
"People are not adhering to safety standards. Skills and experience are also an issue," Thabo Gazi, who heads the mine safety council at the Department of Minerals and Energy, said.
The audit report may suggest overhauling archaic mine laws, and new minimum safety standards for decades-old mines.
"Unions have asked workers at fatality-hit mines to boycott work for a day of mourning."
For now, authorities have shut mines for days at a time after a fatality for safety repairs. Unions have asked workers at fatality-hit mines to boycott work for a day of mourning – for which they expect to be paid in full, adding to costs.
"No question, these stoppages have affected production," National Union of Mineworkers (NUM) President Senzeni Zokwana said.
"We are well aware companies are not happy about this."
A national strike over safety last December paralysed mining countrywide, and unions have threatened to stage a fresh strike. Experts say deaths have halved in the past decade, and South Africa could match its global peers by 2013, improving on its appalling safety record compared to established mining countries.
"South Africa's record on safety is 50% worse compared to Canada and Australia," said Sietse van der Woude, an expert at the Chamber of Mines, which groups mining firms.
He said gold mining was 'in sunset mode' and had the most fatalities as miners dig deep to get at the dwindling metal.
Fatality-free zone
Zokwana also criticised mining companies for paying workers production-related bonuses, which he said 'blind workers to safety issues in their pursuit to produce more'.
He also said the fact that miners have little say in deciding which areas to mine had led to some fatalities.
In a bid to change such practices, some firms are including workers in deciding which areas can be mined and how.
"Fatality-free mining is possible, but it will take time to get this right."
By involving workers, Africa's top gold producer AngloGold Ashanti experienced its first fatality-free quarter in the three months to June. But the group has suffered fatalities since then.
"At our mines we have signs that say it's okay to stop working in an unsafe workplace, we are trying to change the culture," Richard Duffy, the group's head of Africa operations, said.
"Fatality-free mining is possible, but it will take time to get this right," he said.
Zokwana wants tougher laws to force companies to pay big fines for fatalities, but firms see this as a negative step.
"Finger-pointing and using a big stick on others is not the right approach to solving this," said David Brown, chief executive officer of Impala Platinum.