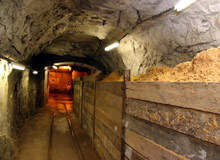 The mining industry has dramatically improved its record of safety over the last few decades, but the industry still faces many safety risks. Recent disasters have once again forced mining companies to look at how their techniques and technologies can reduce those risks, and the safety of sub-surface mining remains a controversial issue.
Looking at the US coal mining industry, for instance, it is clear that the issue has been taken seriously. According to National Mining Association, from 1970 to 2007, the number of fatalities fell by 87%, while production rose by 87%. Furthermore, the number of injuries is down 70% since 1990. Nevertheless, disasters do happen.
In 2002, for instance, the Quecreek Mine rescue saw nine coal miners in Pennsylvania trapped. In 2007, six were trapped in a mine collapse in the Crandall Canyon Mine in Utah, which investigators later blamed on faulty design.
Around the world, more serious incidents have hit the headlines. A mine blast in Siberia recently killed 87 miners after a rockslide caused a build up of methane gas, with roof collapses and smoke hampering rescue efforts. Most recently, however, it is disasters in China that have brought the safety issue to the fore.
China remains the world's largest producer and consumer of hard coal, and is a key producer of other minerals but its industry is dogged by safety concerns. In June, this year 27 miners were killed after an explosion at a mine in Shanxi province, adding to the nearly 4,000 workers killed in accidents in 2007. Poor safety standards have been blamed.
China's Xinhua news agency reported that Zhao Tiechui, director of the State Administration of Coal Mine Safety, found that: "the mining company had exceeded its production quota, mined at unapproved working areas and was equipped with poor ventilation facilities."
How well do you
really

know your competitors?

Access the most comprehensive Company Profiles on the market, powered by GlobalData. Save hours of research. Gain competitive edge.
Company Profile – free sample
Thank you!
Your download email will arrive shortly
Not ready to buy yet? Download a free sample
We are confident about the unique quality of our Company Profiles. However, we want you to make the most beneficial decision for your business, so we offer a free sample that you can download by submitting the below form
By GlobalData
Though the number of fatalities in China is lower than previous years, safety has caused the public and the industry to be concerned over the standards and techniques currently in place. In the coal industry the focus has fallen on the mechanics of room and pillar mining, where rooms are cut into a coal seam with up to 40% of the coal left in place as pillar to support the roof, and longwall mining, where mechanical shears extract the coal and hydraulic supports hold up the roof until it is allowed to collapse when mining is complete.
Taking technology forward
The safety concerns over tunnelling centre on the accumulation of old design systems and the quality of ventilation systems. Ventilation is key because if it is inadequate then miners can be exposed to excess heat, particulates and toxic gases, which can lead to death either in the event of a disaster or by long-term erosion of health. Dust can cause lung diseases such as silicosis, asbestosis and pneumoconiosis.
"The safety concerns over tunnelling centre on the accumulation of old design systems and the quality of ventilation systems."
Methane – often the source of ignition in mine explosions – and other airborne contaminants can be managed through ventilation, drainage or isolation techniques.
Ventilation technology also helps to control heat and humidity. Creating a stream of air through the mine requires large fans, often situated above ground, which must create air flow in a single direction to ensure that all working areas receive fresh air.
These systems, however, depend on many other technologies to be fully effective. High-efficiency filtration systems are now a priority, for instance, but so are technologies that monitor and evaluate the quality of air in a mine and the effectiveness of ventilation systems.
Gas detection systems and mine-cooling solutions are also among the top priorities for technology developers along with the design of ventilation and cooling systems that are not only versatile and robust but also energy efficient – partly in response to rising energy prices and because it addresses the very real possibility of power shortages, as seen recently in South Africa, and their potential impact on both productivity and safety.
Work is currently underway on the development of new surface-cooling installation with thermal storage components, and operational controls that allow cyclical ventilation and cooling.
Atlas Cribs
One recent step forward is a solution created by researchers at Southern Illinois University Carbondale (SIUC), which will help mine workers to ensure that the roofs of mine shafts are braced more safely. Professor of mining and mineral resources in the SIUC's College of Engineering, Yoginder Paul Chugh, has designed a system of stackable wood braces that promises to be both stronger and lighter than those that have been used in the past.
Already being tested in a number of mines, these Atlas Cribs build on materials and designs in use for the last 200 years. They contain a blend of hardwoods and the design includes a lateral board with a series of shorter boards attached, and the orientation of the wood grain increases their strength.
"Safety has caused the public and the industry to be concerned over the standards and techniques currently in place."
"When you compress wood in a parallel direction it is very, very soft. So, our central element has parallel grains, but the grain on the end pieces are axial to the load, and the strength of wood in this direction is about four times larger," explained Chugh.
Furthermore, their inventors claim that their shape improves the circulation of air around the cribs.
"Air has to circulate in a mine to dilute the methane gases and provide fresh air. Moving air through a mine is the second-largest energy consumer for a mine, next only to the transportation of coal out of the mine. That's a pretty substantial amount of energy you're spending on moving air," added Chugh.
The efforts of Chugh and others will no doubt help the mining industry to continue the significant improvements it has made in the technologies and techniques to reduce the loss of life from its operations. Sub-surface mining is unlikely to ever be risk-free but mining companies have shown that the drive to increase output is accompanied by concern for workers and investment in innovative solutions to improve safety.