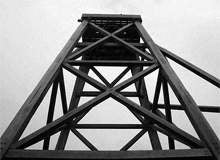 With vast quantities of world-class base and precious minerals and metals, Kazakhstan's mining opportunities seem vast. The country's interests stretch from coal and chromium to silver, nickel and industrial metals, and recent statistics show 95% of the elements in Mendeleev's periodic chart are found there.
As a result, the country has experienced significant growth over the past decade and a half, since the dissolution of the Soviet Union – to a point where there is now increasing access and investment in most minerals in the country.
Although the end of the Soviet Union in 1991 saw production fall and reserves depleted, with a lack of funds to upgrade existing machinery, infrastructure, and exploration – mining now accounts for 30% of export earnings and 19% of industrial production in the country.
Rebuilding
The start of the industry's regeneration came in 1994 when it developed new mineral deposits by encouraging foreign investment. By 2000, the country's mining sector employed 126,000 workers, about 5% of the country's workforce.
Virtually the entire mining sector had been privatised by 1998 and, in exchange for permission to operate Kazakh mines and gain shares in profits and ownership rights, foreign companies invested in modernisation, increasing production and exports, decreasing costs, and upgrading technology.
Much of Kazakhstan's foreign investment (40%) was focused on the oil and gas sector, but by 2003 the situation had improved with overall production increasing by 8.8%. Manganese and chromium ore rose 28.7% and 23.6% respectively; natural gas 22.1%, iron ore pellets 21.1%, coal 14.9%, and crude oil by 7.7%.
Today the country is one of the largest producers of beryllium, tantalum, barite, uranium, cadmium, titanium, ferroalloys, and arsenic and it is the second largest producer from the Commonwealth of Independent States after Russia.
The country also currently holds 1/3 of the world's total chromium and manganese deposits and has 1/5 of the world's uranium reserve.
Investments
The figures make startling reading, showing considerable possibilities in the Kazakh industry but the question remains whether the country can overcome the legal and environmental issues it faces.
The Kazakhstan Government has already streamlined procedures for obtaining permits and simplified gaining exploration licences and as legal codes become more conducive to large foreign investment, market entry in the years to come could become an expensive proposition.
"The country currently holds 1/3 of the world's total chromium and manganese deposits."
Investment over recent years, however, has continued to grow with companies like Trans World Metals (a UK registered company) purchasing Kazakhstan's chromium plant and associated mines in October 1995 paying $65m for the facilities and pledging to invest a further $400m.
Companies like Trans World are being drawn to Kazakhstan with market developments like the recent hike in copper prices to record levels.
High returns equal reinvestment in development projects and technology and, as countries like China rapidly urbanise Kazakhstan, as the world's tenth largest producer of copper, Kazakhstan could see copper output triple by the mid-century.
Recent past investments also include Ispat India which purchased the Karaganda Steel Plant in November 1995 for $225m and pledged to invest an additional $450m.
In October 1996, American firm Access Industries bought and privatised the Bogatyr Coal Mine and 66% of the neighbouring Stepnoy Coal Mine (both part of the giant Ekibastuz colliery) for more than $40m. Access Industries pledged to invest $550m more toward upgrading the coal mines over five years. Access continues its investment programme at the Ekibastuz colliery. The largest coal mine in the world is in Kazakhstan.
Meanwhile, Samsung (South Korea) bought the Zhezkazgan Copper plant in May 1996 for $49m and confirmed another $300m. Despite copper prices falling in 1998, Samsung's low production costs meant operations in Kazakhstan were still profitable.
A number of North American mining businesses have also made substantial investments in Kazakhstan in uranium, beryllium, coal, and gold, and opportunities of particular interest to US businesses may be in gold mining and the post-processing of base and precious metals.
Governmental control
While the industry is moving ahead, situations such as the March 2008 environmental dispute between Kazakhstan and a foreign oil consortium further imply the government's intention to gain influence over its oil and mining industries.
A Kazakhstan court fined KPO $15m for unauthorised gas emissions at Karachaganak, the country's third-biggest oilfield, in 2007. The KPO denies any illegality. There are concerns that these charges of environmental abuse might signal the beginning of a campaign by KazMunaiGas, the state oil company, to muscle in on Karachaganak.
An opportunity for KazMunaiGas to negotiate entry into Karachaganak may occur this year when KPO asks the government to sanction an $8bn project to boost production at the field to 380,000 barrels a day, double the current levels.
The government's wish to claw back control in mining and oil was further illustrated last month (June 2008) when London's two Kazakh mining giants came a step closer to merging after Kazakhstan's government swapped part of its stake in Eurasian National Resources Corporation (ENRC) for a large slice of its rival company Kazakhmys.
It has been said Kazakhmys will issue 80 million new shares to the country's government giving it a 15% stake. The government, for its turn, will give 99 million of the shares it owns in ENRC to Kazakhmys, reducing the government's stake in ENRC to 12% and boost Kazakhmys' holding in its rival from 14.6% to 22.2%.
The deal will mark a long-held ambition of the government to hold major stakes (and consequently more board positions) in both of its mining giants. Kazakhmys was recently valued at £7.57bn, and plans to continue to diversify its portfolio by acquiring other natural resources in Kazakhstan.
The way forward
"The key driver of growth will be the intensive need and use of raw materials in China."
The answer for future investment in Kazakhstan will be in developing more technologically advanced machinery, to cope with increases in demand, and legal environmental issues.
Kazakhstan's mining interests and possibilities are considerable, and the key driver of growth will be the intensive need and use of raw materials in China. The government plans to see an increase in sub-contracting work at foreign-run projects going to Kazakh companies, and to increase mineral processing on Kazakh territory.
But if Kazakhstan wants to rewrite the terms of existing investments, maintain leverage over foreign investors, drive harder bargains and improve conditions for local workers, the question remains; will this eventuate for Kazakhstan?
Kazakhstan says it will not violate contracts and practice 'resource nationalism' such a oil-producing countries such as Venezuela and Russia. But government legislation allows for the annulment of any contract if deemed harmful to national interest. The balance of power seems to be in Kazakhstan's favour.