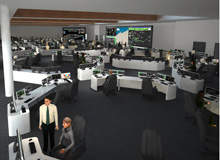 John McGagh has been with Rio Tinto since 1980, most recently as global head of procurement looking at goods and services purchased by Rio, and now as the head of innovation which also covers research and development within the company. His background has spanned e-marketplaces to inbound supply chains, as well as project engineering and operations.
Mining Technology: How is your role as head of innovation cover research, development and innovations with Rio today?
"Today the innovation has to be carried by the mining industry itself if we are going to get to where we need to reach."
John McGagh: I focus on what I can personally do to shape Rio Tinto's approach to innovation and in doing so I seek to secure the funds we need to apply towards the challenges we have identified.
We always keep an eye on the risk/reward dynamic – my experience tells me that funds are always available for those projects that offer demonstrable rewards. Given the unprecedented challenges facing our industry and the rewards available for those that rise to the challenges I suspect we will see funds flowing into wider mining industry research.
My personal feeling is that spending money wisely is actually a difficult skill to master. I will focus on honing this skill to the benefit of Rio Tinto and leave the wider industry investment decisions to other participants.
MT: Do you think the mining industry has come a lot further in the area of innovation than would have ever been predicted five to ten years back?
JM: Interesting question. Looking back five or ten years I doubt we would have envisioned the sheer scale of the demands on the mining industry that have come from the rise of the emerging economies.
The environment in those days was one of continuing cost management in the face of decade-long decreases in real prices for our commodities. That environment did not lead to managed risk-taking on the back of potentially significant rewards – it drove conservatism.
One model that resonates in the industry is that innovation up to the early 2000s came primarily from the mining industry suppliers. This was indeed welcome but it was bounded by the risk carrying capacity for the supply community and thus it was by necessity generally incremental.
Today the innovation has to be carried by the mining industry itself if we are going to get to where we need to reach.
MT: What do you think the key elements of the mine of the future will be then, and how far away do you think these are from becoming a reality? And what has given rise to these challenges?
JM: Let me try to focus this response on one very important overarching element. The key challenge our industry faces is one of unprecedented demand for the products we produce. After a period of relatively modest growth after the post-WWII restoration and rebuilding to the early 2000s, our industry is now faced with the profound challenge to produce those minerals required to lift the standards of the rapidly emerging economies.
Do not underestimate the challenges of the future but anticipate that they will vary."
China has emerged onto the mineral consuming world with 1.3 billion new consumers demanding a higher standard of living. This, combined with a need to build a modern infrastructure for that vast country, is powering current mineral demand growth. We believe that the rise of China will be followed by India and a raft of other emerging economies.
Considering the fact that the traditional consumers of internationally traded minerals – the developed economies – comprise less than 1 billion people whilst the emerging and yet to emerge population numbers over 5 billion. We consider it reasonable to say that this is a time of dislocation for our industry.
As a snapshot, I personally like to think of the big challenges as being:
Fewer mature bodies and tier-one surface deposits being discovered
The inevitable migration from surface to underground operations
Lower grades with longer haul distances combined with massive volume demand
Next-generation ore bodies bringing inherently complex mineralisation
Stakeholders demanding less environmental impact from our operations
A carbon-constrained future framed by the context of global warming
Structurally higher energy prices and emerging real energy constraints rising.
MT: You speak here about the environment – this is already critical for the mine of today. How are mine operators going to further ease concern in over environmental practices?
JM: First rate environmental stewardship is critical for the mine of today and also for the mine of the future. We live in an increasingly carbon-constrained world – this constraint is bounded by the global context of global warming. Our industry has to rise to the challenge by reducing its carbon footprint.
The environmental footprint of operations will be expected by the wider stakeholder community to shrink. This may come from smarter underground operations with less disturbance, through to enhanced environmental management and control of above-ground infrastructure. This is a never-ending challenge that societies demand we as an industry rise to.
The mine of the future is in itself a wide and somewhat abstract concept – the challenges underneath this concept span are influenced by mineral category, ore body and geography. Do not underestimate the challenges but anticipate that they will vary.
There are two industry shifting paradigms that highlight this point:
It took Rio Tinto over 35 years to go from 0 to 100Mtpa shipments of iron ore in Western Australia, it then took seven years to go from 100 to 220Mtpa and we will move in coming years to 320Mtpa and then on to 420Mtpa of product shipped. At these volumes, we are not simply running bigger analogues of the mines that supported the 100Mtpa level we are running multiple operations on what can best be described as a mining network with process reaction times well inside those we have been traditionally used to. This is fundamentally different – we are running fundamentally different businesses.
Copper is also going underground. This is a bold statement but as a generality it is correct. The world needs copper. It needs a huge amount of copper to support the needs of both the developed economies and the growing demand from the emerging economies. We have been mining the surface ore bodies in some cases for hundreds of years – they are getting tired.
The new copper mines, or complexes, will be challenged to produce more than the super open pits but from deep underground. We are looking at the need for step change technology to enable underground shaft operations of over 100kton per day capacity, and we don't need just one shaft, we need dozens of them with literally 1,000km plus of tunnels to support the mega block caves of the future. This has never happened before.
MT: Is this where block caving, a method of mining which undercuts large blocks of ore causing it to break or cave under its own weight, comes in?
"Imperial College will work with Rio Tinto on programmes associated with advanced mineral recovery."
JM: This is a global phenomenon for the super-large deposits. We will still see new surface copper mines being opened but the nest super-large deposits lie underground.
Block caving is a sound technology for large underground copper mines. We see this as a strong future for our industry. There is still much that we have to learn if we are to fully exploit a block cave mine and the application of learning from schools such as Imperial College (Rio Tinto recently set up a research centre with the UK-based school) will advance this knowledge.
Imperial College will work with Rio Tinto on programmes associated with advanced mineral recovery.
For Rio Tinto this means that we can access new minds – indeed some of the best minds on the planet – to work on problems we identify. The scope of the Imperial College work runs across the themes of flotation, rock mechanics through to leaching. Each of these topics is highly relevant to our future, indeed the mine of the future will be in part created from these types of programmes.
Some of the technologies are quite sensitive so I can not be too explicit. However, the following would be a good list:
Automation (huge field)
Data fusion
Mathematical modelling (big topic)
Leaching
Flotation
Fundamental rock breakage (understanding)
Blast modelling
On line dill mineral sampling
Advanced exploration technologies
Advanced ore body knowledge tools (geophysical/chemical/seismic)
Remote operations support
Expert system application to physical systems (maintenance/rock mapping)
Rapid development of underground mines
Low energy communution
Energy reclamation
Advanced material transport
MT: How else is Rio Tinto working to develop new technologies in mining – areas that may not come under Imperial College's banner?
JM: We have five Rio Tinto Centres that are linked to academic institutes – these are bolstered by a number of differing relationships with research and academia.
The mission statement is:
We work on those things that our business cannot do today, but that if we could do tomorrow would profoundly improve value.
We build an opportunity pipeline that has the capacity to deliver a significant uplift in business value through development and introduction of step-wise technological changes.
We nurture a small group of internal experts that coordinate rapid research and development on targeted high value, calculated risk profile and opportunities.
We leverage our size, reputation and global reach by securing and working in long-term partnership with the world's pre-eminent research and development resources.
We motivate our academic, supplier and product group partners to work with us on our technological breakthroughs; they extract tremendous value from this relationship.
We develop, leverage and protect industry-changing intellectual property.
MT: Do you think more collaborative efforts will start to take place with schools and research bodies that work alongside the mining industry?
JM: Rio Tinto is committed to leveraging external centres of excellence in creating the 'mine of the future'. Undoubtedly, new alliances and structures will emerge as we pursue this vision.
"We believe our core skill lies in identifying the challenges, visioning the mine of the future and coordinating the resources to best attack the problem."
We have deliberately refrained from building large in-house centres to handle this new wave of innovation work – the world is increasingly an interconnected and interdependent place and we believe our core skill lies in identifying the challenges, visioning the mine of the future and coordinating the resources to best attack the problem. You should assume this will be our modus operandi going forward.
I cannot speak for the rest of the mining industry in this regard, though I am aware that some of our competitors choose to pursue their own form of 'mine of the future' programmes with predominantly in-house resources whilst others seem to be more aligned to the Rio Tinto way of working.
Whatever happens in the future I am personally convinced that the wider network of mining houses, suppliers, research institutes and world-class universities will have to rise to the challenge we collectively face. Indeed, this will be an interesting time for our generation and I suspect for those who will come after us.
MT: Can you leave us with an insight into your own mine of the future – where work might be taking place now?
JM: Inside Rio Tinto you will see one manifestation of the mine of the future programme emerging in late 2008 in the Pilbara region of Western Australia.
We will commission a test mine called 'Pit A' that will be highly automated in a number of new and fundamental ways. We will combine the Komatsu autonomous truck system with our own autonomous drills and some highly advanced Rio Tinto drill-blast autonomous 'expert systems' – all this will be monitored from Perth which is over 1,200km away. This is the test bed that we will run for just over a year to develop the 'Pilbara' template which will be used to deploy across the next generation of iron ore mines in the Rio Tinto network.
Watch this space for some underground mining announcements in early 2009 that will come out under the 'mine of the future' programme banner.