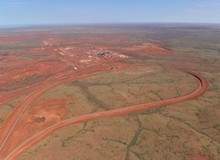 China set-up a new $16bn mining fund for investment in gold mines to increase the country's trade influence of the metal.
The fund will be run by a new company, and would be used to develop gold mining projects along the planned silk road infrastructure that is being developed by the country.
Shanghai Securities News reported that 60 countries are said to take part in the fund that is expected to raise the amount in three phases.
Hancock Prospecting and Roy Hill started shipping iron ore from the $10bn Roy Hill Project in the Chichester Range in the Pilbara region of Western Australia.
The shipment started from Port Hedland on the Mv Anangel Explorer tanker to Posco's steel mills in South Korea.
Hancock and Roy Hill chairman Gina Rinehart said: "Given that the mega Roy Hill Project was a largely greenfield project that carried with it significant risks and considerable cost, it is remarkable that a relatively small company such as Hancock Prospecting has been able to take on and complete a project of this sheer size and complexity."
Scientists at Rutgers University in the US discovered bacteria that can help to clean polluted groundwater at uranium ore processing sites where nuclear weapons are made.
A team of scientists and collaborators discovered the bacteria in soil at an old uranium ore mill in Rifle, Colorado located almost 200 miles west of Denver, and used during the peak of nuclear weapons production.
Scientists are carrying out a research to see if microorganisms can lock-up uranium that had been released into the soil many years ago, and currently makes well water in the area unsafe to drink.
The US Congress approved legislation to enable companies to own resources extracted from asteroids.
The new Space Act of 2015 required approval of the House of Representatives before moving on to President Obama. It will allow private companies to mine asteroids for materials such as water and platinum that are rare in space. However, the act does not not allow them to own the asteroid itself.
President Obama previously suggested some tweaks in the process, but had not considered a veto of the bipartisan bill, reported the Washington Times.
China offered to partner with India on seabed mining in the Indian Ocean, which is believed to host expensive minerals.
Proposed plans come after a Chinese deepsea manned submersible vessel, Jiaolong, completed a 118-day voyage in the south-west of the ocean.
The vessel discovered deep-sea fissures, among others, which could support future research into resources and environments of seafloor deposits, reported ChinaDaily.
The Australian Government approved the expansion of existing coal port at Adani Group's Abbot Point near Bowen in north Queensland, provided that the dredge spoils are disposed of correctly.
Approval has been granted by the Australian Department of Environment and includes various stringent conditions that the project must implement before proceeding.
Adani's $12.5bn Carmichael project in the Galilee Basin requires coal to be shipped through the Abbot Point Coal Terminal, which is also close to the Great Barrier Reef.
The Indian Bureau of Mines (IBM) signed a memorandum of understanding (MoU) with the Indian Space Research Organisation (ISRO) for using satellite data to help stop illegal mining across states.
Indian Mines Secretary Balwinder Kumar said that the ministry is making plans to use remote-sensing satellite data to curb illegal mining operations.
According to Kumar, legal boundaries of mined areas can be tracked with the help of satellite images that are taken on a regular basis.
The Brazilian Federal Government and some state governments are planning to sue BHP Billiton and Vale, the owners of Samarco, claiming R$20bn ($5.2bn) in damages following the tailings dam disaster.
Brazil Attorney General Luís Inácio Adams said that the proceeds received will be set-up as a fund and used for environmental cleanup in the Rio Doce river.
On 5 November 2015, the Fundao dam ruptured at Samarco's Germano mining site near the town of Mariana in Minas Gerais and killed a reported 17 people.
China's Fanya Metals Exchange founder Shan Jiuliang was abducted and dragged to the nearest police station by angry investors for freezing funds.
In July, the company halted payments on investment products, triggering protests from investors.
When Jiuliang attempted to check out from a luxury hotel in Shanghai, which was surrounded by the investors, he was manhandled into a car and taken to the police station, FT reported. He was taken into custody for investigation, but was released later without charge.
Imperial Metals' gold and copper mine Mount Polley in British Columbia, Canada, resumed operations after closing in August 2014 due to a dam disaster.
A dam failure at the mine caused 24 million cubic metres of silt, with spillages of polluted water into nearby lakes and rivers.
Following the flooding, the level of Polley Lake rose by 1.5m and contaminated water spilled into nearby Quesnel Lake and Cariboo Creek.