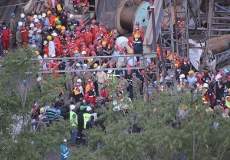 The Australian Government approved the A$16.5bn Carmichael coal mine and rail infrastructure project in the Galilee Basin but imposed 36 conditions to safeguard the surrounding natural resources.
Environment Minister Greg Hunt said that: "A rigorous, open and thorough environmental assessment process was undertaken to take account of the public interest in the project."
The Carmichael project located in the north Galilee Basin in Queensland is being developed by the India-based Adani Group.
The project is being opposed by environmental groups for the impacts it is likely to have on groundwater and on the World Heritage-listed the Great Barrier Reef, in addition to a rise in carbon emissions.
GVK Hancock received environmental approval from the Australian authorities for its Alpha coal project in the Galilee Basin in Central Queensland.
The company said in a statement that the mine was granted environmental authority (clearance) after more than six years of comprehensive environmental assessments and detailed planning.
GVK Hancock is a 79:21 joint venture between India's GVK Group and Australia's Hancock Prospecting.
Rio Tinto and BHP Billiton received clearance from the US Congress to swap land with the government, allowing the companies to build a $6bn copper mine in Arizona.
The core of the legislation is exchanging 2,400 acres of land above the copper deposit, which is federally owned, for 5,300 acres of land owned by Resolution Copper that was being used for recreational and conservation, as well as other culturally significant land throughout Arizona.
The companies had already invested more than $1bn on drilling and digging a 1.3-mile shaft on the land, which was opposed by environmental and native American groups.
Initially proposed nine years ago, the land swap was tucked away in the annual defence policy bill passed by the Senate and must now reach President Barack Obama to sign it into law.
Traumatised miners returned to work at the Soma mine in Turkey, one week after a disaster that claimed 301 lives.
The call-to-work caused controversy in the country, with some alleging that the miners were being forced to resume operations.
According to the Republican People's Party (CHP) Manisa deputy Özgür Özel, despite being affected by the mine disaster, workers were being forced to return to work at three mines operated by Soma Holding.
BHP Billiton proposed to name its demerged company as South32, which wwould hold its non-core assets worth about $15bn.
The company planned to bring its aluminium, nickel, silver and coal divisions into a separate entity to improve the operations of individual units, Reuters reported.
According to BHP, South32's majority of selected assets were located in the southern hemisphere with its two regional centres Australia and South Africa said to be linked by the thirty-second parallel south line of latitude.
The Indian Supreme Court ruled that all of the captive coal mining licences awarded between 1993 and 2010 were illegal.
Of the 328 blocks identified by the government, 218 mining blocks were illegally allocated to both private and government firms without performing competitive bids.
In its verdict, the apex court ruled that the successive governments allotted the mining licences with 'arbitrariness, lack of transparency, lack of objectivity and non-application of mind…gifting away precious resources as largesse'.
Queensland Government rejected Glencore Xstrata's $20bn proposed bauxite mine plan in Cape York, Queensland.
The company, along with a group of land owners, planned to develop the mine, which they believed to have rich bauxite deposits but sensitive environmental aspects and heritage issues caused concerns.
Queensland Deputy Premier Jeff Seeney was reported by The Australian as saying that the proposal was rejected because it would take too long to deliver and may not benefit the local indigenous communities.
Imperial Metals planned to raise C100m ($92m) through debts to clean-up a spill following a breach at the tailings pond dam at its Mount Polley copper and gold mine in British Columbia, in early August.
The company said in a statement: "While the precise costs of remediation and repair are presently unknown, the company believes that the costs can be managed over time given the underlying value of the company's assets and by the resources provided by the additional financing, together with insurance proceeds."
Imperial's largest shareholder and Canadian Natural Resources chair Murray Edwards planning to help the company raise the funds by buying C40m ($36.7m) worth of the six-year unsecured convertible debentures.
Brazilian iron ore producer Vale considered spinning-off its base metal business, which may have been worth up to $14bn.
The company said that slumping iron ore prices prompted it to concentrate on its core business.
Vale discussed selling a 30% to 40% stake in the metal unit worth around $35bn, and listing it in Toronto and London, sources told Financial Times.
Vale chief executive Murilo Ferreira told Financial Times: "We believe that there is hidden value in the base metals division that needs to be unlocked.
The Government of Guinea and mining giant Rio Tinto signed a $20bn deal to develop the Simandou iron ore mine in the south-east of Guinea.
As part of the deal, the Republic of Guinea would own a 7.5% stake in the project, while partners Rio Tinto, Aluminium Corporation of China and the International Finance Corporation (IFC) would own 46.57%, 41.3% and 4.625% respectively.
The investment framework signed by the partners for blocks three and four of Simandou was built on the 2002 Convention de Base (CdB), signed between the mine owner, Simfer, and the Republic of Guinea.
Operations started at the $7bn Koniambo Nickel project (Koniambo) in New Caledonia, which is jointly owned by Glencore and Société Minière du Sud Pacifique (SMSP).
Koniambo mine is located in the North province of New Caledonia, a French territory 1,210km east of Australia in the south-west Pacific Ocean.
Construction started in 2007 and the project includes a mine, an ore preparation plant, a metallurgical plant, coal and gas plants, water purification and treatment plants, a power station and a port.
Hitachi trucks" height="133″ src="https://www.mining-technology.com/wp-content/uploads/image-digitalinsightresearch/Archive/nri/mining/news/Hitachi%20Truck.jpg" style="padding: 10px" width="200″ />
Hitachi Construction Machinery planned to use Nissan Motor's around view monitor (AVM) and moving object detection (MOD) technology for its trucks, following a licencing agreement.
The agreement would enable Hitachi to provide AVM and MOD technology to its massive haul trucks and hydraulic excavators working at large open pit mines.
The technologies jointly developed by Nissan and Clarion form the building blocks of autonomous driving technology that will operate commercially viable Nissan Autonomous Drive vehicles by 2020.