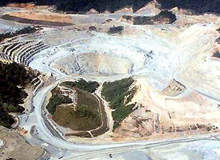 With the world's two largest growth economies in China and India hungrily consuming resources at an unprecedented rate, a global race is underway to supply their ever increasing demands for fuel and mineral ore.
New mining technologies, more efficient systems and labour structures will be essential in opening up the market so that it is also more productive. Central to these attempts to increase supply is the location and exploitation of new mineral deposits.
"Chinese coal consumption has doubled to 22.7 quadrillion Btu since the mid-1990s."
With abundant and reliable electrical supplies forming the foundation of any modern economy the power generation needs of China and India have grown at an exponential rate.
Despite the growing global clamour on the issue of climate change, the primary source of electrical power generation is still conventional thermal energy – natural gas and coal.
According to some estimates, conventional thermal comprises more than 70% of China's electrical generation capacity. Driven by this need, Chinese coal consumption has doubled to 22.7 quadrillion Btu (International Energy Outlook 2007) since the mid-1990s. In turn, this spike in demand has driven a revolution in Asian mining.
Three-pronged attack
This revolution in Asian mining has been a three-pronged development, with the three elements being the consolidation of small-scale mining operations, the application of geological modelling and computer-aided mine design, and the introduction of extraction and shoring technologies pioneered in the West.
In contrast to mining operations in the West, Chinese mining has predominantly centred on tens of thousands of village and town mines.
The inherent inefficiency of this system which was resulting in an ever-spiralling increase in illegal mining, waste, accidents causing injury and death, and damage to mines has been recognised; over the past ten years, the Chinese government has intensified its efforts to consolidate its mining sector and reduce chronic over-supply within East China.
"Almost 90% of India's production comes from subsidiaries of
Coal India
Ltd which operates in excess of 350 mines."
According to some estimates, in excess of 50,000 small mines have been closed since the early 1990s. In conjunction with these closures, major Chinese producers such as Datong Coal Group, Shenhua Group and Yankuang Group have been actively encouraged to restructure operations along modern lines. These restructures have seen a reduction of overheads through the laying-off of excessive labour, with nationwide reductions numbering hundreds of thousands of jobs.
Core reasons for these restructures have been the chronic inefficiency of Chinese state-owned mines, with less than a third earning profits.
Additionally, in a change to past practice, the Chinese mining sector has increasingly been opened to foreign investment and the introduction of international stock offerings.
In contrast to China, Indian coal mining operations have operated as a virtual monopoly, with almost 90% of production coming from subsidiaries of Coal India Ltd which operates in excess of 350 mines. However, since 2001 increasing attempts have been made by successive Indian governments to break the public sector monopoly. This has involved the creation of legislation favourable to privatised mining and through the separation of prospecting and mining as independent activities with the transferability of concessions.
With less than 10% of the Indian land mass having prospected, the potential exists for significant foreign equity investment in joint ventures for exploration and mining within India.
Software for hard work
As well as the restructures to the labour and investment structures in place, the Asian mining industry has become much more technologically sophisticated. Key players have recognised the advantages that geological modelling and computer-aided mine design and management offer.
"Many industry experts believe that Asian coal operations can sustain 2–3% growth through to 2030."
While these new technologies will never replace quality engineering experience, advances in computer software and hardware have allowed for the creation of increasingly accurate 'virtual mines', enabling simulations of unprecedented accuracy. Through these simulations, it has become possible to accurately evaluate the effectiveness of mine layouts on the known geological structure with respect to reserve calculations, ventilation systems, blasting patterns, mining methods and transport infrastructure design.
Current software such as Vulcan, Datamine and Surpac allow for the creation and manipulation of detailed 3D geotechnical models; integrated with project management software these packages allow for the dynamic management of economic stopes. The introduction of such software has seen a reduction in the development cost of mining through the accurate determination of mining sequences and comparison of mining methods. Additionally, such software has increasingly allowed for evaluation and testing of long and medium-term strategic plans to generate the largest net value, while ensuring that equipment capacities are not exceeded.
While the application of such software techniques is merely beginning to be felt within the Asian mining industry, the effectiveness of these applications in American, European and Australian mines has caused many industry experts to believe that Asian coal operations can sustain 2–3% growth through to 2030. If correct, these growth figures would see Asia move to a global production share of 60% from a current 30% (International Energy Outlook 2007).
New machinery
The final pillar in the Asian mining restructure has been the introduction of modern mining machinery. Central to this has been the restructure of longwall operations from multiple longwalls to single high-production and high-capacity longwalls. Its initial introduction to China with the opening of the Daliuta mine saw production soar, with 2001 seeing a record number of almost 1 million tons produced.
"India's Chirimiri Group has found the introduction of Joy Mining Machinery mining systems to help boost production by over 20%."
These production results have seen a flood of investment into international joint ventures to acquire longwall expertise, equipment purchases and R&D.
While much mining investment data remains closely held, industry insiders have indicated that all major producers are now investing significant capital into infrastructure and R&D.
Indeed, between 2006 and 2008 China's Shenhua Group alone invested in excess of $3bn with an aim to becoming the world's largest coal producer by 2010.
This expansion has not been limited to China; companies such as India's Chirimiri Group have found the introduction of Joy Mining Machinery mining systems to help boost production by over 20%.
Transport challenges and the future
With the massive increases in production at Asian mining operations, transport infrastructure has become the new limiting factor on growth. Despite significant investment in road, rail and shipping, current infrastructure remains incapable of adequately supporting the mining sector. This lack of infrastructure contributes to the inability of India and China to effectively exploit their reserves and contributes to the remaining net coal importers.
Despite these infrastructure issues or perhaps because of them, there remains incredible scope for investment and development of Asian mining reserves. While future decades may hold many uncertainties, the forthcoming dominance of Asia within the mining sector is not one of them.