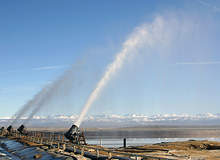 Draining flooded mines presents a host of challenges with respect to working underground, dealing with the environmental concerns relating to acid mine drainage (AMD), the dispersal of contaminated water and the type of technology to use, as well as the need to drain flooded mine shafts during mine disaster rescue attempts.
While submersible pumping systems have traditionally been the mainstay when it comes to draining underground mines, new advanced evaporation equipment is also helping change the face of underground water draining operations.
This month, China's mines – widely regarded as the deadliest in the world, suffering more than two-and-a-half thousand deaths yearly – have received a massive boost for future operations, in the form of a high-efficiency submersible pump jointly developed by China's Hefei University of Technology (HUT) and Sanyi Jianghai Pump Company, reputedly the most powerful pump in the world at 4,000 kW.
This follows four mining disasters in ten days in July 2011, two of which involved miners trapped underground in flooded mines. According to HUT researcher Li Gang, speaking to the Chinese media, the pump will greatly aid rescue efforts in flooded mines, draining off almost 15 times as much water every hour as an ordinary submersible pump.
Australia's coking coal mining industry also took a massive hit at the end of 2010, progressing into 2011, when floods ravaged the north eastern state of Queensland, where 35% of Australia's coal exports are produced. Coking coal is needed to make steel and Australia is responsible for two-thirds of global coking coal exports.
Draining processes to reduce produced water
"Draining flooded mines presents a host of challenges with respect to working underground."
"Excess water in mines can interfere with operations and create safety hazards. Produced water in oil and gas drilling is a common by-product that must be handled safely and within the constraints of applicable regulations," comments Edwin Peterson, CEO of Dust Control Technology (DCT).
"When the reserves are tapped, water often comes to the surface with the oil and gas (usually salt water)," he adds. "Since operators are frequently drilling 5,000 to 15,000 feet underground, the quantities can be quite large, with many different types of impurities."
DCT is a leading supplier of state-of-the art enhanced evaporation equipment for dealing with excess water in underground mines. This type of equipment, which will be discussed later, is becoming more and more popular, as opposed to traditional water pumping systems.
"In our experience, large amounts of excess water underground are typically pumped to the surface and into specially-designed evaporation ponds, some of which are as large as small lakes," says Peterson.
Howden Pumps, meanwhile, has been using technology adapted from borehole pumps to drain flooded mines in South Africa since 2003. According to local publication Mining Weekly, "Using borehole pumps in the main shaft is a more cost-effective option for draining a flooded mine than old, alternative methods that are costly and labour-intensive. The Howden Pumps system can also be installed quickly, being in place and pumping within five days of installation work beginning."
According to Peterson, process water is an even larger concern than underground flooding for most mining operations. "Gold mining, for example, requires tremendous amounts of water; the effluent is often contaminated with cyanide from the separation process. These operations typically require controlled evaporation on a large scale," he explains.
Challenges presented by flooded mine drainage
One of the primary issues when it comes to draining a flooded mine is the water quality. "The handling process will depend heavily on the content of the water being removed, with federal and local regulations dictating acceptable approaches," states Peterson.
"Coking coal is needed to make steel and Australia is responsible for two-thirds of global coking coal exports."
"If enhanced evaporation is an option, the considerations include the volume of water needing disposal, the ambient weather conditions at the site, solids content of the wastewater and drift concerns," Peterson contends.
"Whenever mechanical evaporation techniques are used, drift can be an issue, as heavy mineral deposits or other contaminants can affect local streams and vegetation," he reaffirms.
"DCT's DriBoss product line helps to overcome those issues with highly customisable equipment that can be tailored for specific conditions, and also through the extensive use of automation."
Environmental concerns
Draining a flooded mine also poses a host of environmental concerns, particularly relating to acid mine drainage (AMD).
The December 2010 report entitled Mine Water Management in the Witwatersrand Gold Fields with Special Emphasis on Acid Mine Drainage explains that AMD "is formed by a series of chemical reactions that occur between water, sulphide minerals, such as pyrite and oxygen, which combine to form an iron-rich sulphuric acid solution. This will occur in any area where sulphide minerals are exposed to air and water in the environment, but is most prevalent in areas where mining has exposed fresh sulphide minerals to the elements."
The report states "acid mine drainage has significant economic and environmental impacts owing to both the corrosive effects of acid water on infrastructure and equipment, and the severe environmental impacts related to the low pH and high metal and salt loadings," and that in general, AMD will not be suitable for discharge into the environment, adding "these impacts continue long after mine closure and can have adverse impacts on the ecology of streams, affecting the beneficial use of waterways downstream of mining operations."
Enhanced evaporation equipment
The DBE-1000 will be one of the DriBoss evaporation models added to DCT's large rental fleet, available for long-term lease, short rentals or rent-to-own. "As already mentioned, the ability to customise equipment is a significant advantage over other drainage techniques, as each application is truly unique, with its own conditions and challenges," relates Peterson.
"Changes in nozzle design, droplet size, spray pattern, manifolds and other elements allow us to shape the solution to the problem," he goes on.
Peterson points to the availability of extensive automation, allowing the equipment to track weather conditions, wind direction, water levels and other variables, as another major advantage provided by DCT's evaporation equipment. "From that data, customisable software dictates operating cycles, aiming direction and oscillation to deliver optimum efficiency and maximum performance," he explains.
"This equipment is a quantum leap beyond the large agricultural sprinklers that many operations try as a means to improve evaporation rates. The problem with those 'big guns' is they are designed to produce large droplet sizes that will fall to the ground and irrigate crops, rather than hang in the air for long periods of time and evaporate," clarifies Peterson.
He does add though, that "if the ambient environment produces an acceptable evaporation rate, the operation may not require equipment to further enhance evaporation," pointing out there are specific equipment designs for dealing with volumes of water requiring greater evaporation rates.
In some cases, the level of dissolved solids or the particle size will simply be too great for evaporation to be a viable choice. "The equipment we, at DCT, offer will easily handle salt water containing dissolved solids up to roughly 30,000 to 40,000 parts per million (PPM) and with self-flushing filters we can go as high as about 70,000 PPM," affirms Peterson. "Anything more than that, however, is likely to clog the filters and/or pumps."
Unique applications, tailored solutions
"One primary issue when it comes to draining a flooded mine is water quality."
Peterson believes the common approach to improving evaporation – with equipment originally designed for some other purpose – greatly limits efficiency: "Because every application is unique – even from one day to the next – we have emphasised a tailored approach to solutions development.
"The ability to match equipment, controls and software to the specific operating conditions is essential," he reiterates.
With this in mind, DCT's standard configurations for the DriBoss DBE-1000 include a 25 HP motor wired for three-phase, 480-volt, 60-cycle service or three-phase, 400 volt, 50 cycle power, with motors for other voltages available on request. The aluminium blades rotate at 1,800 rpm with 480 volt/60 cycle power, or 1,450 rpm with 400 volt/50 cycle service, while the stainless steel manifold is designed for a flow rate of 66 GPM (250 LPM) at a water pressure of 100 PSI (7 bar).
Looking to the future, Peterson sees technological advancements continuing to drive the mine drainage sector: "We foresee the greater use of automation and computer control, as mining operations seek to maximise evaporation rates and minimise costs. A central computer with programmable logic, meanwhile, can control hundreds of machines at a time, saving manpower while optimising performance," he concludes.