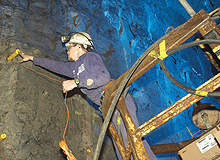 Explosives are a vital part of many mining operations; the ability to break up hard rock makes the task of digging and transporting it significantly easier.
Coal miners also use a huge amount of explosives every year for overburden removal, breaking up shale and siltstone that sits on top of lucrative coal seams.
Typically for the mining industry, the world of explosives is evolving at a slow pace as mining operations prioritise innovations that are cost-effective and respond to a specific issue rather than force new technologies through.
ANFO (ammonium nitrate / fuel oil) explosive mixtures have been the industry's mainstay for decades and look set to stay that way, but new technologies are slowly creeping onto the market.
In the wake of The Doe Run Company and Missouri University of Science and Technology (Missouri S&T) running an explosives camp for students interested in careers in this field, Chris Lo talked to Missouri S&T director of explosives engineering Paul Worsey and Doe Run's Southeast Missouri Mining and Milling Division mine manager Greg Sutton about safety, training and new technologies in mining explosives.
Chris Lo: What were your aims with the explosives camp?
"Explosives are very important, because it's the only really economic way to break up hard rock."
Greg Sutton: Doe Run has educated explosives camp participants since Dr. Worsey introduced it to three students in 2004. By 2008, Doe Run and Dr. Worsey grew enrollment to three camps of 20 students each. Working with the mining engineering department at MS&T is a natural fit for Doe Run. The explosives camp is a great recruiting tool to get more kids interested in this field, as mining engineers are at a shortage in the world and that shortage is becoming greater every day.
Paul Worsey: It's one of our main recruiting efforts for the mining department.
We've had a reputation for many years of being very strong in the explosives area and blasting. In the US, we use between 6 and 7 billion pounds of explosives a year. That's more than three megatons. I don't know when we're going to be surpassed by China, but we've been the number one mining nation in the world. We use more explosives than anybody else.
CL: What is the range of applications for explosives in the mining industry?
PW: Explosives are very important, because it's the only really economic way to break up hard rock. You've got rock that's really hard and you've got to take it to a processing plant. Not only have you got to break it up so you can load it into trucks, it also has to be of a size that you can process easily.
That said, probably the majority of explosives in the US is used for overburden removal in surface coal mining. We mine more than one billion tons of coal every year, and the vast majority of that is from surface operations. If you've got coal in a surface, you've usually got shales and siltstones on top of it, and you have to blast to get at it.
Even in the Powder River Basin, when you've got big machines, it bogs them down if it's tough-going. I've just been up to the Powder River Basin, and you could get a pick and mine it that way, but you're not going to get anywhere fast. So it's a lot easier to remove this overburden if you break it up.
CL: What are the biggest risks you have to look out for when executing a controlled blast in a mine?
GS: The biggest risk when blasting in a mine is making sure the blast area is clear before initiating the blast. Both harm to people and equipment can happen if anything or anyone is hit with the flying rock.
"The biggest risk when blasting in a mine is making sure the area is clear before initiating the explosion."
We minimize this risk by shooting at established times. Everyone working in the mine knows these times and stays away from the blasting areas. Blasters also re-check the blast area before initiation as a precaution. When it is necessary to blast at a non-established time, all approaches to the blast are guarded before initiation.
The second biggest risk to blasting underground is the smoke and fumes that are created. Carbon monoxide and nitrogen dioxide are both products of explosives detonation. These gases can be hazardous to miners.
We minimize this risk by allowing blast areas time to ventilate after the blast before work resumes. We also use portable gas testers to test the air as needed.
PW: When you look at the accident statistics, everyone is more particular about explosives because of the risks involved. The risks are fairly low but the consequences are severe. Not many people in the US are killed in explosives accidents. One of the problems with blasting is that the fatality to injury ratio is rather high compared to other segments of mining activity. If you have a half-ton boulder flying through the air and it hits you, it's going to be fairly traumatic.
CL: Training is an important aspect of reinforcing safety – how can the industry ensure that blasters are properly qualified?
PW: What we're seeing now throughout the US is blaster's licenses being required in all sections of the industry. It's not everywhere, but it's coming in for everybody. It's done that over the last 20 years. The individual training might be a bit different between states, but it's becoming more industry-wide. You've got a period of apprenticeship to get the experience before you're given a license, and then you can be a blaster in charge. Dyno [Nobel] over here, the local guys, had a look at their callout numbers by year for the Missouri region. Over ten years of getting most of the blasters trained, the callouts, where they had to send out tech reps to sort out problems, were reduced by 50%.
GS: Training is critical to the miners who do blasting. Doe Run incorporates both classroom and hands on training, as well as assessments, into our training system. All miners also get a yearly refresher on explosives during the required annual Mining Safety and Health Administration training.
CL: What technologies and applications are you seeing developed that could potentially make mining explosives safer and better-controlled?
"Non-electric blasting caps improved the safety of the blasters as well as efficiency."
PW: In terms of explosives, people have used emulsions in the past but what I see has happened is people have gone over to blends. They're trying to get as much energy as possible into the hole, so the big move is into blends. One of the nice things about blends, if you look at smaller operations; if you don't know whether you're going to have dry or wet holes, if you use a blend, you can put the same pounds of explosives in any hole you have. You can blend in ANFO and emulsion, or you can put in 100% emulsion, or 30% ANFO and 70% emulsion, which would be a fairly waterproof mix.
That takes out the unknown, so people are able to deal with dry or wet conditions.
GS: Electronic detonators are the most recent technology improvement. These allow blasters several timing options for complicated blasts. Better timing ultimately makes complicated blasts safer. Prior to that, non-electric blasting caps improved the safety of the blasters as well as blasting efficiency. At Doe Run, bulk handling of explosives, such as ANFO and emulsion, have really improved blasters' safety by virtually eliminating back injuries to the blasters, due to handling of multiple 50-pound boxes and bags every shift.
PW: These things are gradual. Electric detonators are almost a thing of the past now. 30 years ago, they were king. But then nonel (nonelectric initiation system, a shock tube detonator) came out, and it took a good few years before nonel actually took over from electric. Per-Anders Persson, the brilliant Swedish man who invented nonel, always said it would take over because it was a better system. The actual reason it took over was radio dispatch of trucks, because nobody knew how susceptible electric detonators were to radio interference.