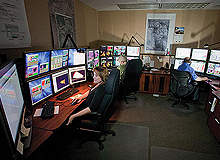 As mineral resources around the world become increasingly challenging to access and extract, mining companies are working harder than ever to streamline operations.
Given the huge investment often required in the early stages of a mining project, minimising waste and maximising output once production begins can make the difference between long-term viability and commercial failure.
Almost all modern mines to some degree make use of management and data gathering software to monitor a project's operational layers and ensure the workforce is carrying out its tasks safely, productively and in accordance with regulatory standards. But as the demands of the industry become more advanced, fully integrated, modular software suites are becoming increasingly ubiquitous.
These systems are designed to provide mine operations with a flexible, comprehensive way to manage core activities, adding or stripping out particular modules based on a company's particular needs.
Here we profile the benefits of integrated mine management systems, investigating how they can help operations to improve efficiency, productivity and safety, including MineStar, an innovative new system from Cat that launched in May 2011.
Modular mine management systems
"These systems are designed to provide mine operations with a flexible, comprehensive way to manage core activities."
Recent contract and purchase announcements confirm that mining companies are increasingly looking for complete systems capable of performing across the whole range of mining operations.
This comprehensive peace of mind was certainly a factor in SouthGobi Resources' decision in June 2011 to incorporate Modular Mining Systems' IntelliMine integrated asset management suite at its Ovoot Tolgoi flagship open-pit coal mining operation in Mongolia.
"We chose Modular because the IntelliMine suite covers all aspects of our business," said SouthGobi's general manager of Ovoot Tolgoi operations Justin Kapla. "From safety to asset management to increased productivity, they have solutions that meet all of our needs."
The software included in the IntelliMine suite being installed at Ovoot Tolgoi includes the dispatch fleet management system, PowerView reporting software, the MineCare system to monitor equipment maintenance needs and ProVision to provide guidance to equipment operators.
The clear advantage of making a software suite modular is that potential customers can choose the elements of the total system that apply to their operations.
For example, Dispatch, a system that optimises haulage operations, is particularly enticing to the haulage-heavy activities of open-pit mining; consequently, according to Modular, nine of the world's ten largest surface mining operations use it.
Developers of modular systems can also continuously enhance their overall offering by adding new features that can be seamlessly integrated with the system as a whole.
"Developers of modular systems can continuously enhance their overall offering by adding new features."
Earlier this month, Modular announced the launch of the FatigueAlert plug-in for the dispatch system, the fruit of a strategic partnership the company formed with Fatigue Management International earlier in the year.
The plug-in has the potential to significantly increase operational safety by monitoring the alertness of drivers, minimising potentially dangerous human error. "By integrating [FMI's] technology into the DISPATCH system, we can now proactively manage operator fitness for work throughout the shift," said Modular's senior vice president of sales and marketing Michael Lewis.
"This means that work assignments, breaks, fueling, and other events can be managed in real-time, keeping drivers continuously alert and engaged. Potentially risky drivers can be identified and removed from equipment before fatigue severely affects their ability to operate safely."
Integrated software systems also hold the advantage of allowing mine operations to automatically store and validate data, meaning critical information is available without a time-consuming and often inefficient dependence on disorganised spreadsheets.
For Boroo, Canterra's massive gold mine in Mongolia – gold being a mineral that is particularly reliant on good management because of its preciousness – Gemcom's Insite mine management system has offered an indispensable means of storing data without the hassle.
"Removal of Excel spreadsheets ensures data integrity," said Boroo's chief mining engineer Alex Petermann. "It also eliminates isolated islands of information. This means that the right information is available when and where it is needed. The end result is improved recovery, equipment utilisation and mine performance. Since implementing Insite, our overall site efficiency has increased significantly. The time to collect and enter data and information from many sub-systems, as well as the time to report the information, has been reduced from days to hours. As a result, we can now make quicker, more informed decisions."
New for 2011: Cat's MineStar system
The latest launch in a new generation of integrated mine management software is Cat's MineStar system. True to the modern trend of centralising disparate technologies under a single modular roof, the system brings together and builds on a number of existing Cat systems, like the company's computer-aided earthmoving system (CAES) and FleetCommander.
Under the new MineStar system, these technologies have been expanded and organised into five modules – health, fleet, terrain, detect and command – from which customers can pick and choose based on their requirements.
"It is both the latest version of many of existing, proven Cat technologies that are now more integrated, as well as new features and functionalities within the system," Cat's commercial technology manager Annette Slyman tells us.
"For example, Terrain is the next generation of high precision guidance technology from Cat which is now built on the same technological platform as Fleet. Terrain has several new features, most notably the data share package which allows machine production data to be shared with other third-party systems, such as other fleet management systems."
"The latest launch in a new generation of integrated mine management software is Cat's MineStar system."
MineStar represents Cat's push to create a simpler, more user-friendly suite of software, which is reflected in the efforts that have been made to standardise the system's interface. "Cat is working to reduce complexity in mining technology installation by using common in-cab displays wherever possible," Slyman says.
"For instance, the in-cab display for Detect and Fleet is the same. For customers, this means that they can start with either one of these products and then as their needs grow, they simply have to purchase the new capability set and then 'flash' the on-board display with the new software. This equates to less machine downtime to implement a new technology."
With MineStar and other integrated software systems, developers are looking to offer mining companies a reliable set of proven technologies that will streamline all aspects of their operations, presented in an intuitive package and offered with a scale and focus to suit all manner of diverse needs. When it comes to vital management technology, it seems flexibility and scalability are the watchwords, and modular software suites are currently the best way to achieve these goals.