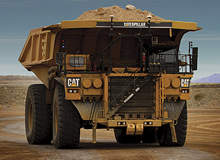 After years of research and first-generation vehicles in use at sites around the world, the mining industry turned over a new leaf in surface autonomous mining operations in 2011.
In July that year, Caterpillar and Australian Fortescue Metals Group (FMG) agreed to implement an autonomous mining solution at the new Solomon iron ore mine in Western Australia.
Only a few weeks earlier, mining giant Rio Tinto announced it would double its fleet of Komatsu driverless haul trucks at its iron operations in Western Australia following a two-year trial of the technology at the West Angelas mine, which according to the company "has performed well above expectations".
Caterpillar technology manager for global corporate mining Michael Murphy talks about the milestone step to implement the first autonomous mining system on a mine site in Western Australia, the challenges and barriers in the development of the technology and reveals how prepared the industry is for a complete autonomous mine.
Elisabeth Fischer: What does the FMG deal represent for autonomous mining and for Caterpillar?
Michael Murphy: It's a lot more than just autonomous mining trucks. Implementing autonomous trucks is part of a system, which is focused on delivering a solution to the customer rather than just a technology. It's focused on how customers can maximise their return, how they can improve and reengineer mine planning processes together with putting autonomy into mine sites.
"It's a lot more than just delivering an autonomous truck; it is delivering process changes along with autonomous haulage."
It's a factor of reengineering the mine planning processes along with change management. You can introduce a new technology into a mine site, but unless you change the people, their work, their roles and responsibility, as well as the organisational structure, those processes will result in less benefit than a mine should gain out of a new technology. It's a lot more than just delivering an autonomous truck; it is delivering process changes along with autonomous haulage.
The linkage between the technology, the mine model and the mine's planning will work more efficiently. FMG looks at the way the work is done today and how it can be done differently as a result of autonomy. We're not just implementing autonomous haulage, but also new processes and new staff management along with the technology.
What challenges and issues have you had to overcome when developing autonomous trucks?
The research, which dates back to the late 1980s, gave us a good understanding of what was required on mine sites. We discovered a couple of things: the mining industry was not really ready for autonomy at that stage; and there was too big a leap in technology for mining companies to go from where they were in the mid-1990s to an autonomous mining system. At that point Caterpillar knew that autonomy was going to be there one day, so we put together a long-term strategy to get things in place for when the mining industry would be ready for autonomous mining.
This long-term strategy resulted in several of what we call building block technologies. We've taken individual technologies, commercialised them on men-mine sites, but always with the agenda that they could become part of an autonomous system. We've gained a lot of experience with those technologies and they provide a good foundation as the customers move towards autonomy.
Good examples are Caterpillar Terrain, Caterpillar Health and Caterpillar Detect, which have generated a tremendous amount of value for mining companies in the last 15 years. Today, they are key technologies for autonomy and yet available to customers who don't run an autonomous mine. We developed each of those products closely with our customers, along with process, organisational and culture changes, which are required to introduce those technologies into mine sites. We didn't just develop a technology, but also focused on what we needed to do differently in terms of processes and in terms of what people in the business think what makes technology successful. 
Are autonomous trucks a greener version of men-driven trucks?
We believe that autonomy affects sustainability in a couple of key areas; for example, at the autonomous trucks in Western Australia we will have a lot less people on the mine sites. This is in a remote area where people have to fly in and out to get to work. For every man-driven truck you need two operators working at a time for the night and day shift. With autonomous trucks less people are getting transported to the mine sites, which means less fuel is used, lessening the impact on the environment.
"There was too big a leap in technology for mining companies to go from where they were in the mid-1990s to an autonomous mining system."
Of course, the environmental footprint of the mine site itself is a lot lower. Things can be managed remotely and with less people on site, and mining companies don't need to build water lines, buildings and all the things that it takes to look after a person in a very remote area. This obviously results in a lower environmental footprint in the landscape.
The other area of how autonomy can improve the environmental footprint is that machines are a lot more efficient. They work on a harder cycle and are able to gain more material for the same amount of energy.
One of the greatest efficiencies in mining processes is when there's less energy used. Autonomous mining trucks use energy in a more effective way, which will have an effect on the environment, too.
Do you have plans to enlarge the range of autonomous trucks to electric trucks?
Not at this point of time. We have a range of electric-drive trucks, but our current core focus is on the 793F truck and the 797F truck. The reason for that is that they're two of the most popular sizes of trucks and that's where we are focusing our technology. At some point in the future we will move it to other models.
Are investment costs for autonomous trucks higher than for men-driven trucks?
Most of the infrastructure required to support autonomy is already in place on today's mine sites. Autonomy uses a radio infrastructure, which most mines have in place and the same applies to GPS technology. Yes, the trucks themselves will have higher investment costs, but the real value is seen in the fact that you get a lot more efficiency out of the system; for example, a lot of productivity is lost during shift-changes from one crew to another. On a mine sites with autonomous trucks there are no breaks, but it will be a continuous process. Autonomy provides tremendous amount of value in terms of that the chains can be so much more efficient compared with processes with man-trucks.
At MINExpo International 2008, Caterpillar announced its vision of a completely autonomous mine. How far have you come in realising this vision?
We continued to invest heavily during the global financial crisis and R&D is one of our key investment areas, even though it dropped slightly in 2009.
"The mining industry is ready for autonomy."
We've done really well in the drill programme, and we've also continued to invest heavily in research for an autonomous tractor and work very closely with customers on a remote tractor. Also, the investment in underground with Cat Fleet for Underground is very strong.
We have a long-term objective of having a completely autonomous mine, but what we don't know is when that mine is going to come. It could be another 5-20 years. But we continue to work on it and to combine those technologies; for example, what we're doing on the autonomous haulage programme and the emerging technology from that we will also put it into the drill programme and into our tractor programmes. We're combining a lot of this technology to move ahead.
Is the industry ready for autonomous mining?
There are a couple of things about to change. One of the big positive effects of autonomous operations is safety, which mine companies have tremendous focus on. They're looking for a change in safety and that's one of the real drivers as autonomy is providing them with the next level of safety they are looking for.
Obviously, autonomy is not for every mine site, but in Australia, Latin America and North America, a lot of attention is on autonomy to get better processes to increase safety, efficiency and production, as well as to keep the carbon footprint low. So, yes, we at Caterpillar think the mining industry is very much ready for autonomy.