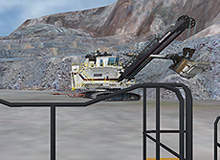 As the demand for skilled mining engineers and geologists increases and experienced company leaders drop out of the industry, the rigorous training of new and potential recruits has never been so important.
In countries where major mining projects are coming online, such as Canada, the US and Australia, the requirement for workers is soaring. In May, it was announced that 38 projects are going ahead in the Bowen Basin, Western Australia where 33,000 workers will be sought over the next six years.
What's worrying is that with a limited supply of skilled miners, on site health and safety could be compromised, further accelerating the need for advanced teaching activities and resources.
One popular training tool is the simulator. Using this system, trainees are able to replicate the conditions they will experience during real operations, without having to enter a mine.
These simulators are gradually being adapted by mining companies and universities, and can be used in a number of training scenarios.
"Using this system, trainees are able to replicate the conditions they will experience during real operations."
Equipment operation
Simulators are designed to walk trainees through a series of tasks that they would face in a real work situation and allow them to recognise the operating conditions in a mining environment.
Vista Training, a training solutions provider based in the US, offers operator programmes on different types of mining equipment including its flagship curriculum TruckLogic, which combines web-based training, simulation and on-the-job training tools.
Vista marketing manager Chuck Frey explains, "PC-based simulators help trainees get comfortable with controls handling characteristics of the machines they will be operating during field training. It's also a great way to save money on fuel as well as wear and tear on the machines."
"During each training session, the simulator captures an extensive amount of data about the trainee's performance, which is analysed by a software tool and delivered in a printed report. It gives trainees tips on how to improve their performance and gives trainers valuable feedback that can be used to coach trainees on correcting any weak areas."
According to Frey, TruckLogic also helps improve on site safety by teaching new recruits how to avoid hazards. In May, Vista presented a paper that showed its product was able to reduce incidents at Suncor Energy's oil sands mines in Alberta Canada by 50% and increase productivity by 3.5%.
"In this arena, much of the equipment used has significant blind areas. So, operators must be very aware of other mobile equipment operating around them, including haul trucks, wheel loaders and dozers, track dozers, shovels and service trucks – as well as personnel on the ground."
Finland's MeVEA is also specialised in real-time simulators which allow trainees to develop their skills in realistic operating environments. The company offers three different packages of simulators for mines – basic, advanced and pro, which vary in their type of exercises and training environments.
Other simulator providers include Spain-based Lander and Australia's Immersive Technologies. But how high is the demand for these systems?
Avalon Rare Metals, a Canadian mineral exploration and development company, set to go into production in 2015, is yet to invest, but Vice President for Operations David Swisher admits the training tool could benefit his company, "As technology advances, we can utilise simulators as introductory tools to help raise awareness prior to employees reporting to their first day of the job."
But, Swisher warns that simulators should be used as an additional safety training tool and not the only teaching resource, "What we have to be careful of is thinking that the simulators replace existing site health and safety training aids or acts as a replacement for on-the-job training."
Emergency response
Although the number of fatal accidents in the mining industry is decreasing in the developing world – six people lost their lives in 2009 compared to three in 2010 across all Western Australian mines, and the number of people killed in coal mines in the UK dropped from three to none during the same period – new training methods must be introduced to inexperienced recruits, and some argue leading specialists, to keep this record going.
Authors of the Mining Emergency Response Command Center Training Using Computer Simulation white paper also argue that as mines become safer and major disasters fewer, the number of experienced emergency responders is decreasing, and "this decrease will create a gap in response expertise, which could have serious ramifications during future mine disasters," the report says.
The National Institute of Occupational Safety and Health, part of the Centers for Disease and Control, recommends the Mine Emergency Response Interactive Training Simulation, a computerised mine emergency simulation that allows personnel in leadership positions to test their knowledge and skill.
The tool enables groups of individuals composed of representatives from mining companies, labour, and government agencies to practice working together during the simulated mine emergency.
Large-scale training
Many simulation programmes can be worked through on a computer, but an increasing number of universities and training academies are building facilities that replicate mining conditions on a much larger scale.
"Swisher warns that simulators should be used as an additional safety training tool and not the only teaching resource."
The Mine Health and Safety Academy in West Virginia, US offers a 48,000ft² mine simulation laboratory which provides hands-on training in rescue and recovery operations for certain mine emergencies.
The laboratory has a simulated coal mine with an indoor burn room and a simulated metal / non-metal mine, which contains passageways, tunnels, stairways, and ladders to simulate practical aspects of mine rescue problems. Fires can also be built under controlled conditions in the facility to teach students the principles of fire fighting and emergency ventilation techniques.
The Missouri University of Science and Technology also has an experimental mine on campus, which prepares mining and explosives engineering students for the real world.
This year, privately held natural resources firm the Doe Run Company made a $100,000 donation to Missouri S&T for the construction of a new mine engineering education building.
Important safety knowledge
While simulators prepare workers for real mining conditions, basic safety training without the use of technology is also essential to help prevent incidents, accidents and injuries.
Once fully operational, Avalon will be using a series of examinations to ensure the retainment of critical safety information before new employees report to duty.
The company will also utilise tools such as DuPont's "STOP" training to allow employees to identify and immediately mitigate potential hazards or hazardous behaviours in the work place.
Swisher insits that a properly managed, working mine doesn't have any different hazards than any other operating business, "The key to hazards is the identification and recognition of potential hazards by the workforce, supervisors and managers.
"All too often, accidents occur because hazards weren't identified and resolved or short cuts were taken to reduce production losses," Swisher adds.