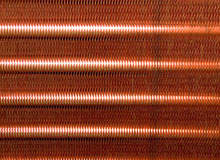 In use for at least 10,000 years, copper was one of the earliest metals ever extracted and the market for it has reflected this through consistent growth registering a persistent average annual increase rate of 4% since 1900.
In the past few decades, growing demand from emerging countries such as China and India have increased and powered the exploration of the metal. The leading copper-producing countries, Chile, the US and Peru, and smaller producers such as Russia and Zambia, have benefited from the growing request for the orange metal.
China's demand for copper has almost tripled in the past decade with industry experts predicting that demand will further skyrocket in the next five years. Used for modernisation of the country's fast-growing urban and electrical infrastructures and centres, copper is needed for electrical wires and equipment, roofing, plumbing and other industrial devices.
Western industries on the other hand, have mostly concentrated on copper's well-known but newly detected antimicrobial abilities and its benefits for different sectors such as healthcare, aquaculture and air conditioning.
"You can recycle copper over and over again and it doesn't lose any properties."
'Sustainable' copper
As with many natural resources the amount of copper on earth is vast, with figures suggesting that it would not run out for around five million years at the current rate of extraction. However, only a tiny fraction of the reserves are actually economically viable for mining. Copper-containing rock hosts only a small percentage of the actual metal. Depending to what minerals the copper is bound, it will be extracted in different ways.
The main copper ore types are oxide ores and sulphide ores, both economically mined in various countries around the world. Sulphide coppers, however, are the most profitable ones as they have a higher copper content and can be more easily separated from the unwanted rock material.
Besides is high ductility, electrical and thermal conductivity, its corrosion resistance and antimicrobial characteristics, copper's biggest advantage, compared with other metals, is the fact that it is easily recyclable at a very low cost.
International Copper Association (ICA) director of communications and member relations Steven Kukoda says, "Other metals are also recyclable but the processes to return them to the original state are generally quite elaborate and energy-intensive. Whereas with copper you take the scrap and put it into the same refining process as you can with newly mined copper and it just becomes completely indistinguishable. The amount of energy needed to recycle copper typically is far less as it is with other materials."
As a result, the quantity of recycled copper being used worldwide amounts to around a third of the 24 million tons of end-use copper, with approximately 80% of all copper ever mined still being available. "It is pretty exciting," says Kukoda. "It's infinitely recyclable. You can recycle it over and over again and it doesn't lose any properties, which makes it an attractive choice to the people that specify its use."
According to Kukoda, the fact that copper is 100% recyclable makes it a "truly sustainable material. If you manage things like that appropriately than recycling has the potential to minimise the use of resources, the energy usage, and as a by-product to reduce CO2 emissions and lower the waste disposal. There are many examples why we consider copper to be sustainable."
China's need for copper
Despite the recyclability of copper, industry experts suggest that the demand for copper could soon outreach the supply. Based on 2006 figures, researchers at Yale University in the US have calculated that by 2100 the world could reach peak copper, or the point in time at which the maximum global copper production rate is reached. Demand for the metal has been increasing by more than 575,000t a year and is accelerating.
"Copper production in China can barely keep pace with demand, and only a few new mine projects are planned for the coming years."
Emerging countries such as China have registered increased interest in the metal. Today, China demands 30% of the world output of copper, while 30 years ago in 1980, the East-Asian nation only claimed 10% of the global production. In 2009, China imported a record 3.2 million metric tons of the metal, up 119% from the previous year. Since 2000, the nation's copper demand has almost tripled and industry experts predict that in the next five years the copper consumption will rise to 8.5 million metric tons.
Reasons for the growing demand are China's infrastructure expansion and the development of new and urban environments, which require a great deal of the metal for electrical wires, roofing and plumbing. While China is a copper-producing country itself, it also depends heavily on imports. Production can barely keep pace with demand and only a few new mine projects are planned for the coming years.
Consequently, China has to rely on copper mining in countries such as Chile, Peru and the US, and shows no signs of slowing its demand. Producers from the rest of the world will continue to feel the pressure coming from the nation.
Antimicrobial properties
While China is using copper in traditional forms such as heat and electricity conductors, building materials and various other industrial applications, Western industries are implementing the metal in new sectors. In the US, the ICA has specialised in the research and development of new applications for the metal, as well as in technologies that improve those applications.
Above all, copper's naturally occurring antimicrobial ability has shown to be valuable. One of the most exciting new areas where this characteristic could be useful is in hospital settings, where copper can be adopted to fight the superbug methicillin-resistant Staphylococcus aureus (MRSA).
The antimicrobial properties of copper have been known for centuries but it was only in the past five years that further research into the area has been conducted. In February 2008, the Environmental Protection Agency (EPA) approved the registration of copper as an antimicrobial material. Since then, the ICA carried out a number of clinical trials in the UK, the US, Chile, Japan and Germany, and was able to demonstrate that the amount of deadly pathogens and bacteria reduces by more than 90% within two hours when copper alloy touch surfaces are introduced into healthcare settings.
"We've learned that deadly pathogens do not survive on copper touch surfaces. For instance, MRSA and other bacteria such as E coli don't survive, in fact, they actually die rather quickly," says Steven Kukoda. In addition to the daily cleaning regimen and other standard infection control practices, copper could help to bring the always high numbers of MRSA infections down, which are currently standing at 100,000 infections every year in the US alone.
"Deadly pathogens such as MRSA and E coli do not survive on copper touch surfaces."
"People are used to seeing stainless steel and plastics for touch surfaces but the fact is that those other materials are not antimicrobial –copper is," continues Kukoda. "We've really began to understand just how important this property of copper can be to society. Pathogens on copper touch surfaces die very quickly and copper is continuously killing these bacteria."
Other areas of interest are the introduction of copper in air conditioners, and in nets for fish farms and aquaculture to abolish the oxygen-depredating build-up of biofilms on currently used synthetic materials.
"Pathogens don't grow on copper and the same is true for mould and fungi or the development of bio-films on applications in the sea," says Kukoda. "Copper has a unique ability and we are trying to benefit from this ability through new technologies and applications."
Even though copper has been around for thousands of years, the industry never gets tired of reinventing the orange metal into new technologies and applications. According to Kukoda, copper will be around for some more years to come, in different forms and shapes, in traditional but also new applications and technologies. "It is pretty exciting," he says.