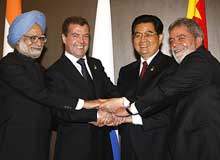 The dawn of the 21st century has seen a shift in the world's commercial balance of power, with the dominance of the US, Europe and Japan challenged by the rapid industrialisation of hungry new economies. The rise of the so-called BRIC nations – Brazil, Russia, India and China – is giving birth to new global financial centres, vibrant industrial markets and above all surging demand for raw materials to supply new projects.
This is proving a boon for the international mining market, driving new projects around the world to feed the BRIC boom. Where in the past developing economies tended to rely on foreign investment and international expertise to get domestic mining projects up and running, today these countries are forging their own path, both at home and in gaining access to new mining ventures abroad. Indian and Chinese mining companies have been particularly assertive (some would argue aggressive) in their efforts to unlock raw resources from the likes of Africa and Australia.
But where does environmental responsibility fit into this drive for resources? Although the mining sector in general has been making strides towards achieving a greater level of sustainability, the environmental performance of the new BRIC powerhouses has been called into question. We look at each of these dynamic mining economies and whether their environmental records are as impressive as their balance sheets.
Brazil: economy and ecology
The environmental impact of mining operations in Brazil is under sharper scrutiny than many other countries, primarily because its borders contain the lion's share of the Amazon rainforest, a haven for biodiversity and one of the most important eco-systems in the world.
"Alcoa Aluminio's Juruti bauxite mine project must maintain its 35 Environmental Control Plans to ensure access."
As such, environmental awareness is particularly strong in the Brazilian mining industry. Experts from the Brazilian Association of Technical Standards are playing a leadership role in the further development of the recently introduced ISO 26000 international standard on social responsibility. Furthermore, licensing for new mining projects is often legally conditional on the drafting of comprehensive environmental impact studies, reports and extensive public consultations, particularly in areas inhabited by tribal groups.
For example, Alcoa Aluminio's Juruti bauxite mine project must maintain its 35 Environmental Control Plans – informed by studies and public meetings – to ensure its access to the region's 700 million tonne reserves of bauxite.
The company has also put together a voluntary 'Positive Agenda' to further strengthen its obligations to the local community and environment. This extensive preliminary work has led the company to state that it will 'mine bauxite and return the area to the same, if not better, condition than when we initially arrived'.
Although carrying out mining operations in a region like the Amazon will be controversial, the environmental commitment seen here and echoed by many other Brazilian mining companies (including industry giant Vale, which has a complex environmental quality management system based on ISO 14001 standards) provides a useful model of awareness for other BRIC nations, and the global mining industry in general, to follow. 
Russia: redressing the balance
Long years of Soviet industrialisation in the 20th century have left the Russian Federation with one of the world's most extensive mining industries. A less desirable legacy inherited by post-communist Russia is the struggle to redress the balance after years of prioritising industrial progress over environmental health.
Although many environmental problems persist across the country's massive mining sector, the Russian Government is beginning to clamp down on pollution. In September last year, Prime Minister Vladimir Putin threatened Norilsk Nickel, the world's leading nickel miner, with considerably higher fines if the company did not modernise its environmental controls.
"Putin threatened Norilsk Nickel with higher fines if the company did not modernise its environmental controls."
Although these may have seemed like empty words, they coincided with a deal between the company and environmental watchdog Rosprirodnadzor to reduce pollutant emissions over the next three years. Further proof that Norilsk took note of Putin's warning came in March 2011, when the company announced an international tender for the manufacture and installation of cutting-edge systems to reduce sulphur dioxide emissions from its copper and metallurgical plants.
Another area highlighted for improvement is the capture of coal mine methane (CMM) from the country's huge and growing coal mining industry. According to a 2009 paper by the International Energy Agency, Russian coal production is projected to grow from 323 million tonnes in 2008 to up to 400 million tonnes in 2020.
The paper recommends the implementation of technology to capture CMM as it could limit the emission of methane – a greenhouse gas 21 times more potent than carbon dioxide – as Russia continues to expand its coal mining operations.
India: protecting ancestral lands
India's rich untapped mineral resources has made it an attractive proposition for foreign investors, as plentiful reserves of more than 20 mineral types – including gold, copper, coal and bauxite – can be found in the country. But the fact that many of these resources are located in rural, heavily forested areas with predominantly tribal populations has raised concerns similar to those in Brazil.
The country has a long history of environmental damage caused by both domestic and international mining companies, as well as the ecological problems from hundreds of abandoned mines in areas like Bihar's Jharia and Rhaniganj coal fields. Like China, India has been plagued by the environmental problems associated with illegal and unlicensed mining operations, which the country's Directorate General of Mines Safety has been ill-equipped to deal with due to funding deficiencies.
Recent evidence suggests that Indian regulatory authorities are clamping down on pollution caused by mines; however, in August 2010 after years of contention, the Indian Government blocked UK company Vedanta's establishment of a bauxite mining operation in the Niyamgiri Hills in the eastern state of Orissa. The decision was reached after a government report citing environmental and forest conservation violations by the company, information echoed by a panel of forestry experts. The decision secures the ancestral lands of the Dongria Kondh tribal inhabitants, and suggests that the days of profiteering at the expense of the environment may be a thing of the past for India.
China: theory and reality
China has come under fire from human rights activists and environmental groups alike for its arguably lax approach to both worker safety (the country has become the mining disaster capital of the world in recent years) and environmental accountability. The Chinese Government's approach to corporate and environmental responsibility has been characterised by outside observers as simply paying lip service to the environment – hinting that ISO guidelines for mining would be welcomed – without implementing practical measures to promote change.
"China's approach to environmental responsibility has been characterised by outside observers as simply paying lip service."
An example that has been cited by the Chinese mining industry's detractors is the management and disposal of tailings, the toxic by-product of ore processing. The careful treatment of this material, which often contains marine pollutants such as copper sulphate, cyanide and xanthate, has become a major focus for the global mining industry. Poor standards of tailings management were the root cause of the disasters at Zijin Mining's Zijinshan Gold and Copper Mine on two occasions in July 2010, in which toxic cyanide was released into the Ting River in Fujian province.
On 4 May 2011, after the rejection of an appeal, a Fujian court reiterated its ruling that the company would have to pay $4.6m for the environmental offence, as well as handing out unspecified prison sentences to five defendants associated with the incident.
Again, critics have commented that the fee is hardly substantial enough to be considered punitive, especially considering Zijin Mining's profits of $738.5m in 2010, as well as the fact that the direct cost of the spill was estimated at $4.9m. Corruption has also been alleged concerning Zijin's relationship with local government officials, many of whom are reported to own stock in the company.
Part of the problem for China is the sheer scale of mining in the country, 70% of which is represented by small operations. According to Swann Global Mining managing director Peter Arkell, who spoke to Jacquelina Jimena of the Canadian Mining Journal, these small operations are the main source of the problem.
'It is in these operations where many of the poor practices are most prevalent,' said Arkell. 'Educating these operators of the benefits will be a challenge, but the Government has a will to make it happen. Recent environmental accidents by large Chinese miners have been severely punished by the authorities, as well as wide coverage of the judgments and subsequent downgrading of share prices on the Shanghai Exchange.'
Arkell added that despite the apparently sincere desire for mining reform among Chinese authorities, other socio-economic factors could hinder progress.
'[The government] has the dilemma of balancing the CSR [corporate social responsibility] responsibilities while maintaining people's livelihood, and many of China's mines are in poorer regions,' he said. 'Social harmony is a very important driver for the Chinese Government. So change may be slow.'