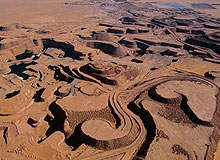 It is difficult to single out any one West African country as the leading market for minerals exploitation in that region – each has their pros and cons and each has seen remarkable development.
What characterises the area is a group of states which implement investor-friendly policies, invite foreign expertise and cooperate on mining codes and legislation.
In a survey by Infomine of mining companies listed on the Toronto Stock Exchanges (TSX, TSXV) and operating in Africa, the number of active mines in West Africa came to 107, well above the 69 in Eastern Sub-Saharan Africa, 49 in Southern Africa, and 39 in Western Sub-Saharan Africa. The region's total is also well above the 21 companies actively mining the DR Congo.
Burkina Faso
West Africa's Burkina Faso has been successful in attracting 17 such operators. Seemingly endless new discoveries of gold resources, along with those of other emerging countries in Africa, are strongly challenging the influence enjoyed up until now by South Africa.
"It is difficult to single out any one West African country as the leading market for minerals exploitation in that region."
As recently as February 2011, and within Burkina Faso's newly discovered Ronguen 249,000oz gold deposit, drilling by Goldrush Resources has already been extended by an area of 5.7 hectares: intersections of up to 3.92g/t of gold over 10m have been identified.
Niger
Next door, with 16 TSX/TSXV operators, is another popular market. Niger's director-general of mines and geology, Dr Mamadou Dikouma, addressed this year's MineAfrica conference in Canada to reveal that 20 applications are currently being processed in his country. Some of the world's most prized minerals comprise Niger's minerals portfolio.
Gold has been mined in Niger since 2004 at a rate of 2t-6t of gold per annum, and lignite / brown coal has been mined here since 1980. Further feasibility studies for lignite opportunities are now underway – the possibility of a 200MW power plant is a real one.
Niger has also been the world's fourth largest uranium producer for many decades, with three operating mines and one set for 2013. To boost Niger's mineral wealth, Dr Dikouma told the conference that only three months were needed to grant a licence and that the miming directorate is keen to process applications quickly.
Sierra Leone
West Africa is aware of the need for standardisation when it comes to mining legislation; being able to abide by the same regulations from country to country can only encourage foreign investment. Sierra Leone, for example, reviewed her Mining Act in 2009 to become in line with neighbours Guinea and Liberia.
"West Africa is aware of the need for standardisation when it comes to mining legislation."
Sierra Leone has been under-explored despite her very "busy" geological map, the minerals involved being gold, diamonds, quartz and uranium. At present there is some mining, but it is often artisanal rather than alluvial.
There are three new targets being explored in Sierra Leone by Golden Valley Mines, a subsidiary of Quebec-based Val d'Or that are currently undertaking exploration. Golden Valley is currently conducting airborne surveys, releasing the data to the government of Sierra Leone. Company president Glenn Mullan describes Sierra Leone as 'a world-class opportunity'.
One area that does need upgrading is infrastructure, but this is being handled by several Chinese companies, which are working quickly and aggressively by building railways out of the capital Freetown for example.
China is also investing in mining companies. For example, Shandong Iron and Steel Group is to put $1.5bn into African Minerals' Tonkolili iron ore mine in exchange for 25% of the mine.
Mineral Resources Minister Alpha Kanu has pledged his full support, "We are also delighted that some 2000 Sierra Leonean youths will be employed, which will be increased to between 4,000-5,000 jobs in the future."
African Minerals will use the Chinese investment to build a railway line linking the mine and the nearest port. The railway will be completed in the autumn of 2011, with first delivery of iron ore intended for 4Q11.
Nigeria
Nigeria is a major West African powerhouse, the mining industries of which have previously been hampered for all manner of reasons but which are now set to become key players.
Coal mining in Nigeria has had a difficult past as oil all but rendered the Nigerian coal industry obsolete. There were some attempts to revive coal-mining in Nigeria in the late 1980s but they were little more than retrieving coal from spoil heaps and shallow deposits.
A look at the modern map of Nigeria, however, shows a different story. Of the 36 states, 13 now host coal reserves, with current exploration results indicating over a trillion tons of coal. The Government of Nigeria has made coal mining for power generation one of its priorities, and it is clear that the disruption caused by the discovery of oil and by extreme political situations such as the Civil War of the 1960s have been mostly overcome.
Nigeria also offers minerals which are either in serious demand or difficult to extract for political reasons. Of the 59 elements identified for commercially viable extraction, rare earth metals such as lanthanum, cerium, neodymin and yttrium are included. In turn, there are huge reserves of oil sands in Nigeria, as surface / near surface impregnated sediments and as subsurface bitumenous sands. Blocks have already been delineated for concession.
'Post-oil' Nigeria is, in fact, set for successful exploitation of her minerals wealth. She now has a national policy on mining, with the private sector as the main engine for growth and with government mining enterprises privatised. The atmosphere is conducive for success.
Crucially, the Nigerian Government passed the Nigerian Minerals and Mining Act 2007. Key elements of this act are:
access to mineral title open to all investors, big or small, foreign or local on a level and equitable playing field, and on first come, first served basis with guaranteed security of tenure and transferability of mineral rights
the involvement of other stakeholders through the creation of states: mineral resources and environmental management committees will facilitate access to land
"West Africa has proved attractive for investors and specialist mining professionals alike."
Further commitment to Nigerian mining comes from the establishment of specialist organisations. The Mining Cadastral Office which covers the whole of Nigeria, enjoys autonomy with sole responsibility for the grant and administration of titles, and respects the first come, first served principle.
The Nigerian Institute of Mining and Geoscience provides manpower training and institutional capacity building for the mining sector, accompanied by research in mining and geosciences, with practical laboratory and field exposures to university professors and postgraduate students. The institute offers postgraduate diploma courses in mining and mineral engineering and mineral exploration.
Conclusions
West Africa has proved attractive for investors and specialist mining professionals alike. The region is standardising its rules and regulations, and outperforming other African regions, whether other new markets such as East Africa, or traditional mining industries such as South Africa. Prolific results from exploration can only mean abundant resources for the foreseeable future.