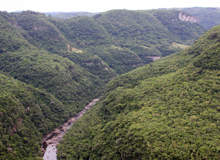 Increased foreign direct investment (FDI) and sustained levels of demand, coupled with the recovery of global economies indicates steady future growth for the Brazilian mining industry. Brazil possesses rich natural mineral resources such as iron ore, manganese and gold, and as a result, the country's mining industry is one of the largest in the world.
The industry has recently experienced a strong period of growth, and according to a study by ICD Research, the growth prospects for the Brazilian mining industry will remain strong, despite factors such as increased royalty rates, environmental challenges and illegal mining.
Robust economic growth and substantial demand for minerals
Fuelled by robust economic growth, the Brazilian mining industry was estimated to be worth approximately $23bn in 2009, due mostly to a strong compound annual growth rate (CAGR) calculated during the review period (2005–2009).
Impressive in volume terms, total mineral production stood at 472 million tons in 2009. China by way of comparison produced 4 billion tons of mineral resources over a similar period.
Major factors expected to drive the demand for minerals are the expansion of key end-user markets such as construction, manufacturing and power, and as a result, throughout the forecast period (2010–2015) the Brazilian mining industry is estimated to register steady growth.
"Expansion into the Amazon region has met considerable criticism from environmentalists worldwide."
Demand for mineral resources and construction equipment
The mining equipment market is expected to significantly increase in value during the forecast period, and the majority of demand will continue to be met by foreign manufacturers. However, the booming economy and increased infrastructure and mining investment will create demand for more durable, safer and more reliable equipment, resulting in growth opportunities for foreign and domestic companies throughout the forecast period.
With Brazil hosting the 2014 UEFA World Cup and the 2016 Olympics in Rio de Janeiro, growth in the mining and construction equipment industry is expected to receive a substantial boost throughout the course of the forecast period.
Brazilian mining code amendments
Prior to the 1997 amendments to the Brazilian Mining Code, the law did not encourage foreign investment in mineral resources. However, the Brazilian Constitution and the amended Mining Code (1997) have provided greater flexibility for investment in the industry. Increased focus on privatisation is expected to fuel investment, as the law now allows 100% equity ownership, either by means of privatisation or by direct acquisition.
In addition, low income taxes have been included in the revised Brazilian mining code, and the import tax for minerals has been reduced, depending on the mineral type, and is levied on net profit. These changes to the mining code have made Brazil an attractive destination for domestic, private and foreign investment.
Global financial crises 
The Brazilian economy received total foreign investment (FDI) of approximately $45bn in 2008, an increase of approximately 30% over total FDI recorded in 2007. However, in 2009, as a result of the global financial crisis, investment in the mining sector was significantly less than investment recorded in the previous year.
"Low income taxes have been included in the revised Brazilian mining code."
Despite the sharp decline in investment, the effects of the global financial crisis on the country's mining industry were relatively short lived, and due to Brazil's substantial iron ore resources, domestic and foreign investment has been increasing since 2010. In particular, China is keen to secure stable supplies of iron ore in order to satisfy the country's demand for metals.
Market entry
In the past two decades, the Brazilian government has implemented a series of measures in order to encourage private participation in the country's previously controlled mining industry, such as legislation which encourages mergers, joint ventures and privatisation. This resulted in increased capital inflows into new technology and expansions, leading to improved efficiency in the Brazilian mining industry.
Increased royalty rates
The Brazilian government is considering the implementation of a new royalty payment system in the industry, which could increase the fees that existing mining companies, such as Vale, pay to the Brazilian government. The revised fee is proposed for mining firms that do not add value to the domestic steel industry but export the majority of the raw material they produce to other countries. With the implementation of this royalty system, mining companies are expected to experience increased pressure on profit margins.
Environmental criticism and illegal mining
Brazil is one of the world's largest producers of gold and the country has significantly increased investment in the discovery and utilisation of gold resources. However, expansion into the Amazon region has met considerable criticism from environmentalists worldwide. In addition, the amount of harmful mercury entering the environment from gold mining activities is expected to increase significantly in the short term.
The security of mining assets is a concern for mining companies in Brazil. Companies operating within the country face the threat of theft of gold and other precious metals from mines, which result in losses for mining companies.
***
iCD Research is a full-service market research consultancy providing research capabilities online and offline. Our specialities include online research, qualitative and quantitative research, custom approach and actionable insights. Our capabilities provide a one-stop research and analysis service with full-spectrum consulting, from problem definition, through conducting fieldwork, to delivery of strategic recommendations.
We deliver our expertise across a broad range of industry sectors and product lifecycle areas. From product innovation, through brand management, to CRM, we develop full service research and analysis offerings that drive loyalty and lifetime value.
More details on the full GlobalData report.
GlobalData is an industry analysis specialist company providing business information products and services. Its highly qualified team of analysts, researchers, and solution consultants use proprietary data sources, and various tools and techniques to gather, analyse and represent the latest and the most reliable information essential for businesses to sustain a competitive edge.