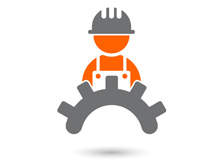 Carl Bosman has a great deal of experience in the mining industry. He spent 14 years as a mining construction technician in South Africa but now is involved in Thomas Mining Associates, a mining recruitment company with over 30 years' experience in the industry.
Bosman started in the construction industry, working on mining infrastructure and underground mining construction in South Africa; the minerals were surface coal, underground coal, gold and diamonds. He started as a technician in mining, and then went into labour broking and eventually recruitment (for the professional end of the market).
He says: "It just seemed a natural progression – I fell into recruitment and found I liked the office environment." As a recruiter he feels obliged to give everyone the best chance in life: "Although the product we produce [candidates for mining jobs] is sometimes unpredictable making the selling hard, I believe I have made a difference and you have to keep a good outlook on life.
What advice can you give to those looking for jobs in the mining industry?
"Exploration is seeing an upturn and companies are falling over themselves to recruit quality mining engineers and mining professionals. Because commodity prices are very buoyant at the moment the mining sector has taken off in a big way and there is a shortage of professionals in the mining and quarrying industry."
"Although the larger mining companies, such as Rio Tinto and BHP Billiton, have very active HR departments, the majority of small and medium mining companies do not and rely on recruitment companies such as Thomas Mining Associates. So, if you are seeking a career as a professional mining engineer, mining surveyor, geologist or a host of other jobs it pays to approach a recruitment company for advice."
How important is the UK to the global mining industry?
"The UK has traditionally been the trainer of senior technical skills for the world mining market and has many excellent mining schools in Camborne, Leeds and Imperial College.
"So even though there is not a great deal of buoyancy in the UK mining market due to various economic factors, mining skills are generally acquired in the UK and then exported to other markets such as Australia, Africa, the Far East, Asia, Canada, the US and many areas of the world on an expatriate basis.
"Mining professionals in the UK are sought after, but now, because of the severe shortage, the ex-Commonwealth countries such as Australia, New Zealand and South Africa also turn out a great number of mining graduates. It is likely that getting a job in a mining company would require a move abroad and it is important to gain experience by working in actual operations to make yourself more marketable and employable."