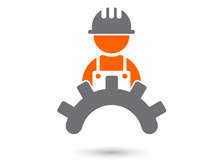 Shona Prosser is production superintendent of the casting facility at one of Rio Tinto Aluminium's aluminium smelters in Tasmania, Australia. Casting is the final stage of the aluminium mining process – where the molten metal is cast into the final products for customers.
What is the role of a production superintendent?
Shona Prosser is in charge of overseeing the production process at the casting facility, and making sure her team of 58 meets their targets.
"I determine where maintenance needs to be done and get involved with the technical team on any technical issues, or I look at products showing defects and work with the metallurgists – basically everything to keep production flowing."
But maintenance management is only a small part of Prosser's role – mostly, it's about managing people and safety. "80% of my time is focusing on people and safety. That includes reviewing their performance, managing any business issues, building team morale, giving them context of where the business is heading."
Prosser also makes improvements in safety processes and ensures Rio's safety standards are met. "I make sure the staff follow procedures, and encourage them to get involved in the company and make their own improvements. I try to drive improvements from the floor level up."
What qualifications / experience do you need for this role?
After graduating with a degree in materials engineering, Prosser moved to the wild and remote Australian state of Tasmania as a development engineer with Rio Tinto. Here she began developing her skills as a metallurgist, was trained in Six Sigma quality assessment and had her first taste of people management when taking a relief position as a services superintendent.
"At one point I came to a real crossroads where I had to make a decision about whether I wanted to go down the technical path or the more people management path, and I chose people," she says. "That small people-leadership role told me that's where I wanted to be – that's where my skills were strongest."
What challenges does a production superintendent encounter?
While people management is her favourite part of the role, it's also Prosser's greatest challenge.
"It's a challenge trying to understand the team's issues in the workplace. It takes a lot of work to understand what they want, but if you can tap into that you can make significant improvements," she says.
And while many may perceive that being a woman in a male-dominated industry would present some challenges, Prosser disagrees.
"Women are really respected in the mining industry," she says. "Women get supported really well because companies see the enormous benefits in employing them, and want to make sure they can retain them."
Any advice for entering and progressing in the mining industry?
With the right qualifications, entry into the mining industry is relatively obstacle-free, however, with career progression in mind, Prosser recommends not taking the straight-route in.
"I really recommend that graduates go to some sites rather than into consulting. Some site experience in a large company is a good idea because there are lots of opportunities to move around.
"Also, don't be afraid to go to a remote location. Remote sites have good social networks and always make sure they give you a large variety of work and opportunities; because they really want to retain people they really get you involved more."
Employers also value candidates that show a desire to have a go and face some challenges, she adds, "This industry really likes down to earth people, particularly in Australia – it really supports practical people, people who can trouble shoot and who can get along socially with their colleagues. I would say employers look at these qualities probably in preference to high university grades in many ways."