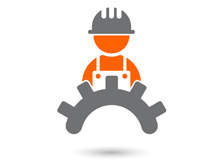 Richard Davies has been site manager for six years and has worked with Celtic Energy since they started from the privatisation of former National Coal Board assets in 1995. Richard has worked in the coal industry since 1971 and in that time has seen a lot of changes across the industry, particularly in Wales.
How did your career start in mining?
"I started off as an apprentice to a land surveyor with the coal board. This involved land surveying, general surveying, quantitative surveying and graphical surveying. I then qualified and spent a number of years as a surveyor in the open cast industry and then moved towards the engineering side. I became what we call a resident engineer, a site engineer who looked after the contractor side for British Coal. In those days, all the sites were contracted out to civil engineering mining companies. Following that I transferred into our regional headquarters and I was a project engineer, then a project manager."
How did this develop into being a site manager?
"Privatisation came along – I was a project manager at the time and I transferred out onto site as a site manager and that's what I've been doing ever since. So I've had experience of a fair cross section of things on the engineering side. I like a bit of the open air, the fresh air, I'm not the sort to be comfortable in the office. I think if you want to stay in the office all day then it's not the right industry to be in. The industry needs to have people on the ground, who know what they're doing."
What do you like about the job?
"There's always something new in this industry, all the variations of geology, weather, to cope with, etc. You can't predict one week to the next what you are going to get, so you've got to adapt all the time and be pretty flexible in your approach and still stick within the budget. I think you've got to have some sort of liking or aptitude for equipment or plant – I love big equipment on the site. We use 100t dump trucks and things like that – my wife says that I love my job more than her. And I've got to be honest I think it's true! I'm very fortunate in that respect because I'm doing a job that I love doing. If I was in a factory I doubt I would last five minutes."
What advice would you give graduates or apprentices?
"There is potential in mining if you enjoy the open air, if you enjoy this sort of life, and it can be harsh, but it has got its benefits. There is extreme variety, one day you can be fiddling around with plant and equipment. The next day you've got an HR situation, because we've go to deal with it all. As a mine manager I am the first port of call for any sort of thing. I've got to be personnel manager, electrician, production manger all rolled into one, but you know it's always a challenge and you never get bored. If you don't want to be bored this is the industry for you. We are going to need coal for many years to come and there is potential in mining for many young people."