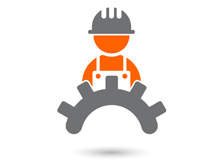 Keith Thomas's job is to deputise for the mine manager in his absence and to provide management and direction to the staff, in addition to maintaining health and safety. He has been in the mining business since the early 1970s and has gained a lifetime of experience.
What is your job and what do you do on a day to day basis?
"Apart from deputise for the manager in his absence you mean? Anything and everything, but on a daily basis I'm also blasting supervisor. We have sub-contractors in doing the blasting but we draw up the specification for them to blast to. So I have to make sure that's done every day. The general foreman will let them know where they can blast and I will design the blast around that. We can blast up to twice a day on an open cast; it's different to a quarry."
What other responsibilities does you job entail?
"I am also responsible for mine design with another engineer who works with me and monitoring that mine design by going up and doing appropriate surveys as and when required. I monitor the machines as well and run my eyes over what the foreman and supervisors are doing with regards to tonnages moved. This is just a routine you get into. I also have a general watching brief on health and safety and have to keep my eye on key performance indicators as well about once a week."
What do you like about your job?
"It's the variety. I mean, it's neither indoors nor outdoors (not 50/50). You can make it so you can get to spend a little bit of time outdoors as well, so it's not totally office based."
What do you not like?
"I have to deal with complainants for the site and carry out accident investigations in conjunction with the site manager when they are required, which is rarely."
What would you say to somebody who wanted to come into mining?
"Obviously I've had a life-long career out of it. Whether that can be said for somebody coming in now, I don't know. There's always going to be a need for coal, but I would say be prepared to move as well. I've been fortunate, in so far as I've spent all of my career within South Wales although I have moved about quite a bit. The saving grace for South Wales is the diversity of coals we've been able to mine. It's a challenging industry for sure, but be prepared to move not only within the UK but worldwide. It's preferable to get a good education, even if you are looking at open cast – a civil background would be good. There are so many disciplines within this sort of industry it's suitable for geologists, geotechnical engineers, hydro-geologists, mining engineers as well. So if you can come in as a graduate, then you know you've got a step on the ladder anyway."