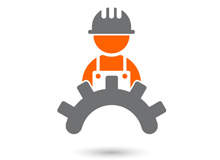 DavyMarkham builds and installs industrial mine hoists, steel rolling mills and mill housings. The company also provides design and project management services.
DavyMarkham is known as a world leader in the mine hoist and mine construction engineering market. Paul started his career in 1974, spending 14 years at MS International in Doncaster (mining construction and electrical engineers), becoming the youngest senior manager. He was a commercial manager before he moved on in 1988. Paul Kincell has also worked in several other industries over the years, but now works as a professional interim manager.
What do interim managers do?
The use of interim managers is increasing across the UK and Europe. Interim managers are a select group who go into companies to either deal with a particular situation, to sort out specific problems or to cover a specific project, the latter of which is the situation with Kincell at DavyMarkham. He is at DavyMarkham to boost sales and orders.
DavyMarkham has been working at the Agnico-Eagle mine, the largest gold mine in Canada, to refurbish and produce parts for a double drum hoist. "This is a typical project for DavyMarkham," he says. "The company has a lot of experience in this type of heavy engineering and a lot of very experienced people. This just goes to show that a career in mining need not involve going down deep holes in the ground – there is a great deal of other heavy engineering involved."
As an interim manager, what is his current role?
Kincell's current role is to strengthen the company and make sure it is geared to the demands of the market and is efficient and competitive. The company is now very strong in the mine and tunnelling sector, being one of the top three manufacturers of tunnelling equipment worldwide.
Kincell says, "The company is very unique with a massive amount of skill in its chosen sectors and now the management team, including myself and the managing director, have been able to use our experience to point it in the right direction to pick up lucrative and prestigious contracts."
Graduate interim manager programmes
DavyMarkham has an active and successful recruitment programme for engineering graduates and apprentices, so those interested in this type of heavy engineering could certainly apply to the company for positions, training or placements to gain experience.
Remember that the mining sector also needs a large proportion of management and administration skills as well as those used at the cutting edge. Finally, be persistent, confident, and willing to listen and learn at all times, that way you will gain respect and progress in your career.