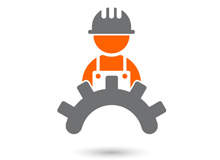 NovaGold is set to be a major producer of copper and gold across Alaska and north-west America and is currently in the market for quality recruits across the board. Sacha Iley is one of the human resources managers. She has been with the company about a year and has seen a lot of development in that time.
What can you tell me about recruitment in your company?
"We currently have two sites that are under construction – one in Alaska and one in Northern British Columbia and we should be in production with the first mine very soon. Like all companies, right now the attraction and retention of people is one of the focuses for NovaGold just because we are growing so quickly. We have been finding new people through existing employees' contacts, some really good talent, but of course we do have to follow procedures with recruitment and selection and it's getting harder. We are going to be adding more and more people over the next few years as operations take off but right now we are facing labour shortages so we have to be very proactive with sourcing, attracting and retaining new talent."
What kind of mining jobs are experiencing labour shortages?
"It is pretty widespread actually. There are shortages in accounting, finance, mine operation and construction. In the province next door, Alberta, we have oil sands that have been facing these shortages for years and now it has sort of come our way. So we do have to be very proactive with finding people. We do have a great construction team in place with people on our team from around the world who have lots of experience in building mines, but I think for us one of our big focuses is that we are going to start targeting universities a lot more than we have been and training local people as well."
So what is your current role in the operation?
"I have had to build up the human resources team. We are currently looking for a human resources superintendent who will support the Galore team and part of the role will be training. So I think I am involved overall to make sure that that there is kind of consistency across the organisation. We are going to have somebody that will focus a lot on putting together the training programmes and we have already starting looking to the actual operation start up, when we will need operators. For this there could be a substantial lead time in terms of training."
What are some of the ways you can attract graduates?
"Well our exploration projects are in Canada and Alaska and in the summer we have a number of exploration programmes, they actually only run for certain months of the year just because of the snow cover. We do generally target university students because the summer is when we need the people, so we have actually been hiring a lot of students over the summer for exploration projects. Most of the students love it because a lot of those who go into geology seem to like camping and the great outdoors. Some of the exploration areas are beautiful and remote. If you take the Galore project, its pretty spectacular countryside up there."