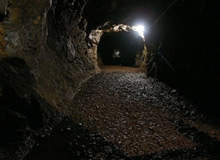 Throughout the opening years of the 21st century, two ideas have risen on political and economic agendas around the world – the need to secure regional energy independence and the burgeoning awareness of the long-term importance of environmental issues.
In many respects, the new Sasyadko cogeneration plant at Donetsk, in south-eastern Ukraine, perfectly represents the convergence of these two particular lines of thinking, generating heat and power for local use from one of the best known of coal-mine hazards – gas.
Fuelled by methane released during coal extraction, phase one of the project has been operational since May 2006, when it was inaugurated by Yukhym Zvyagilsky, the mine's director, Ukraine President Victor Yushchenko and Coal Minister Victor Topolov.
At the heart of the system you will find 12 GE Energy 3MW Jenbacher gas engines, generating a combined 42MW of power and heat. Equipped with the proprietary LEANOX® system, each engine is able to react swiftly to the unpredictably variable gas quality typically produced, enabling maximum possible generation to be achieved.
Since coal-mine methane (CMM), which rises at very low pressure, has a calorific value of around a quarter that of natural gas, the power density and efficiency of the engines featured high in the original design criteria.
Based on the specified project requirement for hot water temperatures of 70°C for return water and 110°C for forward water, the installed GE Jenbacher units deliver an electrical efficiency approaching 43% and a corresponding thermal efficiency of more than 41%.
How well do you
really

know your competitors?

Access the most comprehensive Company Profiles on the market, powered by GlobalData. Save hours of research. Gain competitive edge.
Company Profile – free sample
Thank you!
Your download email will arrive shortly
Not ready to buy yet? Download a free sample
We are confident about the unique quality of our Company Profiles. However, we want you to make the most beneficial decision for your business, so we offer a free sample that you can download by submitting the below form
By GlobalData
Phase two – doubling the number of installed gas engines and increasing the total energy generation capacity to more than 140MW – is already underway. On completion, the Sasyadko facility will become the most powerful CMM-fuelled cogeneration plant in the world.
Coal mine gas – Reaching the potential
The idea of using the potential of coal mine gas is nothing new, and its appeal is certainly not limited to the shores of the Black Sea. A number of countries including Australia, Germany, the US and the UK are actively pursuing ways to make the most of this resource.
"The Sasyadko cogeneration plant generates heat and power for local use from one of the best known of coal-mine hazards – gas."
China – widely tipped to be the third-largest economy in the world within a few decades and facing the possibility of a huge energy shortfall to support this rate of growth – has also begun to look to its coal mines to overcome the country's lack of significant oil reserves.
With international studies showing that about 30% to 40% of all coal mines produce gas that could be used to fuel gas engines for power generation, clearly the energy benefits could be enormous. However, not all coal mine gas is the same and these differences have implications for its utilisation.
Gas from un-mined coal seams (coal bed methane (CBM)) has a stable composition – normally more than 90% methane – while abandoned mine methane (AMM), which continues to be released for some time after a mine's closure, contains between 60% and 80%. However, the methane content in the CMM from active mines – such as Sasyadko – ranges from 25% to 60% and has an oxygen content of about 5% to 12%.
With sudden fluctuations being common and unpredictable – particularly in respect of the methane / air ratio – the variable composition of this form of mine gas inevitably places significant demands on any cogeneration system.
Cogeneration technologies
Cogeneration – or combined heat and power (CHP) as it is sometimes referred to – involves the simultaneous production of two distinct types of energy, usually electricity and heat from a single original energy source. The effective utilisation of both makes cogeneration considerably more efficient than single systems – yielding the same amount of electrical and thermal energy for about 10% to 30% less fuel than would have been required to generate both separately.
"Cogeneration involves the simultaneous production of two distinct types of energy."
The typical cogeneration system consists of a prime-mover engine and a generation unit which then produces the electricity.
All of the systems for coal mine use are what are known as 'topping cycle plants', generating electrical power first and using a heat exchanger to recover 'waste' heat from the engine and/or exhaust gas to produce hot water or steam.
Although there are four main kinds of topping cycle systems in use, including those which feature steam turbines, gas turbines and high-pressure steam, most of these fall into the realm of large-scale power generation.
Coal mine cogeneration
At the more modest scale of a coal mine, the general cogeneration pattern is more straightforward. The gas is burnt in an engine to drive the generator, while hot water from the engine's cooling system is typically pumped to a heat recovery boiler, the thermal energy subsequently being used for space heating or to produce process steam.
Tapping into this potential can be achieved by three different approaches – directly collecting the gas formed naturally in the mine, gasifying coal itself or transforming coal wastes to gas for subsequent use. After gasification, coal waste can then be converted to a diesel fuel, via the Fischer-Tropsch process, and used to drive a conventional internal combustion engine as the prime mover in the cogeneration system.
"The typical cogeneration system consists of a prime-mover engine and a generation unit."
The Chinese have been showing a singular interest in underground coal gasification (UCG), having carried out no fewer than 16 UCG trials since the late 1980s – this is after identifying 30 billion tonnes of suitable un-worked coal pillars in both active and abandoned mines. If European deep-drilling technology is shown to be a feasible proposition for China's seams, this figure could be ten times greater.
Even without UCG, China has established a significant stake in the mine cogeneration field, with the largest project – scheduled for completion in 2008 – being the 120MW generation facility at the Sihe Mine in Shanxi Province, which is to be fuelled by a mix of CBM and CMM.
The Sihe Mine began operations in 2002 and currently produces around 440,000m³ a day of CMM of which approaching 40 million cubic metres has been captured and used for cogeneration each year. By the time the new facility comes online, coal production at Sihe is expected to top eight million tonnes a year, pushing CMM emissions to more than half-a-million cubic metres a day.
Some 90,000 households and a variety of local industrial and commercial premises – more than 400,000 people in all – are expected to benefit from the energy produced.
Cogeneration for big and small
The potential for large mines is clear. At the Sasyadko mine – the second largest in Ukraine – the cogeneration facility supports the on-site operations at several locations around Donetsk, while mines such as Sihe and the Zofiowka mine in Poland also supplying nearby towns.
Although, obviously, the higher energy requirements of larger mines make cogeneration particularly attractive, despite the obvious economies of scale, the potential utilisation of coal mine gas need not be limited only to the 'big boys' of the industry.
"The Chinese have carried out no fewer than 26 underground coal gasification (UCG) trials since the late 1980s."
Any mine can make use of on-site cogeneration systems to meet at least some of their electrical power needs and for drying coal or heating on-site surface facilities, such as offices, workshops and bath houses. Alternatively, those located near to energy-intensive industries such as chemical works or paper mills might be able to export excess thermal energy – and perhaps even some electricity as well.
By no means do all mine cogeneration facilities match the scale of Sasyadko or Fenne – a mine near Saarbrücken, Germany, which meets the energy needs of about 80,000 households.
The plants can vary in size considerably – anything from 500kW upwards – and of the remaining 30 or so projects currently operating at both active and abandoned mines across Germany, for instance, most lie in the range between 1MW and 4MW. While those which maximise the use of thermal energy are obviously the most efficient, all offer the mine a remarkably cost-effective source of energy.
Cogeneration for the environment
Making constructive use of the methane-rich coal mine gases makes clear environmental and economic sense, particularly in a world where 'green' performance can often factor heavily in the corporate bottom line. With methane being more than 20 times more harmful a greenhouse gas than carbon dioxide, capturing even some of it and utilising it brings obvious benefits.
"International studies show 30% to 40% of all coal mines produce gas that could be used to fuel gas engines for power generation."
There are more than 1,000 disused coal mines in the UK alone and according to estimates from the Department for the Environment, Food and Rural Affairs (DEFRA), their methane emissions amount to about 50,000 tonnes a year. This is equivalent to more than one million tonnes of CO2 and could provide at least 30MW of electricity and broadly similar amounts of heat.
Despite the clear appeal of coal-mine cogeneration as a means of mitigating greenhouse gas emissions, few such projects are currently engaged in international carbon trading.
The coming years seem likely to see that change; in March 2006, Sasyadko gained formal approval as one of Ukraine's first projects to be able to do so, under the provisions of the Kyoto Protocol. Given the growing importance of the twin drivers of energy security and environmental compliance, it seems inconceivable that others will not follow.