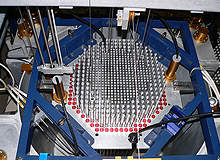 Since 2001, the uranium industry has been enjoying some of the success that gold and iron has had for hundreds of years, thanks to a growth in demand for nuclear energy.
The so-called nuclear renaissance, however, has barely even begun and already concerns are being raised over the availability of uranium, with some experts saying resources will be exhausted by as early as 2070.
On the other hand, the increasing number of new discoveries and actions being taken to sustain uranium mining suggests that the argument that reserves are dwindling isn't so clear-cut.
Nuclear beginnings
The development of nuclear reactors has been put on hold for a number of decades because of their alleged lack of provision for long-lived wastes and the risks posed by radioactive fission products. Operating nuclear reactors contain large amounts of radioactive fission products which, if dispersed, can pose a direct radiation hazard.
However, concerns over climate change and dependence on overseas fossil fuels have led to a greater acceptance of this resource. And, if ever we needed an alternative to fossil fuel and a reliable source of electricity, uranium certainly fits the bill. Indeed, 1kg of the isotope uranium-235 has the potential to produce about 80 terajoules of energy; as much energy as 3,000t of coal.
Due to this renewed acceptance, the world is embarking upon a huge increase in nuclear capacity.
How well do you
really

know your competitors?

Access the most comprehensive Company Profiles on the market, powered by GlobalData. Save hours of research. Gain competitive edge.
Company Profile – free sample
Thank you!
Your download email will arrive shortly
Not ready to buy yet? Download a free sample
We are confident about the unique quality of our Company Profiles. However, we want you to make the most beneficial decision for your business, so we offer a free sample that you can download by submitting the below form
By GlobalData
"Already concerns are being raised over the availability of uranium."
The latest statistics from the World Nuclear Association show that China hopes to raise capacity to 70GW-80GW by 2020. Some 30 reactors are under construction in the country and another 51 units are planned to break ground in the next three years.
In Europe, Finland and Sweden are constructing permanent disposal sites for nuclear waste and are developing new power plants. The UK plans include replacing the country's ageing fleet of nuclear reactors with new nuclear builds, and four 1,600MW French units are planned for operation by 2019.
These construction plans have sparked growth in the industry, but the limits of such growth are hotly debated.
Chain reaction
At the Westminster Energy and Transport Forum held in London, UK in October last year, Professor Colin Boxall from the Lancaster University's Engineering Department presented his preliminary findings with regards to the sustainability of the uranium supply.
He explained that the 370GW electric capacity across the world requires about 66,000t of natural uranium per annum. "We have got about 4.5m tons of uranium remaining which equates to a 69 year lifetime for the uranium supply at current rates of consumption and burn up. Speculative resources – that's the extra 10m tons that are undiscovered – will be exhausted by 2122."
Boxall's argument supports the "limits to growth" theory popularised in the Club of Rome writings in 1972, which states that resources of the earth are limited and we must therefore plan for negative growth.
So, if these predictions are correct, what is the uranium mining industry doing to prolong its future?
Sustainability
As the history of coal mining has proved, the question may not be whether there are sufficient mineral resources available, but whether these resources can be extracted economically.
For example, there are about 3.3mg of uranium per m³ of seawater, meaning concentration is low but quantities are high. However, at ten times the current price, it is not financially viable to extract these reserves.
As the demand for uranium increases, however, these prices are likely to drop.
In the mean time, mining heavy weights are expanding their production capacities. Rio Tinto, for example, announced that it would double its 2008 output by 2013. The company has operations in the Ranger Uranium Mine of Energy Resources of Australia and the Rössing Uranium Mine in Namibia.
In addition BHP Billiton, has recently submitted its Supplementary Environmental Impact Statement for its expansion plans for Olympic Dam to the Australian, South Australian and Northern Territory governments. The governments are subjecting the report to an adequacy test before authorising publication.
According to Deloitte's Outlook for the Industry Report BHP is expanding the annual production of uranium from around 4,000t to 19,000t.
There are also major prospects in Western Australia and Queensland, but uranium mining remains prohibited in these areas due to the belief that it will have a harmful effect on the thermal coal industry.
Australian Uranium Association spokesperson Simon Clarke nevertheless insists that a lift on the ban could give the industry a much needed boost, "A State Government decision to permit uranium mining in Queensland could see mines there developed by the end of the decade. If new Queensland mines were to come on stream from 2020 onwards this would reinforce and help sustain our industry's momentum."
Positive prospects
Despite findings that uranium reserves are dwindling, there are many arguments to suggest that the "limits to growth" theory is out-dated.
A report by the World Nuclear Association states that there has been a "persistent misunderstanding and misrepresentation" of the abundance of mineral resources.
"The outlooks for uranium levels, and therefore the nuclear power industry, are conflicting."
The Supply of Uranium report continues, "Of course the resources of the earth are indeed finite, but three observations need to be made: first, the limits of the supply of resources are so far away that the truism has no practical meaning.
Second, many of the resources concerned are either renewable or recyclable (energy minerals and zinc are the main exceptions). Third, available reserves of 'non-renewable' resources are constantly being renewed, mostly faster than they are used."
Australian Uranium Association spokesperson Simon Clarke seconds this argument and adds that resource predictions have not accounted for new knowledge gains, "The most conservative estimates suggest that the known reserves of uranium in the world are sufficient to run the world's current reactor fleet for 100 years at current rates of consumption. This estimate is based on the highly unrealistic assumption that no more uranium than is known now will ever be discovered, and that there will be no improvements to nuclear reactor technology in the next one hundred years."
"More likely is that significant additional new reserves of commercially-viable uranium will be found," Clarke adds.
The outlooks for uranium levels, and therefore the nuclear power industry, are conflicting. What is clear, however, is that we have enough reserves to last us a lifetime, what is uncertain is whether we will develop sustainable technologies to make exploration, extraction, and nuclear development possible for future generations.