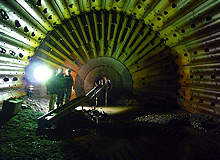 Headquartered in Sweden and part of the Sandvik Group, Sandvik Mining and Construction is a global player, offering solutions, including conveyors, to the construction and mining industries. In December 2010, the company revealed a host of new packages including the design and supply of a high-capacity 9,100t/h long-distance conveying system for iron ore mine, and confidence appears high for the future.
"We are pleased to note that, following the increase in demand for mobile mining equipment earlier this year, we are now also seeing a rise in demand for major capital investments in mines and related infrastructures," said Lars Josefsson, president of Sandvik Mining and Construction. "We anticipate a continued high level of demand for these commodities."
Conveying in confined spaces
Small is good too. Miniveyor Products is a UK specialist in confined space working. The company says that its Miniveyor portable conveyor system is being used worldwide. "Miniveyor is particularly useful in large mines for maintenance work on underground equipment, bow mills and for clean-up under production belts. It can also be used to remove debris following mud slides or roof collapses," said Darracq Shawe, Miniveyor's managing director.
"Conveyor investment can be paid back rapidly in a matter of weeks with today's commodity prices."
Each unit is 3m or 4.5m long, can be supplied in either 110V, 230V or 230V-600V three phase and controlled from a single control box. "With the addition of slave boxes we can build any number of Miniveyors into a system and have had applications 1.5km long," said Shawe, adding that a 30m-long conveyor can be easily assembled by two people in 15 minutes. "A rapidly growing market for Miniveyor is in the small subterranean gold and copper mines where the installation of a conventional conveyor system is almost impossible due to the gallery size. The introduction of Miniveyor will increase productivity greatly and the investment required can be paid back rapidly in a matter of weeks with today's commodity prices."
Electrics and automation
The conveying story is not just about the main system, however. In September 2010, the global engineering group ABB announced that it had won an $18m order to provide the complete electrical and automation system for six underground mine incline conveyors for Newcrest Mining's Cadia East gold and copper project.
Located in south-eastern Australia, the Cadia East project will be Australia's largest underground mine once completed. ABB will provide a state-of-the-art conveyor control system that it says will optimise the overall performance, reliability, energy efficiency and operational flexibility of the conveyor system over its lifetime. In addition, the company says that it will design, engineer and supply a full electrical solution with modular switchrooms, transformers, 33kV ring main units, water chiller systems, motor control centres (MCC) and mine conveyor control programme (MCCP) to manage ABB's ACS 6000 multidrives and motors.
"ABB's global engineering resources and mining industry expertise, combined with our proven technology, provide a technically robust and energy efficient system that will optimise performance over the entire productive life of this mine," said Veli-Matti Reinikkala, head of ABB's process automation division.
Belt up
For the conveyor belt itself, the ContiTech Conveyor Belt Group announced a change to the production method for its ContiClean A-H, anti-stick conveyor belt in May 2010. The new belt is more troughable, with a surface that is specifically designed to handle ultra-sticky material like desulphurised gypsum, unfired clay, titanium dioxide or wet ash.
"Mining companies are innovating with conveyor systems with regard to maintenance and breakdowns."
The optimised rubber compound used in the belt's production means that better troughing and running performances can be achieved even with a narrower belt, and especially at cold temperatures – the belt will perform as low as -25°C.
"With our patent we are the only producers worldwide who are allowed to make the new cold-resistant and troughable ContiClean A-H belt", said Hans-Jürgen Duensing, head of the ContiTech Conveyor Belt Group.
The new belt was developed with the collaboration of Olberts Gummi- und Fördertechnik, Krefeld, Germany. "Together, we've succeeded in getting an East European customer interested in our product," said ContiTech applications engineer Wolfgang Kerwel.
There are companies innovating with conveyor systems with regard to maintenance and breakdowns, too; Hansford Sensors of the UK recently won an export award. "With the downturn in the economy in the UK, we set our sights on overseas markets and now sell our vibration sensors into over 40 countries," said Hansford's managing director Chris Hansford. "Asia has been particularly fruitful, with an incredible rise in products sold into the Australian marketplace, thanks to the hard work of our distributor in New South Wales."
The company's HS-423 sensor can be installed on items such as a worn conveyor pulley bearing and has the ability to give a warning should the component deteriorate further before a planned maintenance. It is far better to shut down a conveyor for a repair in a controlled way rather than experience a potentially costly failure while it is in full flow.