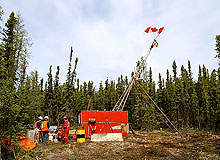 China's rare earth mineral sector may have to dig deep to escape an uncertain future as buyers look to source their supplies elsewhere.
The country still holds a monopoly over the minerals, there is no question of that. In fact, it supplies 95% of the elements to the rest of the world. But, in 2010, it slashed its export quotas for the fifth year running, creating an increased demand for the minerals in the US, Canada and Australia. In response, mining companies in these countries appear to be coming into their own.
The fact of the matter
In slight contradiction with their name, rare earth minerals (REMs) can be found almost anywhere. What is rare, however, is to find them in large enough quantities to provide economic benefits.
Finding heavy earth minerals in large deposits is rarer still and it is these elements, such as neodymium, lanthanum and dysprosium, that are critical for producing electric and hybrid cars, wind-power turbines, small tools, most electronics and defence systems.
Historically, it was only China that had a significant interest in REMs because they were used in so many applications primarily developed by the Chinese.
"Great Western Mineral Group also has several properties in North America and South Africa."
Armed with a monopoly over the minerals, which are now essential to industries the world over, China is jacking up prices and cutting production.
Donald Ranta, president and CEO of US-based Rare Element Resources, explains just how far China has gone in slashing its export quotas. "China has been decreasing its exports of rare earths every year since 2005. In the early years the annual decreases were 4%-6% per year.
"Then in 2009 the decrease was 12%, which was followed by a 40% decrease in 2010. There are reported to be further decreases planned for the first half of 2011. At the same time, China has been increasing its export duties on rare earths up to approximately 15%-25%."
Causing a rift
China's monopoly over rare earth minerals has caused widespread concern among global industries that the country will take advantage of its dominant position during world trade discussions.
This fear was fuelled by the country's recent ban on rare earths to Japan. In September, Tokyo and Beijing bickered over Japan's detention of a Chinese fishing boat skipper whose trawler collided with two Japanese Coast Guard ships near uninhabited islands in the East China Sea that both sides claim. The prisoner was released and China lifted its ban on exports a few days later.
The US also kept a close eye on China's exports in October after the two countries fell out over Washington's probe into alleged Chinese subsidies for its green technology sector.
One reason for the cut in exports is that China's supply of REMs may be diminishing, as Avalon Rare Metals president and CEO Don Bubar explains: "It is the general consensus that the country has enough reserves in light rare earths to last 1,000 years but only enough heavy earth reserves in the south to last 15 to 20 years."
The problem of illegal mining and smuggling has also contributed to the cuts in recent years. In 2008, illegally mined and smuggled REMs accounted for 20,000t, or one third, of China's total REM exports. But aren't China's actions likely to lead to an increase in illegal smuggling if REMs are made less available? Bubar doesn't think so.
"China has been working very hard to control all aspects of the rare earth market in China. The increased scrutiny, controls and stiff penalties will deter illegal activity," he says.
The cuts are also expected to help China fuel its internal growth of REMs, explains Great Western Minerals Group President and CEO James Engdahl. "China holds about 35% of known global resources but supplies over 90% of the product to the world," he says. "So, speaking into the future this can't go on if they want to have an internal source of rare elements, unless they discover more deposits in China."
When it comes to discovering new deposits, however, companies in Canada, Australia and the US are making headway, which could prove problematic for China.
Digging deep
In the last five years, the world has become aware of the scarcity of rare earth minerals and, as a result, more deposits have been discovered, which are due to come online within the next decade.
One such deposit is located at Lynas Corporation's Mount Weld in south-west Australia. In May 2009, the China Non Ferrous Metal Mining Company tried to acquire a 51% stake in Lynas but was unsuccessful due to intervention by the Australian government, which did not want China to take control of the mine. Mount Weld is set to commence operations next year.
In California, US Molycorp has plans to produce REMs at its Mountain Pass mine in 2012. Molycorp and Lynas are expected to produce a total of 30,000t per year once operations commence.
Ranta says, "China has a monopoly on rare earth production today, and that will be partially mitigated by production from Lynas Corp and Molycorp. Together these two mines will alleviate part of the shortfall of exports outside of China with production of approximately 25% of the world's rare earths supply by 2013."
"China's monopoly over rare earth minerals has caused widespread concern among global industries."
Great Western Mineral Group also has several properties in North America and South Africa that are at varying stages of development. The most advanced is the Thorium Mine in South Africa, which is due to come online in 2013. This mine, according to Engdahl, will be the first outside China to produce more heavy rare earth materials per ton than any other deposit.
In addition, Rare Element Resources has its cornerstone rare earth deposit in the state of Wyoming, US. Ranta explains, "We have established a strong initiative to alert the US and Wyoming government officials that there is a significant resource of rare earths in the state. This has been done through a government relations initiative and by the coordination of a VP of government and community relations."
With all these deposits emerging around the globe, we would be forgiven for thinking that China could soon lose its monopoly over rare earths but, according to the experts, the rest of the world still has a long game of catch-up ahead of them.
Ranta says, "Projected growth in demand will allow other producers to enter the market each year after, but it may be nearly 2020 before sufficient production outside of China satisfies market demand."