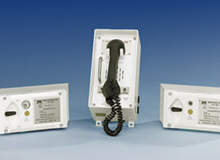 Last year's rescue of thirty-three miners trapped in the San José gold-copper mine in Chile brought home the need for modern multi-functional mining communication systems. For seventeen days those above ground did not even know whether the trapped miners were alive; there was no connection, not even through voice communications.
For the majority of operations, underground communication no longer comprises just a two-way conversation with staff at ground level. A modern system can incorporate underground internet capabilities, emergency evacuation technology, automated equipment control and high-speed data transfer.
Multi-path communication
One manufacturer offering such systems is Mine Radio Systems (MRS), which supplies companies on the scale of BHP Billiton, Anglo American, Rio Tinto, Codelco, Xstrata, Barrick and Vale; MRS operates in over 50 countries and 400 locations.
To the question "if there's a problem 300m below the ground, what can communication technologies do to help the miners?" MRS CEO Ken Morrell responds, "With our underground safety solutions, it's possible for the base station, located above ground, to warn miners of a potential disaster, giving them time to get to a refuge station…It can also locate trapped miners, determine their state of health and alert them to the fact that they've been located…and, of course, our system also helps to prevent collisions by tracking vehicles and personnel and alerting them to impending danger."
"MRS has recently worked with Brazilian partner Eletron to install its first solution in Brazil's largest coal mine."
MRS has recently worked with Brazilian partner Eletron to install its first solution in Brazil's largest coal mine, Carbonifera Metropolitana Fontanella, which covers 3km with future expansion planned. Ken Morrell explains the significance of the contract, "Carbonifera required a basic voice communication system with interconnection to the telephone system within its mine and on the surface. The unique part of the entire project was that it was Brazil's first coal mine to acquire a communications system, so setting a standard and quality of work was the most important aspect of this deployment."
Standardisation
Newer markets often tend to award contracts to very well-established companies, relying on their greater experience. Britain's Davis Derby started manufacturing mine flame safety lamps in 1844 before changing to electrical safety equipment for mines in 1945.
Davis Derby's expertise is centred on its Minewatch PC21 modular control unit which can either "stand-alone" or connect with other units to form "clusters" in order to control and monitor larger installations. In fact, any modular communications system can benefit from standardisation: training is easier and there are costs-savings, for instance from cabling, initial installation and replacements when upgrading takes place.
Eastern Europe has been a key market for Davis Derby for several years, with upgrades helping companies fulfil their targets. For example, three years ago Davis Derby supplied the first part of a mine personnel location and zoning system to Suek's Kirov mine near Lenin Kuznetsk. A year later, the mine's chief electrician deputy announced his plan to introduce several sub-systems, including a personnel tracking subsystem in the mine (featuring a time-keeping system), control over bunker loading, conveyor controls, and control over gas-expelling devices.
More commissioning of equipment came in 2009, when the system at Kirov was extended to include additional personnel detection, including man protection on man-riding conveyors, as well as gas monitoring, water pumping and switchgear controls. Also included was a network link through to Suek's headquarters in Moscow enabling headquarters to monitor the operations of the mine in real time.
High-speed
Closer to home in the UK, Davis Derby is playing a part in the success story that has made Daw Mill in the West Midlands Britain's largest colliery. Field trials at Daw Mill have allowed the launch of the company's intrinsically safe high-speed data highway system which transmits standard Ethernet/IP over optical fibre cables. Using intrinsically safe light sources means that gas and critical plant monitoring can still transmit in an explosive atmosphere.
"Davis Derby's expertise is centred on its Minewatch PC21 modular control unit."
This year, Davis Derby plans to produce an underground, PC-based terminal which will form part of a Minewatch PC21 or RF21 cluster.
The result will be clear, graphical, real time local mimic and diagnostic displays which will also access the surface system to allow viewing of information from the entire mine; this includes current mimics and alarms as well as current and historical trending information.
In addition, a full system will comprise a token fibre ring whereby information can be transmitted by an alternative route should there be any breaks in the fibre. The surface system will also detect the point(s) of failure to allow speedy repair.
The examples cited above demonstrate that underground communication systems are not just about basic voice connections. Both safety and efficiency are boosted through modern mining technology, and mines in new and established markets will benefit from its application.