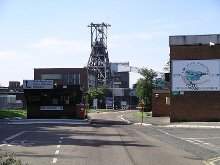 UK Coal, the UK's largest coal producer, has entered into administration, but a deal worked out between the government, the Pension Protection Fund (PPF) and administrators will safeguard 2,000 jobs.
The government-backed PPF has agreed to take over the company's £888m pension deficit.
UK Coal had been struggling with weaker demand even before a massive fire broke at the Daw Mill in Warwickshire in February 2013.
Freeport McMoRan Copper and Gold has secured approval from the Indonesian Government to commence underground operations at Grasberg mine, the world's second largest copper mine.
Operations were ceased at the mining complex in Papua on 15 May following the collapse of an underground training facility near its
Big Gossan mine, which killed 28 people.
With government approval and the completion of investigations, the company resumed full scale open-pit mining and concentrating activities at the Grasberg complex on 4 July.
Rio Tinto and
BHP
Billiton" height="70″ src="https://www.mining-technology.com/wp-content/uploads/static-progressive/July_Mining_top_3.jpg" style="padding: 8px" title="Anglo-Australia mining major Rio Tinto and BHP Billiton" width="70″ />
Anglo-Australia mining major Rio Tinto and BHP Billiton are set to jointly invest around $3bn in the construction of a seawater desalination facility at its Escondida mine in Chile.
The Escondida copper-gold-silver mine is located in the arid, northern Atacama desert, about 160km south-east to the port of Antofagasta, at an elevation of 3,050m above sea level.
The Escondida mine is a joint venture between BHP-Billiton, Rio Tinto, JECO Corporation and JECO 2.
US coal miner Drummond is facing an indefinite strike by workers protesting against planned layoffs at its Colombian operations.
The strike began on Tuesday after union Sintramienergetica and the company failed to reach an agreement following weeks of negotiations over better pay and job cuts at its port, reports Reuters.
Sintramienergetica vice-president Edgar Munoz was quoted by Reuters as saying that the union is open to talks with the company and could suspend the strike if the company agrees to its terms.
Peabody Energy" height="70″ src="https://www.mining-technology.com/wp-content/uploads/static-progressive/July_Mining_top_5.jpg" style="padding: 8px" title="Peabody Energy" width="70″ />
Peabody Energy, the world's largest private-sector coal miner, has decided to axe 400 jobs from its Queensland and New South Wales (NSW) coal operations, in a bid to control surging costs amid declining coal prices.
The decision will result in the loss of 170 existing jobs, while the remaining 230 positions would not be filled.
In the last two years, thermal coal prices declined 30% to $80 per tonne, and that of coking coal dipped 40% to $130 per tonne last year, reports The Sydney Morning Herald.
Vedanta Resources, an India-focused metals and mining company headquartered in the UK, has received a setback after local tribes voted against the company's proposed bauxite mining project atop Niyamgiri Hills in Odisha state.
In April 2013, India's top court ruled that the decision to allow Vedanta Resources to mine bauxite in two districts of the eastern state rests with local tribes.
Following this, the state decided to conduct 'Palli Sabha' – a meeting of the village – in 12 villages to look into environmental and religious issues and the rights of the tribes.

China-based Chinalco Mining, a subsidiary of China's state-run aluminum group, and Hong Kong-listed MMG are some of the firms eyeing a bid for Glencore Xstrata's $5.2bn Las Bambas copper project in Peru.
Last week, the global mining and commodities giant Glencore Xstrata launched the sale process for its Las Bambas copper mine, which is about 70km (43.4 miles) south-west of Cusco.
The project, with more than 10.5 million tonnes of copper resources, is in an advanced phase of construction and is scheduled to commence operations in 2015.
Canadian base metals mining company Lundin Mining has completed the acquisition of the high grade Eagle nickel / copper mine from Rio Tinto Nickel Company, a subsidiary of Rio Tinto, for $315m.
The Eagle project, which was discovered by Rio in 2002, is located in Upper Peninsula of Michigan, US.
The construction of the Eagle project is underway on the mill and mine sites, which includes earthworks, concrete installation and steel erection, and is more than 55% complete.