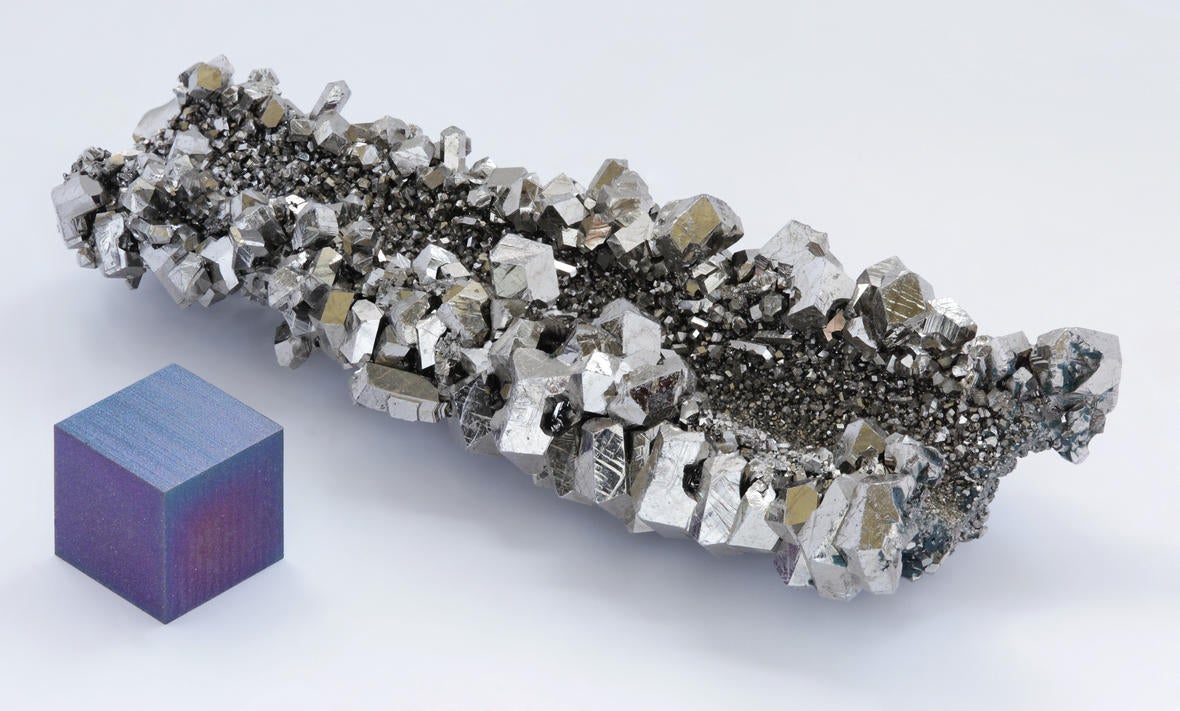 For the last two years, the US has strived to reduce its reliance on foreign mineral imports, and encourage domestic miners to pick up the slack, as part of its 'America first' mining programme. This project saw President Trump designate 35 commodities as "critical to the economic and national security of the US", with China the biggest target of this resource nationalism. China dominates production of many of these critical minerals, such as aluminium, which is the world's largest producer of, with an annual production capacity of around 36 million tonnes. As tensions rise between the US and China, the former is eager to find other trading partners to make up the mineral production deficit caused by cutting trade with the latter.
Canada has emerged as a vital trading partner in this minerals programme, as it too dominates production of many of the minerals coveted by the US. Canadian potash mines are the most productive in the world, and Canada is among the top five producers of a number of these minerals, including cobalt. With its mining industry valued at some $47bn as recently as 2018, and miners eager to sell their products to the US, there are significant financial and geopolitical incentives to developing a holistic North American mineral supply chain.
Considering these incentives, the two countries have worked to establish such a supply chain. In 2019, Presidents Trump and Trudeau committed to such a project, and in June this year, Canadian Natural Resources Minister Seamus O'Regan confirmed a "joint action plan" to maximise the mining output of both countries to aid in recovery following the Covid-19 pandemic, and ensure North American mineral independence beyond.
A flexible, bilateral agreement
Fortunately for both countries, their close relationship means much of the infrastructure, both physical and political, is already in place for such an agreement.
"North American supply chains are already highly integrated, including for critical minerals," said a spokesperson from Natural Resources Canada (NRCan), the country's mining department. "Canada is currently a responsible and sustainable supplier for 13 of the 35 minerals the US has identified as 'critical,' and the leading supplier of six of them.
"With an extensive integrated North American manufacturing supply chain that includes defence, aerospace, and autos anchoring demand, critical minerals sourced from Canada and the US could be further integrated easily."
How well do you
really

know your competitors?

Access the most comprehensive Company Profiles on the market, powered by GlobalData. Save hours of research. Gain competitive edge.
Company Profile – free sample
Thank you!
Your download email will arrive shortly
Not ready to buy yet? Download a free sample
We are confident about the unique quality of our Company Profiles. However, we want you to make the most beneficial decision for your business, so we offer a free sample that you can download by submitting the below form
By GlobalData
This established infrastructure will be crucial in meeting rapidly changing mineral demands on both sides of the border. A 2017 paper published by the US Geological Survey, the American counterpart to NRCan, noted that annual production of all critical minerals had increased dramatically over the last forty years, from a 21% increase in tin production to a 2,800% increase in gallium production. Gallium is often used in light-emitting diodes, for which there is a significantly greater demand now than in the 1980s, and changes in technological sophistication and demand for specific minerals poses a challenge for miners around the world.
An NRCan spokesperson noted that while investments may be required to deliver on this collaborative project on the scale desired by the US, and in response to this rapidly-changing industry, the steps already taken by Canada have positioned it well to deliver on these targets, and granted a degree of flexibility to the agreement.
"It is recognised that additional investments will be required to grow trade in critical minerals in areas such as rare earth elements and minerals needed for advanced batteries," they said. "Nonetheless, a strong foundation on which to build is already in place, such as a robust infrastructure network, open borders, and a comprehensive trade and investment agreement, which all improve North American competitiveness.
"There is a great opportunity for Canada and the US to build new capacity to transform minerals and metals and create value added downstream industries, including those that are a part of the rapidly growing clean technology sector."
International collaboration and domestic benefits
The agreement could also serve as a motivating factor for the implementation of a number of domestic mining programmes, with Canada already investing considerably in its mining infrastructure prior to this agreement, putting it in an ideal position to enter into international agreements for its mineral resources.
In 2019, NRCan identified 108 major mining projects under construction or that had been announced, including 16 new rare earths mines, 70 cobalt and nickel projects, and 17 lithium-producing facilities. This work exists alongside the Canadian Minerals and Metals Plan, also announced in 2019, that sets out long-term targets to improve the Canadian mining industry through technological investment and improving economic performance. The collaboration could therefore aid domestic production by significantly increasing demand for specific minerals, and giving miners a market to which they can easily sell their products.
"With the present and anticipated growth in global demand for clean energy technologies and advanced manufacturing that utilise many of these minerals and metals, Canada believes that the joint action plan will help position our country favourably in global supply chains," said an NRCan spokesperson. "The action plan is intended to promote increased trade and investment, and boost the competitiveness of our respective industries.
"Canada and the US also have a long history of collaboration in science and technology, and one important way to increase market demand for certain minerals is to unlock new uses for them."
NRCan also noted that the agreement could help set a precedent for other international mineral agreements, naming the EU, Australia, and Japan as potential trading partners in the future. While such collaboration comes with the significant caveat that China is expected to be excluded from any such deals, as many of these projects are a direct response to China's monopolising of a number of key commodities, greater understanding and cooperation between countries is something that NRCan thinks will be of benefit to the mining industry as a whole.
"Disruptions in critical supply chains and over reliance on single markets for supplies and inputs, as experienced during the Covid-19 pandemic, can have wide-ranging impacts," said the spokesperson. "That is why Canada, like many of our partners, are exploring ways to build greater resiliency.
"It is also a significant economic opportunity for Canada given its credentials as a sustainable and responsible resource developer, a strong resource base, and our efforts to accelerate the clean energy transition, in which critical minerals are fundamental."
Challenges and opportunities
NRCan did concede, however, that challenges remain in developing such a holistic supply chain, between even countries as geopolitically aligned as the US and China. The Covid-19 pandemic has posed a significant threat to mining industries across the world, with the social distancing measures implemented in many workplaces all but incompatible with the tightly-packed working conditions of many mining operations, forcing miners to balance worker safety with optimising production.
"There are also production and processing challenges," said the NRCan spokesperson, discussing more long-term challenges. "Critical minerals are often produced mainly as coproducts, so output cannot be readily adjusted. Processing for certain minerals, like rare earth elements, is complex and costly, and can also lead to environmental risks if not implemented properly."
There is also an inherent risk in international economic collaboration of any kind, that by including several countries in a single trading system, as the US and Canada aims to do, that system is exposed to the financial challenges faced by any one of its member states. For instance, the Vale tailings dam collapse in January 2019 shattered production at the world's largest iron ore producer, triggering a massive increase in iron ore price, from $71.60 per ton at the end of 2018 to $120.84 per ton seven months later. While it is unlikely such a dramatic disaster will befall the North American minerals industry, it serves as a cautionary tale of the impact that changes in production at one facility can have on an international market.
This vulnerability means that market forces, if left alone, may not be sufficient to ensure the supply chain is financially viable. 
As NRCan explains: "There is a role for both governments to play to ensure the responsible discovery, development, and processing of critical minerals. The joint action is designed to address many of these challenges, including working with industry to ensure broader awareness of various government funding opportunities to promote innovation and commercialisation."
Yet NRCan is optimistic that these challenges are similar to ones faced in mining more broadly, and that the solutions it has in place already can be applied, at least in principle, to any international agreements.
"Canada also has an opportunity to build new capacity to transform minerals and metals and create value-added downstream industries, including as part of our emerging battery industry," they said. "The Canadian Minerals and Metals Plan and its Action Plan 2020 also set out ambitious objectives in applying and encouraging leading science, technology and innovation, laying the foundation for a competitive Canadian minerals industry comprised of mineral processing and downstream value-added activities."