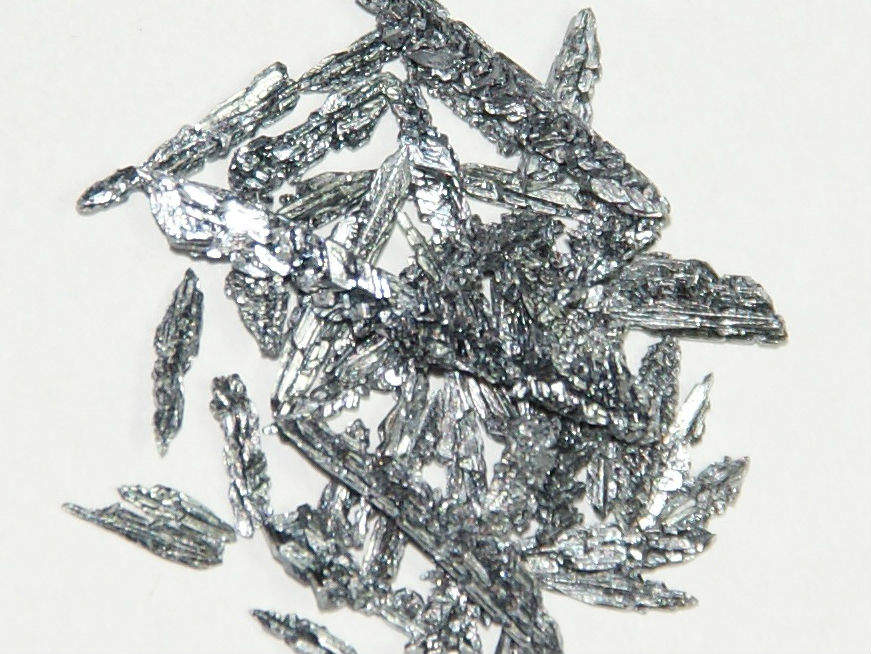 Over two centuries have passed since the Spanish scientist Andres Manuel del Rio discovered vanadium in Mexico.
Originally named erythronium by del Rio, the silvery-white soft metal is reported to be the 22nd most abundant element within the earth's crust. Despite this, we are only now beginning to grasp the mineral's vast potential.
If vanadium is known for anything, it's steel. Added in small quantities – as little as 0.15% – vanadium is proven to double the strength of the alloy.
Henry Ford was one of the first exponents of the metal, using it to strengthen the Model T – the car credited with introducing the automotive industry to the masses in the early 1900s.
A few years later, vanadium was sported on the battleground, used in the manufacture of body armour in the First World War. Since then, it has made its way into everything from engine turbines and drill bits to spanners and saws.
However, it is within the construction industry where demand for vanadium is at its highest.
"The current major driver of vanadium demand is in the construction industry, which is the largest consumer of steel products and vanadium," explains Gavin Wendt, founding director and senior resource analyst at Minelife in Australia.
"It is extensively used in alloys for strengthening of steel used in buildings, tunnels and bridges. In North America, rolled vanadium steel sections are used extensively in frames and roofs of industrial buildings."
Steel story: Vanadium in the construction industry
Around 90% of vanadium is used within the steel industry. Given the growth in global steel demand seen in 2017– predicted to reach 1.535 billion tonnes by the time 2018 comes around – vanadium has "performed extremely well this year," says Wendt.
However, it is the remaining 10% window that is starting to stir interest among investors – particularly those in green tech circles. Vanadium's potential in energy storage – in the form of vanadium-flow batteries – could, say some, change the face of renewable energy.
Able to charge in the blink of any eye and expand in capacity, vanadium-flow batteries are proven to last for decades. While talk presently abounds of commercialisation, Chris Berry, founder of New York-based research firm House Mountain Partners, points out the technology has actually existed for over 30 years.
"The history of experimenting with the vanadium redox battery (VRB) actually stretches back decades, but the first true VRB was demonstrated in 1986 in Australia using vanadium in solution," he says.
Changing the narrative: The benefits of vanadium-flow batteries
However, the market at that time was not ready for such batteries, with renewable energy still in its infancy. But with solar and wind now battling to overtake fossil fuels in the energy mix of several countries, one senses a new opportunity for vanadium.
One of the main problems with solar in many places is the disparity between amount of energy coming on-stream and the peak demand for electricity.
In other words, while the sun may be at its highest in the morning and afternoon, it is in the late afternoon and evening when people – often returning from work – use up the most energy via household appliances.
This is where the vanadium redox flow battery comes in, believe proponents, capturing the energy as it is generated during the day, storing it, and releasing only when needed.
"Vanadium is being adopted into the growing energy storage market due to vertical integration strategies focused on vanadium redox flow batteries," says Wendt.
"In VRB, vanadium ions are used in different oxidation states to store chemical potential energy."
In the context of energy storage application, vanadium has tough competition in lithium, which is both cheaper and in more ready supply. As a result, there is still only one winner as far as cost-competitiveness goes.
"Lithium has a huge head start as an energy storage application," says Berry. "VRB is not cost competitive with the lithium ion battery. VRBs have a cost of between $300 to $500 per kilowatt-hour, while lithium ion is closer to $250/Kwh.
"A major challenge is its lack of energy density, and the fact that vanadium accounts for up to 40% of the cost of the battery. This price volatility might impede the rollout of VRB, despite its long-term advantages."
Uncompetitive economics: Mines in need of funds
Currently, supply also stands well below that needed to make batteries a going concern. The vanadium market produces 80,000 tonnes of raw material each year, while estimates show that 5,000 tonnes are required for just one gigawatt hour.
"You can see how any take-off in VRB deployment could materially affect vanadium demand," says Berry.
It is this uncompetitive economic model that has seen some vanadium miners struggle of late. Earlier this year, American Vanadium – once billed as the US's only vanadium mining company – decided to discontinue its activities around the metal. It now goes under the name of Monitor Ventures.
"American Vanadium's asset was very low grade and wasn't going to work when vanadium prices crashed," says one analyst, who asked to remain anonymous.
"They tried to change their business model to become a VRB distributor for Gildemeister in North America, but that didn't work either because the VRB economics still weren't competitive."
"Mines are often high capex, so there are often financial barriers to entry, which discourages new mines opening up," adds Wendt. "There's quite a lot of potential product here in Australia, with a number of world-class size vanadium deposits in Western Australia.
"What they really need is off-take and to secure project funding."
If vanadium supply is to take an alternative route away from steel, progress will be contingent on decisions made in China – the world's top vanadium producer.
With Beijing's environmental clean-up campaign in full swing, raw material prices have spiked in recent months. Might now be the time for VRB to come to the fore?
"The Chinese central government has recognised battery technology as the key technology in the transition from fossil fuels to renewable energy," says Wendt.
"Various private, state and federal institutions, and energy generating utilities are encouraged to support, further develop and make expanded use of various forms of evolving energy storage technologies – including vanadium. China is the world leader in renewable energy power generation."
"The timing could be seen as favourable for additional vanadium supply elsewhere, but this boils down to mine economics," adds Berry.