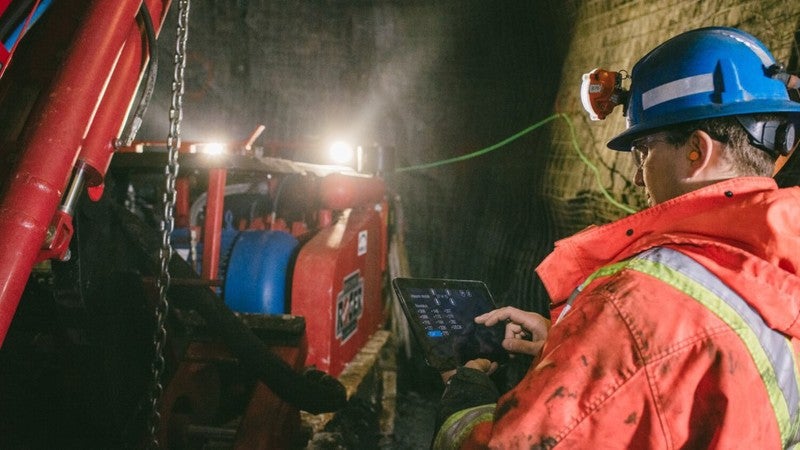 Ericsson and Ambra Solutions signed a global cooperation agreement to sell and deliver mission-critical private network solutions to global mining customers.
The companies so far provided more than 90km of network coverage to eight underground and open pit mine sites in Canada.
Ericsson will serve as a radio partner of choice to Ambra to provide 5G-ready network solutions to automate ventilation systems, real-time personnel and vehicle tracking.
---
A report from the World Bank and non-profit organisation Pact revealed the extent of a 'global data gap' in the artisanal and small-scale mining sector and sets out to create an artisanal mining database to better collect information on one of the mining industry's most hazardous sectors.
The report, 'State of the Artisanal and Small-Scale Mining Sector', aims to create a 'global platform' to collect data on the small-scale mining sector, known as Delve. The open-source database will collect data from existing reports into the sector, and 'Delve collaborator contributions'. This combined data will then be presented in both its raw and graphical forms, enabling users to upload their own work to the records. Delve will also feature a directory of industry experts to help in understanding the data collected.
"ASM is perhaps the only sector where practitioners and policymakers alike need better access to complete, accurate, and reliable data," reads the report's introduction.
"Without this, the mission to make ASM understood to a general audience is simply too overwhelming to consider.
---
Altura Mining completed an initial round of exploratory drilling at its Cleopatra prospect in Australia and carried out fieldwork at the nearby Hazelby Prospect, which identified a copper-gold-silver target.
The prospect is located within Altura's E45/2363 tenement, approximately 3.5km south-east of the Altura Lithium Mine.
The exploratory drilling was conducted as a follow up to a geophysical survey utilising the induced polarisation (IP) method at Cleopatra.
---
Anglo American released its financial results for the first quarter of 2019, reporting declines in production across its commodities triggered by a fall in ore grades and planned maintenance works.
The company reported a 6% decline in total production in the quarter, compared to the last three months of 2018. The company's coal production struggled the most, with thermal coal exports to Australia, Colombia and South Africa falling by 21%, 7% and 3% respectively, and total coal production 25% lower in the first quarter of 2019 than the first quarter of 2018. The company suggested 'an extended longwall move' at the Moranbah coal mine undermined production, as the change required extensive maintenance work that will continue into the second half of 2019.
Nickel production also fell by 14%, despite a 9% increase in ore mined at the Barro Alto project. The company saw processing fall by 13% at the mine, and 7% at the Codemin project, due to planned maintenance work. While Anglo American's copper mines produced 161,000t in the first quarter of the year, the company's best first quarter performance since 2014, this figure is still 12% lower than production in the last quarter of 2018.
---
MetalNRG signed an agreement to acquire up to a 75% interest in Mkango Resources' Thambani exclusive prospecting licence in Malawi.
Under the non-binding heads of terms agreement, MetalNRG will invest up to $2m on exploration to earn the interest.
The agreement terms outline that MetalNRG and Mkango will enter a binding definitive agreement on or before 30 June.
---
NexGen Energy secured approval from the Canadian Nuclear Safety Commission (CNSC) and the Saskatchewan Ministry of Environment (MOE) to begin environmental assessments (EA) on its proposed on Rook I uranium mining project.
The acceptance of a project description by the CNSC and the MOE marks the commencement of EA on the project in accordance with the requirements of both the Environmental Assessment Act and the 2012 Canadian Environmental Assessment Act.
In order to obtain a licence to prepare and construct for the Rook I project, NexGen has also submitted an initial licence application to the CNSC under the Nuclear Safety and Control Act.
---
Mexico's Secretariat of Environment and Natural Resources (SEMARNAT) granted a new environmental permit to Aloro Mining's subsidiary Exploraciones Aloro to drill Los Venados (LV).
Earlier this month, Aloro submitted the Informe Preventivo (permit) to SEMARNAT to continue drilling on its 3,199ha LV project.
Prior to applying for the permit, the company negotiated a new three-year 50 drill hole surface access agreement with the Mulatos Ejido.
---
Turkey's mining and metallurgy company Eti Bakir selected global design firm Stantec to review and evaluate its mining facility in Siirt Province.
For the mine, which has operated as an open pit facility for several years, Stantec will assist in its transition to an underground mining operation.
The project will be led by Stantec's Canadian mining business line, with assistance on the ground from its local team members in Istanbul.
---
Ivanhoe Mines is set to complete construction of a six million tonnes per annum (Mtpa) copper mine at its $1.1bn Kamoa-Kakula Project the Democratic Republic of Congo (DRC) after its largest shareholder CITIC Metal made an additional $454m investment into the company.
The investment made by CITIC Metal, through its subsidiary CITIC Metal Africa Investments, is its second major investment in less than a year.
Together with Ivanhoe Mines' existing cash balance of about $512m, it will increase the company's total cash on hand to $1bn.
---
Perseus Mining's Ivorian subsidiary Perseus Yaouré secured an exploitation permit (EP) to develop and operate the company's Yaouré gold mine in Côte d'Ivoire.
The company's third gold mine Yaouré is located near the Ivorian capital of Yamoussoukro adjacent to the Koussou hydro-electric power station and is expected to become a large scale, low-cost gold mining operation.
It is set to form a core asset within the asset portfolio of Perseus.