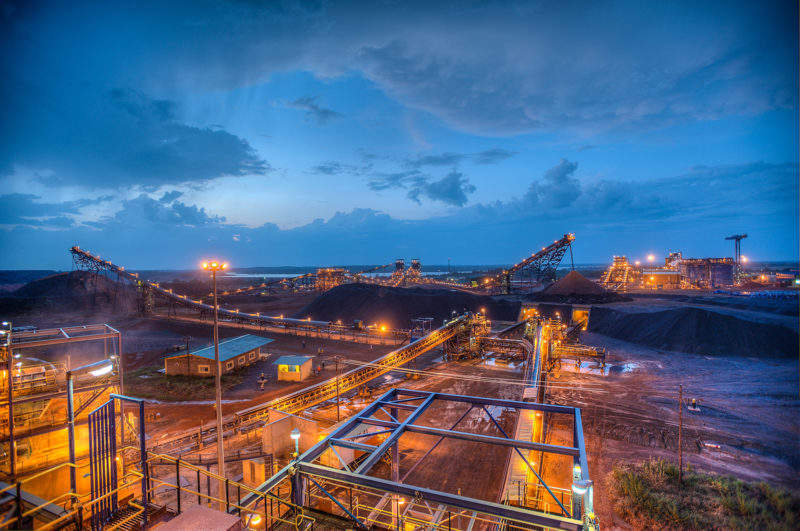 Mining giants Barrick Gold and Randgold Resources agreed to a merger to form what they describe as an 'industry-leading gold company' known as the New Barrick Group, which will have a market capitalisation of $18.3bn.
The merger, which will close by the first quarter of 2019, will result in Barrick shareholders owning approximately two-thirds of the new company, while Randgold shareholders will own the remaining third.
Under the terms of the agreement, all of Randgold's issued shares will be acquired by Barrick, and each Randgold shareholder will receive 6.1280 New Barrick Group shares for each Randgold share previously owned.
Randgold shareholders will also be entitled to a dividend of $2 per share for the 2018 financial year, while Barrick shareholders will have access to a dividend of $0.14 per share over the same period.
---
Rio Tinto exits coal mining in Australia by selling its remaining assets in Queensland for $3.95bn.
The assets sold by the company include its interests in the Hail Creek coal mine and Valeria coal development project to Glencore for $1.7bn.
The company also divested its 80% interest in the Kestrel underground coal mine, which is located 40km north-east of Emerald in central Queensland and produces coking coal, to a consortium comprising EMR Capital and PT Adaro Energy for a consideration of $2.25bn.
---
BHP and Vale signed an agreement with Brazilian authorities to settle the R$20bn ($5.28bn) civil lawsuit related to a tailings dam failure at the Samarco iron ore mine in the state of Minas Gerais in 2015.
The settlement needs to be signed by the Federal Government of Brazil and ratified by the 12th Federal Court of Minas Gerais.
The dam failure resulted in flooding due to the release of mine tailings, which killed at least 17 people and caused significant environmental damage. The communities of the Bento Rodrigues area were particularly affected.
Operated under a 50:50 joint venture between BHP and Vale, Samarco operations have the capacity to produce 30.5Mtpa of iron ore pellets and to process 32Mtpa of concentrate.
---
Chinese lithium products manufacturing firm Tianqi Lithium has reached an agreement to acquire a 25% stake in Chile-based lithium company Sociedad Química y Minera de Chile (SQM) for a $4.07bn cash consideration.
Under the terms of the deal, Tianqi Lithium will buy 62,556,568 'A shares' of SQM from Canadian fertiliser company Nutrien in exchange for $65 a share in cash.
The transaction involves the acquisition of all of Nutrien's 'A shares' in the Chilean firm, which is engaged in the production and distribution of lithium, iodine, specialty plant nutrients, potassium-related fertilisers and industrial chemicals.
---
UK-based engineering firm Weir Group, a supplier of pumps and valves for the mining and energy industries, signed an agreement to acquire US mining equipment parts manufacturer Esco for an equity value of $1.05bn.
Esco is a provider of ground engaging tools (GET) for surface mining and construction applications.
The company possesses ten manufacturing facilities and six foundries, as well as 22 service and supply centres in 19 countries.
---
Glencore, through its subsidiary Katanga Mining, entered into a deal to write-off $5.6bn of debt to settle a legal dispute and continue its joint venture (JV) operation in the Democratic Republic of Congo (DRC) with the state-owned firm Gécamines.
Kamoto Copper Company (KCC) in the DRC is 75% owned by Katanga Mining with Gécamines holding the remaining 25%.
In April, Gécamines approached the Kolwezi Commercial Court seeking to dissolve the JV company KCC and regain control of its mining licences due to mounting debt.
---
Anglo American has announced it will spend $5.3bn on the Quellaveco project, a new copper mine in Peru, following a sharp increase in the company's profits in the first half of the year.
The London-based mining giant's profits increased 11% to $4.58bn in the first six months of this year. As such, the company is eager to invest in copper, which is expected to increase in demand due to its uses in power grids and electric vehicles. The world's largest mining companies have also been drawn to copper recently as it has been trading at a one-year low, representing a relatively safe investment.
Anglo American chief executive Mark Cutifani said: "After several years of extensive preparatory work, we are very pleased to develop the project together with our partners Mitsubishi. We are grateful for the strong support we have gained from our host communities and at the national level."
---
Clive Palmer's Mineralogy and Chinese state-owned CITIC filed legal petitions against each other over their A$18bn ($12.73bn) Sino joint venture iron project in Western Australia.
Mineralogy contests that CITIC should have invested at least A$500m ($353.71m) into environmental rehabilitation funds for the project. The Australian firm owns the land on which the project is located.
Palmer was quoted by Australian Associated Press (AAP) as saying: "For 12 years, they've been refusing to put any money into it. So the people of Western Australia have got no protection against the environmental damage that they've done at Cape Preston. Now we've got to go to court to enforce that."
---
Canadian miner Pan American Silver signed an agreement to acquire all of the outstanding shares of Tahoe Resources for a total consideration of $1.06bn through a plan of arrangement.
The transaction is expected to create a premier silver mining company, with assets located across the Americas.
Tahoe shareholders can choose to receive either $3.4 in cash or 0.2403 Pan American shares for each share held by them. The deal caps total cash consideration at $275m and the total number of shares issued at 56 million.
---
A consortium of 11 organisations has started a new research project funded by the UK Government to identify lithium mineral deposits in Cornwall using satellites.
Named the 'Satellite Applications Catapult', the project is evaluating the possibility of detecting a lithium 'fingerprint' from space by studying satellite images of vegetation and minerals on the ground.
The partners intend to integrate the data from the study with geological information to create a 'prospectivity map' that is expected to enable identification of indicators of geological structures, which may host lithium in waters deep below the surface.