The mining industry continues to be a hotbed of patent innovation. Activity is driven by safety, productivity and cost control. Mine backfilling is widely used to convert resources into reserves, reduce ore dilution, and improve underground working conditions. Backfill mining has several advantages, including the extraction of minerals left in pillars in room and pillar mining, the reduction of the risk of spontaneous rock bursts, the reduction of groundwater contamination when used with binders, and the improvement of mine ventilation. In the last three years alone, there have been over 62,000 patents filed and granted in the mining industry, according to GlobalData's report on Innovation in mining: mine backfilling. Buy the report here.
However, not all innovations are equal and nor do they follow a constant upward trend. Instead, their evolution takes the form of an S-shaped curve that reflects their typical lifecycle from early emergence to accelerating adoption, before finally stabilizing and reaching maturity.
Identifying where a particular innovation is on this journey, especially those that are in the emerging and accelerating stages, is essential for understanding their current level of adoption and the likely future trajectory and impact they will have.
40+ innovations will shape the mining industry
According to GlobalData's Technology Foresights, which plots the S-curve for the mining industry using innovation intensity models built on over 70,000 patents, there are 40+ innovation areas that will shape the future of the industry.
Within the emerging innovation stage, tunnel ventilation systems, mine drainage systems, and tunnel lining construction are disruptive technologies that are in the early stages of application and should be tracked closely. Battery metal recycling, precision milling and virtual industrial monitoring are some of the accelerating innovation areas, where adoption has been steadily increasing. Among maturing innovation areas are high performance drill bits and hybrid industrial vehicles, which are now well established in the industry.
Innovation S-curve for the mining industry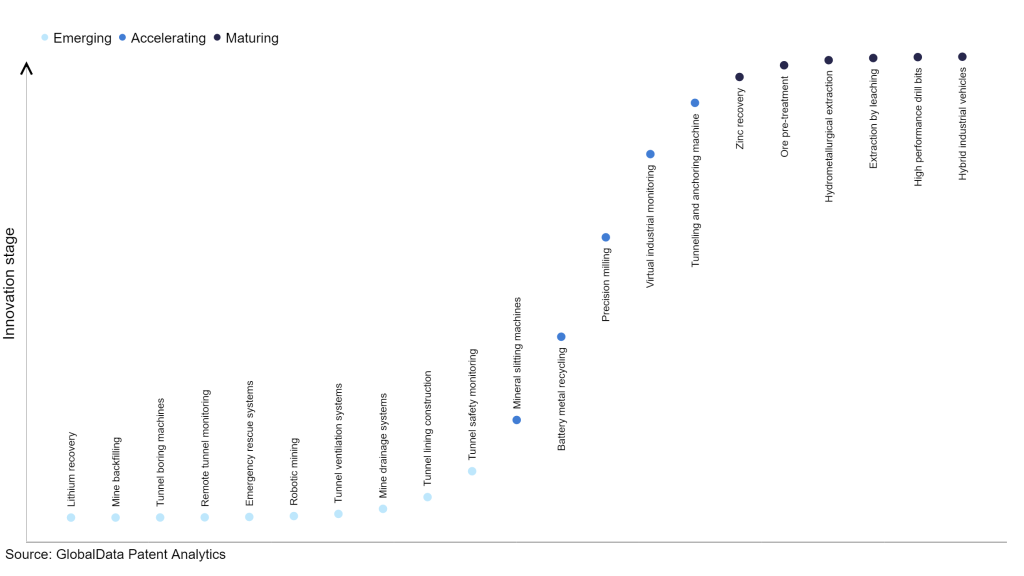 Mine backfilling is a key innovation area in mining
Backfilling is a key operation within underground mining. The backfill material supports the surrounding rock mass, reduces the risk of surface level subsidence, reduces wasteful ore dilution, and creates a safer mining working area. Mining backfill can also be used to dispose of potentially hazardous waste while reducing the environmental impact on the surface by storing backfill waste. The mine backfill process is influenced by the type of mine, tailings, and stope or void location. Heavy equipment is typically used to pump backfill into a stope. Gravity can, however, be used to backfill a shallow mine using dump trucks. The tailings are typically processed at the surface level in large plants before backfilling a mine. A vacuum disc filter is used to extract excess water from tailings, then add a binder to that material using weigh hoppers. High-pressure piston pumps are used to deliver the finished product to the mines, and barricades are placed at the opening of a stope to keep the backfill in place while it cures.
GlobalData's analysis also uncovers the companies at the forefront of each innovation area and assesses the potential reach and impact of their patenting activity across different applications and geographies. According to GlobalData, there are 70+ companies, spanning technology vendors, established mining companies, and up-and-coming start-ups engaged in the development and application of mine backfilling.
Key players in mine backfilling – a disruptive innovation in the mining industry
'Application diversity' measures the number of applications identified for each patent. It broadly splits companies into either 'niche' or 'diversified' innovators.
'Geographic reach' refers to the number of countries each patent is registered in. It reflects the breadth of geographic application intended, ranging from 'global' to 'local'.
Patent volumes related to mine backfilling
Source: GlobalData Patent Analytics
China's State-owned Assets Supervision and Administration Commission of the State Council (SASAC), Jinchuan Group, Shandong Gold Group, and Tian Di Science & Technology are among the leading patent filers in mine backfilling.
Jinchuan Group operates one of China's largest modern mines. The company employs a unique downward hexagonal approach backfill method that includes mechanised mining equipment such as a drill trolley, scarper, and patio drill. The company has constructed independent backfill systems in several mining areas, and approximately 90% of the backfill slurry can be transported by gravity, with only a few areas requiring pressure pumping backfill.
To further understand the key themes and technologies disrupting the mining industry, access GlobalData's latest thematic research report on Mining.
Premium Insights
From
The gold standard of business intelligence.
Blending expert knowledge with cutting-edge technology, GlobalData's unrivalled proprietary data will enable you to decode what's happening in your market. You can make better informed decisions and gain a future-proof advantage over your competitors.