The mining industry continues to be a hotbed of patent innovation. Activity is driven by the need for improved productivity, safety, cost control and sustainability, with the growing importance of recycling in order for sufficient metals and materials to be available to support the global energy transition. In the last three years alone, there have been over 62,000 patents filed and granted in the mining industry, according to GlobalData's report on Innovation in mining: zinc recovery. Buy the report here.
However, not all innovations are equal and nor do they follow a constant upward trend. Instead, their evolution takes the form of an S-shaped curve that reflects their typical lifecycle from early emergence to accelerating adoption, before finally stabilizing and reaching maturity.
Identifying where a particular innovation is on this journey, especially those that are in the emerging and accelerating stages, is essential for understanding their current level of adoption and the likely future trajectory and impact they will have.
40+ innovations will shape the mining industry
According to GlobalData's Technology Foresights, which plots the S-curve for the mining industry using innovation intensity models built on over 70,000 patents, there are 40+ innovation areas that will shape the future of the industry.
Within the emerging innovation stage, tunnel ventilation systems, mine drainage systems, and tunnel lining construction are disruptive technologies that are in the early stages of application and should be tracked closely. Battery metal recycling, precision milling and virtual industrial monitoring are some of the accelerating innovation areas, where adoption has been steadily increasing. Among maturing innovation areas are high performance drill bits and hybrid industrial vehicles, which are now well established in the industry.
Innovation S-curve for the mining industry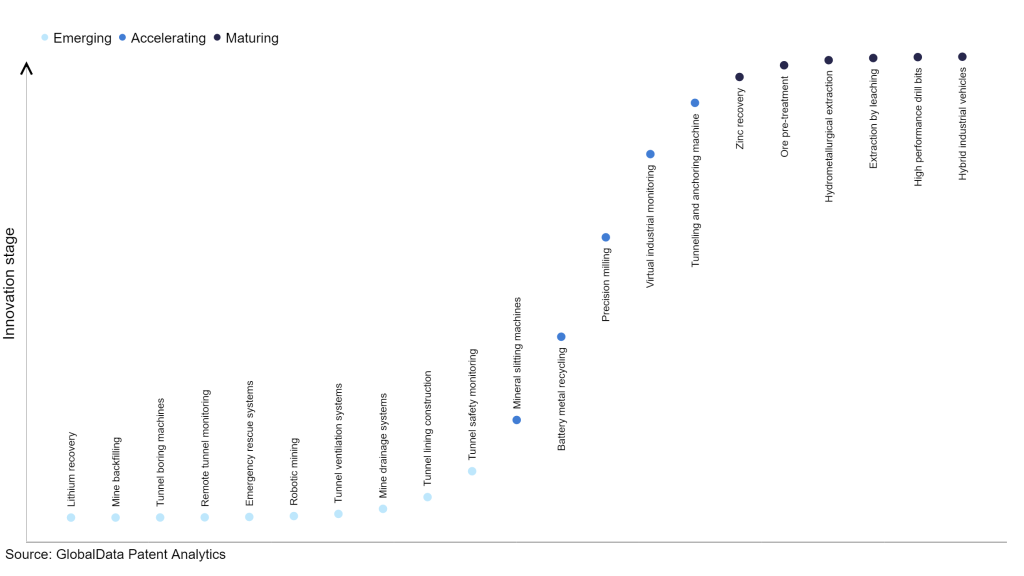 Zinc recovery is a key innovation area in mining
As environmental regulations are becoming more stringent, need for developing new technologies to recover metal and manage process waste is increasing. Therefore, companies are offering proprietary zinc recovery systems to recover viable metal. Zinc is extracted from the purified zinc sulphate solution by electrowinning, which is a specialised form of electrolysis. The process works by passing an electric current through the solution in a series of cells, which causes the zinc to deposit on the cathodes (aluminium sheets) and oxygen to form at the anodes.
GlobalData's analysis also uncovers the companies at the forefront of each innovation area and assesses the potential reach and impact of their patenting activity across different applications and geographies. According to GlobalData, there are 30+ companies, spanning technology vendors, established mining companies, and up-and-coming start-ups engaged in the development and application of zinc recovery.
Key players in zinc recovery – a disruptive innovation in the mining industry
'Application diversity' measures the number of applications identified for each patent. It broadly splits companies into either 'niche' or 'diversified' innovators.
'Geographic reach' refers to the number of countries each patent is registered in. It reflects the breadth of geographic application intended, ranging from 'global' to 'local'.
Patent volumes related to zinc recovery
Source: GlobalData Patent Analytics
Leaders in zinc recovery include Metso Outotec, eEnergy Group, ENEOS, Kobe Steel, and Korea Zinc.
Metso Outotec's atmospheric direct leaching recovers zinc and byproducts efficiently from a wide range of primary zinc sulfides. Direct leaching necessitates no investment in a roaster or acid plant, making it ideal for smaller plants and plant expansions. Several zinc plants have tested the company's highly cost-effective and environmentally friendly process on an industrial scale.
Kobe Steel's FASTMET® process uses a rotary hearth furnace which can be used to process and recycle steel mill waste and has a zinc recovery capacity of 95% or higher.
Korea Zinc's Top Submerged Lance (TSL) method extracts valuable metals from by-products of zinc and lead refining. TSL technology, a nonferrous metal slag processing technology, uses a fumer to recover valuable metals including zinc all the way to the final processing stage by putting zinc slag and wastes discharged from other industries into it. The eco-friendly Korea Zinc technology recovers and discharges the final by-products as clean slag that can be used as industrial aggregates and cement raw materials to prevent environmental pollution.
To further understand the key themes and technologies disrupting the mining industry, access GlobalData's latest thematic research report on Mining.
Premium Insights
From
The gold standard of business intelligence.
Blending expert knowledge with cutting-edge technology, GlobalData's unrivalled proprietary data will enable you to decode what's happening in your market. You can make better informed decisions and gain a future-proof advantage over your competitors.